Coverage: truTV
12:40 PM ET, March 21, 2014
AT&T Center, San Antonio, Texas
Top Performers
Nebraska: S. Shields 16 Pts, 5 Reb, 1 Ast, 1 Stl, 1 Blk
Baylor: C. Jefferson 16 Pts, 6 Reb, 1 Ast, 1 Stl, 1 Blk
SAN ANTONIO -- In January, Baylor couldn't have even counted on making the NCAA tournament. This kind of March hot streak is starting to look familiar to the Bears.
Cory Jefferson scored 16 points and the sixth-seeded Bears coasted in their first tournament game since falling in the Elite Eight two years ago, beating No. 11 seed Nebraska 74-60 in the second round Friday.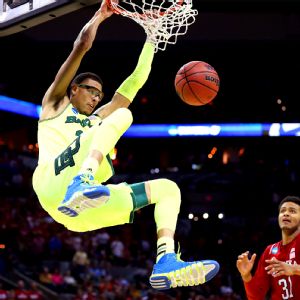 Ronald Martinez/Getty Images
Isaiah Austin and Baylor enjoyed a healthy edge at the free-throw stripe as the Bears made 38 of 48, compared to 10 of 16 for Nebraska.
The Cornhuskers lost again in their seventh tournament appearance. And they lost their cool: Big Ten coach of the year Tim Miles was ejected with 11 minutes left, punctuating a frustrating end to an otherwise fabulous season for a program that has long been an afterthought at football-crazed Nebraska.
But basketball success is expected at Baylor (25-11), which has won 11 of 13 after a dismal start in the Big 12. The Bears didn't make the tournament last year after having rolled to the Elite Eight in 2010 and 2012.
Now they're surging again.
"The past Elite Eights that we did have were good runs, but this year we're just looking at it as checking it one game at a time," said Jefferson, a senior who was with Baylor for both those trips. "We had ours today, the next one is on Sunday. We'll look at one game, and we'll move on from there."
Baylor will play No. 3 seed Creighton on Sunday.
Terran Petteway scored 18 points for Nebraska (19-13), which hadn't played on this stage since 1998 and often looked like it. Nebraska missed nine of its first 10 shots, labored through a 9-minute scoring drought then lost their coach midway through the second half.
The officials tossed Miles after ringing him up for a second technical foul in nearly as many minutes. He first erupted after Petteway, the Big Ten's leading scorer, picked up his fourth foul just after Nebraska cut the lead to single digits.
Two minutes later, Miles charged toward the scorer's table. He said afterward he was trying to tell the officiating crew the shot clock hadn't started, only to be hit with another technical for stepping too far out from the bench.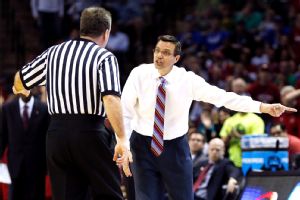 Soobum Im/USA TODAY Sports
Nebraska coach Tim Miles was ejected after receiving two technical fouls within two minutes of each other in the second half. The second, Miles said, came while he was trying to tell the officiating crew the shot clock hadn't started.
Gone. And not long afterward, so was Nebraska in this tournament.
"I mean, what do you do? I mean, the shot clock doesn't run for, I don't know, 7 or 8 seconds," Miles said. "I just wanted them to stop the game and get the shot clock right. It had nothing to do with the officiating."
Miles said he didn't want an "unfair competitive advantage" when it came to foul calls, but also didn't make excuses.
"Officiating is not what did us in," he said.
In a statement after the game, referee Karl Hess acknowledged a shot clock error that both the operator and officials didn't notice. But he didn't suggest that giving Miles a second technical was wrong, referencing a section of the NCAA rule book that prohibits "inciting undesirable crowd reactions" and certain conduct while objecting to an official's decision.
As Miles walked toward the tunnel, he drew a standing ovation from a Texas crowd splashed with a healthy swath of Big Red. It was a big day for the state of Nebraska at the AT&T Center: Creighton's game was next up, and fans shed red shirts at the buzzer to reveal Bluejay blue underneath.
Isaiah Austin scored 13 points and Brady Heslip added 12 points for Baylor. The Bears didn't outshoot the Cornhuskers but got to the free throw line three times as often -- they made 38 of 48, compared to 10 of 16 for Nebraska.
Shavon Shields scored 16 points and Ray Gallegos had 15 for the Cornhuskers.
That Baylor and Nebraska are even here was a doubtful scenario just two months ago. Both teams nosedived toward February with a combined 2-11 record in conference play, with the Cornhuskers fulfilling historically low expectations and the Bears bottoming out after being ranked high as No 7 in the nation.
Their turnarounds were almost simultaneous.
Refusing to settle for a fourth losing season in five years, Nebraska won 10 of its last 13 and seized an unlikely status as one of the biggest surprises in the country. Baylor, meanwhile, won 10 of its final 12 during a hot streak that included a dominating march to the Big 12 tournament final.
Copyright by STATS LLC and The Associated Press
Photo Wire
SAN ANTONIO, TX - MARCH 21: Gary Franklin #4 of the Baylor Bears handles the ball against Benny Parker #3 of the...
(Photo by Ronald Martinez/Getty Images)
Around The NCAA Tournament
Deciding factor: Nebraska got off to a slow start and never recovered, and Cornhuskers coach Tim Miles wasn't even around to see it end. He was ejected in the second half.
Player of the game: Terran Petteway. He finished with a game-high 18 points and did most of his damage at the line, where he went 8-for-10.
Key stat: Miles' two technical fouls didn't cost Nebraska the game, but they didn't help in the second half, that's for sure.
Team Stat Comparison
| | NEB | BAY |
| --- | --- | --- |
| Points | 60 | 74 |
| FG Made-Attempted | 23-54 (.426) | 17-42 (.405) |
| 3P Made-Attempted | 4-21 (.190) | 2-13 (.154) |
| FT Made-Attempted | 10-16 (.625) | 38-48 (.792) |
| Fouls (Tech/Flagrant) | 31 (0/0) | 16 (0/0) |
Series
| DATE | GAME | LINKS |
| --- | --- | --- |
| » Mar 21, 2014 | @BAY 74, NEB 60 | Recap |
Research Notes
Baylor attempted 48 free throws Friday, its most since Jan. 23, 1993, when it had 49 against Rice.

The Bears made 38 free throws against Nebraska, their most since Jan. 23, 2008, when they had 39 in a 5-overtime win against Texas A&M.

Nebraska shot 32 fewer free throws than Baylor, the second-worst FTA differential for a major conference team this season behind Washington State, who was -35 in an overtime loss to Colorado on Jan. 8.
ESPN Stats & Information