Discussion
Destiny, history and a crystal football
PASADENA, Calif. -- The final game of the BCS era (or error, take your pick) isn't about the legacy of a rusted, obsolete national title mechanism.
Or about SEC fatigue.
Or about whose NFL draft stock is enhanced or kneecapped.
It isn't about the supposed next football genius of the moment, or the next leveraged contract, or the trickle-down effect of a win or loss on next month's national signing day.
Instead, this VIZIO BCS National Championship, perhaps ...

Read full story
BCS NATIONAL CHAMPIONSHIP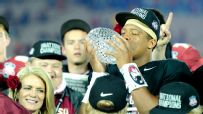 FSU's national championship win capped off an incredible bowl season. Recap » | Overview »
MORE COLLEGE FOOTBALL HEADLINES