Discussion
A big thanks for the BCS
PASADENA, Calif. -- Nobody has made more fun of the BCS than me. I've mocked it. Insulted it. Said it was so screwed up that it sees a therapist twice a week.
So I have only one thing to say to the BCS after Monday evening's national title game:
Thank you.
Thank you for the perfect ending to 16 years of an imperfect BCS system.
Thank you for a game-changing fake punt, a 100-yard kickoff return, another late comeback by you-know-who, a career-defining, last-minute, ...

Read full story
BCS NATIONAL CHAMPIONSHIP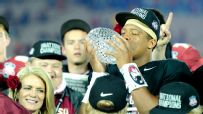 FSU's national championship win capped off an incredible bowl season. Recap » | Overview »
MORE COLLEGE FOOTBALL HEADLINES