Discussion
Ones that love to inflict pain
Near the end of Steve Spurrier's tenure as Florida's coach, after the Gators lost to rival Florida State three straight times from 1998 to 2000, a frustrated fan called the coach's radio show.
"Coach, I live in Tallahassee and work with a bunch of FSU fans," the caller said. "I can't stand it anymore."
"Well, I'd suggest you move to Georgia then," Spurrier quipped.
Spurrier, perhaps more than any other college football coach, seemed to relish inflicting pain on his ...

Read full story
HOUSE OF PAIN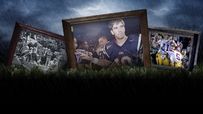 Nobody prepares to lose. So when your team suffers a crushing outcome, the agony stays with you indefinitely. We've got 50 torturous games to prove it.
House Of Pain »
Stories
Bloggers
Video
MORE COLLEGE FOOTBALL HEADLINES