Discussion
Tide might be turning in rivalry series
Updated:
August 9, 2010, 4:15 PM ET
By
Pat Forde
| ESPN.com
Notre Dame and USC remain among the biggest brand names in college football. Yes, that's true even now, with the Fighting Irish mired in a long stretch of mediocrity and the Trojans reeling from major NCAA sanctions.
So it's naturally big news when either team changes coaches. When both do it in the same year, it's really big news.
Last time it happened was in 1941, when Notre Dame hired Frank Leahy and USC hired Sam Barry. Advantage: Irish. Leahy went 87-11-9 and became ...

Read full story
2010 SEASON PREVIEW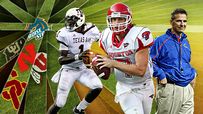 Will the SEC stranglehold on the title continue? Is this the year a BCS buster breaks through to the title game? What new stars will emerge? ESPN.com will answer all of those 2010 questions and more as we move toward the season's kickoff.
Preview home »
Stories
Roaring Twenties: Lists of 20 for '10
Bloggers
Insider
Video
MORE COLLEGE FOOTBALL HEADLINES