Discussion
ESPN The Magazine's Top 25
The Mag's writers and editors rank college football's best and brightest
Updated:
August 11, 2010, 10:03 AM ET
ESPN The Magazine
When The Mag's college football editors and writers put our heads together to produce our Top 25, there was, well, headbutting. Turns out, this whole college football polling thing sparks a lot of debate. (Who knew?!?) So you'll see two numbers in our poll: Each team's final rank and, in parentheses, its range of rankings on our ballots. Of course, the one team we didn't disagree on was Alabama. The Tide's rankings range was 1-1, making them our consensus top dog.
RANK TEAM RANGE
1 ...

Read full story
ESPN The Magazine: August 09, 2010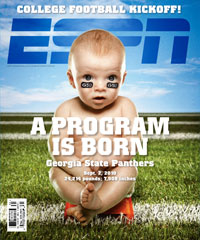 Check out the content from ESPN The Magazine's August 23, 2010 issue below.
Features
Videos
MORE COLLEGE FOOTBALL HEADLINES