Discussion
The rise and fall and rise of the Romes
When Stan Rome looks back on life, he sees the NFL career he threw away. He also sees his son, Jay, as full of the promise he was.
Updated:
August 16, 2011, 11:11 AM ET
By
Drew Jubera
| ESPN The Magazine
This story appears in the Aug. 22, 2011 issue of ESPN The Magazine.
IT STILL LOOKS LIKE A PLACE to get what you want, if what you want is cheap or illegal. Shaded by pecan trees, magnolias and the occasional palmetto in deepest South Georgia, young men, who all appear no older than 20, are hugging a curbside fire and hungrily eyeing anybody who drives through Valdosta's west side, ready to hustle some dope or to run.
Same as when Stan Rome showed up there ...

Read full story
ESPN The Magazine: August 22, 2011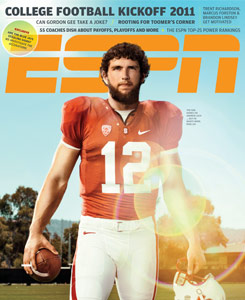 Features
Columns & Go/Play
MORE COLLEGE FOOTBALL HEADLINES