Discussion
Which coaching jobs are underrated?
The best coaching jobs in college football come equipped with big stadiums, multimillion-dollar salaries, fertile recruiting grounds, and rabid and supportive fan bases.
But the most underrated jobs in the country come with everything above and a lot less pressure.
Some of the most underrated jobs in the nation are launching pads to more high-profile positions, or they're programs that haven't traditionally won big but have everything at their disposal to do it.
Here's ...

Read full story
MEASURE OF A COACH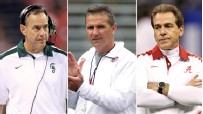 College football coaches have never been more prominent or as highly paid. But the stakes are much higher, too. This week, ESPN.com looks at the impact of coaches on their programs -- and the roles schools play in a coach's career.
FEATURES
MORE COLLEGE FOOTBALL HEADLINES