Discussion
Frank Beamer puts VT on map
So, Frank Beamer, do you remember what your salary was during your first season as Virginia Tech's head coach?
"You'd have to ask my wife," says Beamer, speaking by phone from his office on the Blacksburg, Va., campus. "Back then I'd turn my check over to her and didn't know what I made. Today I turn it over to her and don't know what I made."
Now you know what Cheryl Beamer knows: $80,000 in 1987 … about $2.28 million, plus bonuses, in 2012.
"A lot ...

Read full story
MEASURE OF A COACH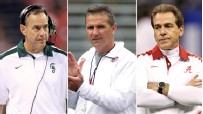 College football coaches have never been more prominent or as highly paid. But the stakes are much higher, too. This week, ESPN.com looks at the impact of coaches on their programs -- and the roles schools play in a coach's career.
FEATURES
MORE COLLEGE FOOTBALL HEADLINES