Discussion
A different South for Sumlin's father
Originally Published:
September 5, 2012
By
Ivan Maisel
| ESPN.com
William Sumlin is hesitant to get into it. He doesn't want to go all PBS documentary on his son Kevin as he prepares for his first game as head coach at Texas A&M on Saturday. But as a high school coach in the segregated South a half-century ago, William Sumlin will allow that he never, ever thought the day would come when his son would be a head coach in the Southeastern Conference.
"I never thought he'd be a head coach in Texas, either," the elder Sumlin, 77, said. "I never thought he'd ...

Read full story
TEXAS A&M: THE TRANSFORMATION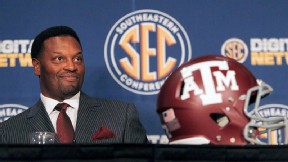 It's a whole new world for Texas A&M. From a new coaching staff to a new conference, life has changed for the Aggies.
COVERAGE
MORE COLLEGE FOOTBALL HEADLINES