Discussion
Seth Doege leads Red Raiders
This week's top 20:
20. Salute to Texas Tech
If I were Kansas State's Bill Snyder, I might be a tiny bit apprehensive about Saturday's game against No. 14 Texas Tech. Then again, I'm not sure Snyder gets apprehensive about anything.
Earlier this season, I saw a cricket attach itself to the side of his face during a postgame news conference at Oklahoma. Me? I would have started flailing away at the thing, which was about half the size of a clothespin but much, much uglier.
Snyder, ...

Read full story
WEEK 9 PREVIEW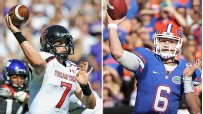 Texas Tech gets K-State and Heisman front-runner Collin Klein, Notre Dame visits Oklahoma, Florida plays SEC rival Georgia and No. 11 Mississippi State faces No. 1 Alabama. Ready for Week 9? BMOC
FLORIDA-GEORGIA
MICHIGAN-NEBRASKA
MICHIGAN STATE-WISCONSIN
MISSISSIPPI STATE-ALABAMA
NOTRE DAME-OKLAHOMA
OHIO STATE-PENN STATE
TEXAS TECH-KANSAS STATE
MORE COLLEGE FOOTBALL HEADLINES