Discussion
Is the Big Ten done adding?
Now that the adoption papers are all but finalized, the Big Ten is the proud father of two more bouncing baby programs. Say hello to the runts of the family: Maryland and Rutgers. The Terapins arrived Monday, the Scarlet Knights are expecting to join Tuesday.
Surprising? Sure. But anybody who thinks this is a total stunner needs a refresher course in geography. And TV rights economics. And recruiting.
You actually could see this coming. If nothing else, you could see why the Big ...

Read full story
BIG TEN EXPANSION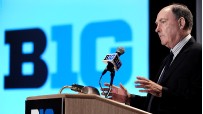 With the additions of Maryland and Rutgers, the Big Ten is about to get bigger. Story | Blog
MORE COLLEGE FOOTBALL HEADLINES