Discussion
Campbell builds program and career
TOLEDO, Ohio -- Most college coaches put great thought into what goes above their desks.
Toledo coach Matt Campbell chose a photo of him, Super Soaker in hand, blasting one of his players in the face during a water-balloon ambush in fall camp this year.
It's no facade, no designer's choice. The photograph is a constant reminder to Campbell and his staff -- this is fun, work is fun, football is fun.
His sometimes unorthodox ways have produced on-field results in his first ...

Read full story
TIME TO GO BOWLING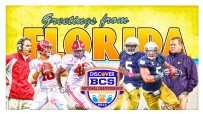 When No. 1 Notre Dame will play No. 2 Alabama for the Discover BCS National Championship, even the December sky is a little more blue-gray. Ivan Maisel | Bowls home page
MORE ON BOWLS
VIDEOS
HOME PAGES
MORE COLLEGE FOOTBALL HEADLINES