Discussion
Did FSU miss its best title chance?
There are two ways you could look at this season for Florida State:
The Seminoles began their journey back to the top of college football.
OR
The Seminoles blew their best chance in years to actually be a national title contender, something that might be on hold for a little while as they go through major changes headed into 2013.
That is a pretty black-and-white assessment of an entire season's worth of games. But with any situation, there is room for gray. So ...

Read full story
TIME TO GO BOWLING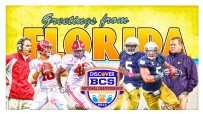 When No. 1 Notre Dame will play No. 2 Alabama for the Discover BCS National Championship, even the December sky is a little more blue-gray. Ivan Maisel | Bowls home page
BCS TITLE GAME
FIESTA BOWL
ORANGE BOWL
ROSE BOWL
SUGAR BOWL
MORE
VIDEOS
HOME PAGES
POLL CENTERS
MORE COLLEGE FOOTBALL HEADLINES