Discussion
10 reasons Notre Dame will win it all
MIAMI -- Before Alabama followers make the pilgrimage to Tuscaloosa for the national championship parade route, they might want to consider the worst-case scenario.
Ten reasons that parade might be in South Bend …
1. Motivation
Notre Dame's defensive and offensive linemen have just about had it with these kinds of questions:
"When you watch game tape of Alabama's offensive line, do you weep uncontrollably and reach for a Binky?"
"Should ...

Read full story
DISCOVER BCS NATIONAL CHAMPIONSHIP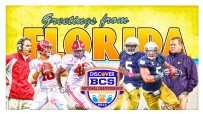 When No. 1 Notre Dame will play No. 2 Alabama for the Discover BCS National Championship, even the December sky is a little more blue-gray. Ivan Maisel | BCS title home
MORE ON ALABAMA-NOTRE DAME
VIDEO
MORE COLLEGE FOOTBALL HEADLINES