Discussion
Alabama vs. ND: Tale of the tape
MIAMI -- No. 1 Notre Dame and No. 2 Alabama will play in the Discover BCS National Championship at Sun Life Stadium on Monday night.
How do they match up? Here's a look at the similarities and differences between the two traditional heavyweights:
Tale of the tape: Alabama vs. Notre Dame
  Notre Dame Alabama
Location South Bend, Ind. Tuscaloosa, Ala.
City population 101,081 91,605
County St. Joseph Tuscaloosa
City best ...

Read full story
DISCOVER BCS NATIONAL CHAMPIONSHIP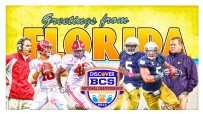 When No. 1 Notre Dame will play No. 2 Alabama for the Discover BCS National Championship, even the December sky is a little more blue-gray. Ivan Maisel | BCS title home
MORE ON ALABAMA-NOTRE DAME
VIDEO
MORE COLLEGE FOOTBALL HEADLINES