Discussion
Irish close BCS gap, look to 2013
MIAMI -- Notre Dame senior running back Theo Riddick sat at his locker, head down.
The tears continued to roll down his cheeks. Occasionally he would wipe some away with a towel. However, Riddick could not erase the memories, or the hurt, from Monday's 42-14 loss to Alabama in the Discover BCS National Championship.
"All I can say," Riddick said, with his eyes staring at the ground, "is we have a great future in front of us."
The future does look much better ...

Read full story
TIDE ROLL AGAIN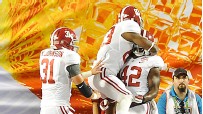 Even Nick Saban would have a hard time finding something wrong with Alabama's victory.
Gene Wojciechowski | Bowls home page
MORE ON THE BCS TITLE
VIDEOS
MORE COLLEGE FOOTBALL HEADLINES