Discussion
Irish-Tide why we need a playoff
MIAMI -- Write your U.S. congressman.
Call your conference commissioner, university president and athletic director. Heck, email Dr. Lou, Mark May, Kirk Herbstreit, Chris Fowler and David Pollack. I'd even give you their email addresses if it wouldn't get me fired.
College football's forthcoming four-team playoff, which goes into effect during the 2014 season, can't get here soon enough.
Can't we please have a playoff this coming season? Do we really have ...

Read full story
TIDE ROLL AGAIN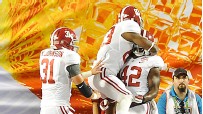 Even Nick Saban would have a hard time finding something wrong with Alabama's victory.
Gene Wojciechowski | Bowls home page
MORE ON THE BCS TITLE
VIDEOS