Discussion
Was Manti Te'o a schemer or prey?
Serial liar Lance Armstrong will supposedly bare part of his soul on Thursday evening. Eventually, Manti Te'o will be asked to do the same. Television cameras will become their separate confessionals and, once both have spoken, they'll have told their versions of the truth.
Armstrong, the disgraced cyclist and career cheater, we were prepared for. His deceit was decades in the making.
But until the mushroom cloud of a Deadspin report enveloped his life Wednesday, Te'o was considered ...

Read full story
MANTI TE'O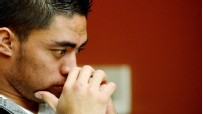 Manti Te'o denied being part of a hoax involving a relationship with a person online whom he considered his girlfriend, during an interview with ESPN on Friday night. Story »
COMMENTARY
STORIES
AUDIO & VIDEO
MORE COLLEGE FOOTBALL HEADLINES