Discussion
Hoax bad, but not criminal
Lawsuit could arise from the Manti Te'o case, but criminal charges unlikely
Updated:
January 17, 2013, 6:03 PM ET
By
Lester Munson
| ESPN.com
Whether Manti Te'o was a victim of a hoax or one of its participants, the bizarre scenario involving a nonexistent girlfriend raises the possibility of legal repercussions. Some legal questions surrounding the case and their answers:
Q: Is anyone in real trouble? Will any of the participants face criminal charges?
A: No. There is the theoretical possibility of a federal charge of wire fraud or cyberfraud as the result of the participants' use of the telephone and the Internet, but ...

Read full story
MANTI TE'O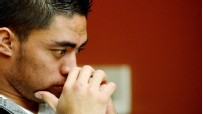 Manti Te'o denied being part of a hoax involving a relationship with a person online whom he considered his girlfriend, during an interview with ESPN on Friday night. Story »
COMMENTARY
STORIES
AUDIO & VIDEO
MORE COLLEGE FOOTBALL HEADLINES