Discussion
Manti Te'o denies being part of hoax
Updated:
January 21, 2013, 10:16 AM ET
ESPN.com
This story has been corrected. Read below
Manti Te'o denied being part of a hoax involving a relationship with a person online whom he considered his girlfriend, during an interview with ESPN's Jeremy Schaap on Friday night, but did say he "tailored" his stories so people would think he "met her before she passed away."
"No. Never," Te'o said during the 2½-hour interview. "I wasn't faking it. I wasn't part of this."
Te'o said he didn't know for sure that "Lennay ...

Read full story
MANTI TE'O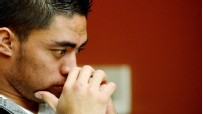 Manti Te'o denied being part of a hoax involving a relationship with a person online whom he considered his girlfriend, during an interview with ESPN on Friday night. Story »
COMMENTARY
STORIES
AUDIO & VIDEO
MORE COLLEGE FOOTBALL HEADLINES