Discussion
Manti Te'o wondered about prank
Updated:
January 20, 2013, 11:05 AM ET
By
Rick Reilly
| ESPN.com
Notre Dame linebacker Manti Te'o was completely and cruelly fooled in a fake girlfriend hoax, and clearly not in on the con, one of his childhood friends said Friday.
Tessi Tolutau, a former Miss South Pacific, grew up five doors from Te'o in Hawaii. She has Facebook messages from Te'o as far back as September 2010, checking on the legitimacy of the fictitious Polynesian beauty Lennay Kekua, who would become his "girlfriend." Te'o even wondered out loud if Kekua might be "a prank."
Tolutau ...

Read full story
MANTI TE'O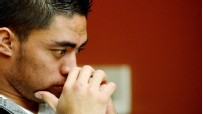 Manti Te'o denied being part of a hoax involving a relationship with a person online whom he considered his girlfriend, during an interview with ESPN on Friday night. Story »
COMMENTARY
STORIES
AUDIO & VIDEO
MORE COLLEGE FOOTBALL HEADLINES