Discussion
One guy can change everything
One day your team is in the septic tank. It reeks. The Roto-Rooter guy won't get near it.
Then the skies part, the angels sing and from the sports heavens comes a blinding light. You shield your eyes, but through the small gaps between your fingers you see a solitary figure descend toward Earth. It takes on human characteristics and soon you can make out the clothing.
An oversize panama hat with a red band. A zippered gray vest. A white T-shirt. Khaki ...

Read full story
FUTURE OF FOOTBALL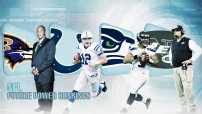 What does the future of football look like? ESPN.com will spend the week gazing into our crystal ball. The week kicked off with a look at the next class of college stars and continues with predictions for future college and NFL power rankings.
NFL: FUTURE POWER RANKINGS
COLLEGE: FUTURE POWER RANKINGS