Discussion
What's the difference
Shaquill and Shaquem Griffin have identical NFL dreams, but one is missing a hand.
Originally Published:
July 9, 2013
By
Allison Glock
| ESPN The Magazine
ABOUT 1,500 KIDS from a handful of countries are competing in the Baytaf AAU track meet in Tampa, Fla., the 99-degree heat gusting around the grounds like tumbleweeds from hell. The swelter does little to quell packs of squealing children zipping in and around the beach tents and loveseat-size coolers, and yet, as Shaquem and Shaquill Griffin wend through the crowd, spectators freeze and take note.
"Twiiins!" shriek several observers of the obvious, as if they've ...

Read full story
ESPN The Magazine: July 22, 2013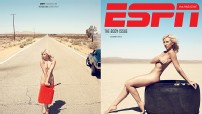 The Mag on Twitter | Facebook | iPad
FEATURES
COLUMNS
MORE
MORE COLLEGE FOOTBALL HEADLINES