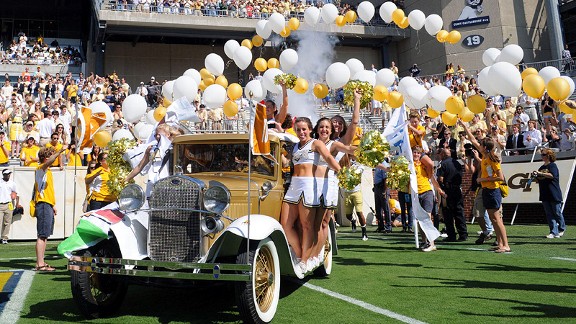 Jeff Vest/Icon SMI
Ramblin' Wreck
This is not just any car.
This one has personality. Tradition. A name.
Georgia Tech's Ramblin' Wreck, a restored 1930 Model A Ford Sport Coupe, became an instant classic at Grant Field on Sept. 30, 1961, when the Yellow Jackets hosted Rice in the season opener. The distinctive white and gold car has been a tradition at home games ever since.
Georgia Tech's student newspaper first coined the phrase "Ramblin' Wreck" in 1927 in reference to the dean of men's 1914 Ford. Floyd Field's clunker was the inspiration behind an annual race from Atlanta to Athens (which has since been discontinued), the Ramblin' Wreck Parade, which still exists, and one of college football's most recognized pregame traditions. -- Heather Dinich