Mountain West Finding Its Place
By Andrea Adelson
ESPN.com
LAS VEGAS -- The Mountain West is trying to make its push to become an automatic qualifying conference, but perhaps there is a bigger question to ask.
Where does this league fit into the current landscape?
There is no doubting the Mountain West has been able to compete with teams on the field. Boise State and TCU have made it into BCS games. The league is 22-9 in bowl games the last seven years.
But when it comes to finances, the league is in a different arena. Commissioner Craig Thompson outlined those facts during Mountain West Media Days Wednesday, describing the skyrocketing costs of funding athletic departments, increasing tuition and an inability to compete for TV dollars the way the bigger conferences can.
What it all means for the Mountain West is this: Schools will have to continue to rely on institutional support to keep their programs close to the same stratosphere everyone else is going.
"We're in a position that our limitation on television sets is an issue," Thompson said. "Unless tens of millions of people move to Colorado, Nevada, New Mexico in the coming years, we are who we are. The commitment has to remain with the board of directors that there is support from universities to fund athletics.
[+] Enlarge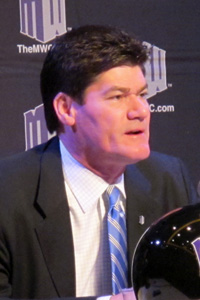 Mountain West ConferenceCraig Thompson knows the MWC lags behind the BCS conferences in finances.
"But that's a challenge because we have to raise tuition to keep universities running. In some cases, athletics are getting cut more than other departments. ... The ultimate challenge is to keep up. We have to reach out and ask our people to dig a little deeper."
Certainly, getting an AQ bid to the BCS would help. The six AQ conferences each received $24.7 million last season. The Mountain West got $12.7 million because it must share its allotment with all five non-AQ conferences -- something each conference agreed to do.
Thompson said that was something he would revisit because of the inequity there but doesn't think he would have much support from the other AQ conferences.
Much of this discussion, of course, dovetails into one that has dominated the landscape: What to do about increasing scholarship dollars to include cost of living money.
Thompson said he couldn't take a position on that until he saw an actual proposal. With variables, including whether this should apply to all student-athletes and where the money would come from, it is too hard to know whether this is something the league would want to do.
Among other topics discussed:
• Thompson is eager to see the NCAA reform its enforcement policies, noting punishments are mere "speed bumps" for programs. Thompson seemed to be in favor of stiffer penalties for schools that blatantly cheat.
"Attendance is up, revenue is up, television exposure is up ratings are skyrocketing but at what price?" he said. "It's frustrating, borderline disgusting that institutions that cut corners and cheat are able to win at that level and not pay a price. I hate to use the cliché 'crime pays.' But we've got to look in the mirror. Not necessarily the Mountain West Conference but collegiate athletics. There have got to be some debilitating sanctions placed on people or it's going to continue."
• Thompson has been invited to a summit Aug. 26 in Indianapolis with The Longhorn Network, Big Ten Network and BYUtv to discuss programming, stemming from questions raised about whether high school games can be shown on those networks. The Mountain West has its own TV network, The Mtn.
"I don't think there's any way on this earth it's going to happen that they can televise prep events," Thompson said.
• He added there are no plans to expand at this time.
A Budding Rivalry
By Andrea Adelson
ESPN.com
LAS VEGAS -- Boise State and TCU have jockeyed back and forth over the last few years as the top non-AQ teams in the country, so there was much excitement over the prospect of them both being in the Mountain West.
But with TCU's departure to the Big East, these teams will only get to meet once as members of the same conference. Still, the meeting Nov. 12 in Boise should be one of the games to watch this season -- a game that could end up deciding the conference champion.
The teams have met twice in the last three seasons -- TCU beat the Broncos 17-16 in the Poinsettia Bowl in 2008; Boise State beat TCU 17-10 in the Fiesta Bowl in 2010.
Given the recent history and their day in the national spotlight, is there a rivalry between the two schools?
"It's natural to call it a rivalry just because anytime two teams are playing with that much at stake ... it's easy to create a rivalry," Boise State quarterback Kellen Moore said. "We look forward to a third time. ... We'll have to see who wins it all."
Said TCU linebacker Tank Carder: "It's always a fun game. Both teams always come out swinging, so it's going to be a lot of fun to see what happens."
Georgia On His Mind
By Andrea Adelson
ESPN.com
LAS VEGAS -- It was a little shocking to non-AQ fans when Georgia coach Mark Richt heaped lavish praise on the Broncos last week at SEC Media Days. After all, the SEC has long been the standard bearer in college football, a conference critics always say would chew up the Broncos if they ever were to join.
But Richt said this about playing Boise State in the Georgia Dome to open the season on Sept. 3: "In order for us to get back where we want to be, which is highly ranked and highly thought of, we need to play this game."
An interesting take, considering Boise State is always the one that has to go out and prove itself against high-quality nonconference opponents. Boise State coach Chris Petersen was asked about the comments from Richt at media days and smiled.
"He's in a good spot and I think he knows it -- from a coaching standpoint," Petersen said. "They've got a huge chip on their shoulder, they've got good players, they've got good coaches, they're very motivated. He knows he's got a good team or he wouldn't be excited about playing."
Boise State has never beaten an SEC team. The last time it played Georgia in 2005, it lost 48-13.
But the Broncos are a different program today than they were the last time the two played. Still, Petersen said he doesn't think his team will ever be able to get past the point to which it is judged on how well it does in nonconference.
"Every year, for everybody, it's what have you done lately?" he said "What we've done is in the past. We've had good teams in the past, but what have we got right now? This season will tell. You've got to keep winning."
Boise State: Kellen Moore
One Good Thing

Air Force: The Falcons go into the season as the service academy champions, having beaten Army and Navy last season. Coach Troy Calhoun is especially grateful he was able to take his seniors to the White House to meet the president. "Just the other experiences involved in those two days," he said. "We made it educational, saw the memorials, Vietnam, World War II. Went to Arlington. It was moving." The goal is to win that Commander-In-Chief Trophy for a second straight season.

Boise State: Quarterback Kellen Moore has had a bit of a whirlwind summer. Not only was he at the Manning Camp with several other big-time quarterbacks, he got married this past weekend in Park City, Utah. Two days later, he was en route to Las Vegas for media days, where he was picked as the preseason offensive player of the year. What can he do for an encore to his Heisman Trophy finalist season in 2010? "Keep winning games," coach Chris Petersen said.

Colorado State: Linebacker Mychal Sisson led the nation with seven forced fumbles last season. So what is the secret to his success? "Just technique from the coaches," he said. "They teach you to put your hat on the ball and let it all work out from there." Expectations are high this season for the Rams to get back to a bowl game, with a much more veteran team returning. Sisson says there is a different feeling around this team. "Everyone is going into this season very confident and very excited to see what we can do," he said. "We feel we can prove a lot of people wrong this year."

New Mexico: With the transfer of Stump Godfrey, the Lobos have B.R. Holbrook and Tarean Austin competing for the starting quarterback job. Both played last season, though Holbrook is coming off a knee injury and hasn't been fully cleared yet to do all drills. Coach Mike Locksley expects that to happen by Aug. 3. "We'll have to do some things to manage him to get him through what's going to be a pretty physical training camp," Locksley said.

San Diego State: New coach Rocky Long said he decided to remain as defensive coordinator because, well, he loves being a coordinator. "When you've been a head coach before and you get another opportunity, you want to make sure you don't make the same mistakes twice," he said. "I was really considering not calling the defense and letting someone else do it, and [seniors Ryan Lindley and Jerome Long] had a lot to do with my decision. Leadership within the team is so good, I wanted to do what I love to do to the most, which is coach and call defenses and set up defensive schemes. The leadership and maturity of the team makes me think I can do that."

TCU: The Horned Frogs may be the defending league champions, but they were picked to finish second in the league in this, their final season. Coach Gary Patterson said several times it is not how you start but how you finish. But perhaps linebacker Tank Carder said it best when asked whether the prediction gave them extra motivation: "You always want to go out on top. The Mountain West has been real good to us. We just want to go out on a good note."

UNLV: Patience is the name of the game for the Rebels, who are one of the youngest teams in college football this season. How young? The Rebels don't have one senior offensive lineman on the team. "We have a ways to go," coach Bobby Hauck said. "It's a fact of life for us. I'd love to sit up here and say we're really close and there's a chance we can win 'em all. If you look at our schedule, there aren't going to be too many games we'll be favored in. However, I'm seeing the progress daily that we're making. We've got to keep working."

Wyoming: Coach Dave Christensen said he learned a valuable lesson from fall practice last season. Christensen says he didn't have enough live tackling reps during preseason camp. That led to missed tackles early on in the season. "We weren't ready when we started that first game," he said. Christensen plans on having four scrimmages within the first two-and-a-half weeks of camp to get in as many live reps as possible. Of course, he has to get his quarterbacks ready, with true freshmen Brett Smith and Adam Pittser vying for the job.
Air Force: Jonathan Warzeka