Chryst Finds Comfort Level With Pittsburgh
NEWPORT, R.I. -- If you want to know who the new Pittsburgh coach is, you must hear about his summer road trip.
Earlier this month, Paul Chryst drove 14 hours from his old home in Wisconsin to his new home with his golden retriever, Riley.
"Somebody had to do it," Chryst said with a smile.
[+] Enlarge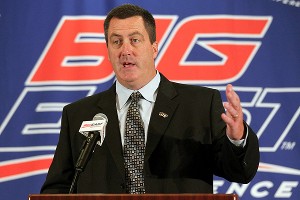 AP Photo/Stew MilnePaul Chryst hopes to provide Pittsburgh with some coaching stability.
Plenty of head coaches would see that duty as perfect for a spouse or a graduate assistant. Chryst doesn't yet see himself as the coach-cum-CEO with assistants at his beck and call. He is who he always has been: a coach's kid, a guy who met his wife, Robin, in high school in Platteville, Wis.
Chryst is used to the business, and as the fourth of five children, he is used to not getting the attention. His brother Geep, the 49ers' quarterbacks coach, played two sports at Princeton. His brother Rick, the former commissioner of the Mid-American Conference, played baseball at Notre Dame.
"I think by the time they got to me, my parents were tired of reading to us," Paul Chryst said.
Don't let him fool you. Chryst played quarterback at Wisconsin, one of the top public universities in the nation. But the larger point is that Chryst is comfortable in his own skin. He wants to be at Pittsburgh. Those are qualities that the Panthers need running their football program. When Pittsburgh hired him in December, Chryst became the school's fourth head coach in little more than a year.
Pitt fired Dave Wannstedt, one of its own, for being stuck in mediocrity. Pitt fired Mike Haywood after less than three weeks for getting in trouble with the law. His successor, Todd Graham, the human news conference, stayed for 11 months and left for Arizona State.
Pitt players go through coaches like some teams go through socks. Chryst has never been a head coach. He didn't recruit his players. Yet he didn't arrive and try to wow them. He didn't try to woo them either. He just came in and started coaching.
"He's a laid-back dude," running back Ray Graham said. "He's more chilled, relaxed."
Graham, no relation to Todd Graham, has a hard-eyed view of football life for a college senior.
"Man, it's a business," Graham said. "At the end of the day, you're going to do what's best for you. That's what I look at it as. Coach Graham said he wanted to put himself and his family in a better position. That's why he left. Best of luck to him. We have a great coach here now. I think we're going to move on from here."
Chryst said the players have a short time frame within college life. A new coach can make that even more chaotic.
"You know you have a four- or five-year window," he said. "'What's this doing to my window? How does this impact me?' For some, it's devastating. Some, it's 'I got a new chance.' There's always that, 'Geez, I've got to prove myself again?'
"The only thing we decided was to be consistent. Try not to make too big a deal of it. Just be who you are. I think actions are always more powerful than words."
Chryst's mentors in coaching have been Don Nehlen, the Hall of Fame coach from West Virginia who hired him as a graduate assistant, and Oregon State coach Mike Riley, who gave him his first paid job. Chryst worked for Riley for more than a decade, in the World League of American Football, the CFL, the NFL and at Oregon State.
Now you know why the golden retriever is named Riley.
Plenty Of Questions Remain
By Andrea Adelson
ESPN.com
NEWPORT, R.I. -- For a league in desperate need of clarity, not many questions were answered during Big East media day.
No announcement on future divisional alignment. No announcement on a commissioner or the names of the five finalists. No decisions on a bowl home for its champion. No ideas on what the Big East can get from its future TV deal.
Then there were Syracuse and Pitt, sitting on opposite corners of the room, a clear reminder the Big East cannot truly move forward until it can move away from its past.
For their part, Syracuse coach Doug Marrone and Pitt coach Paul Chryst both said there was nothing awkward about being at media day. Though keep in mind, both were at ACC spring meetings, straddling both worlds.
"This is new for me, so it's not like I'm comparing this to something else," said Chryst, in his first year as a head coach. "Our job is to coach the team, and the team as this group of guys will only be together for one year. Even one year's a long time. It's this week what are we doing, this day what are we going to focus on? So it's not hard for us to just play with that shortsightedness. You know and you respect the league and the opponents."
Marrone said, "We've got a schedule; we've got a challenge, I've been here before; let's go play. I have a low sense of empathy. People have told me that. Now if somebody wanted to give me a Harley-Davidson or something like that, that would be pretty cool. Maybe it's because of the way I was brought up. I played at Syracuse; I was raised on Eastern football.
"My vision when I was a kid of what football should be in the East is quite different than other people's. When I was growing up, I knew what Eastern football was. I could define that for you. Now, we all know the culture we're in, and we're looking forward to the challenges of this year."
Marrone alludes to the seismic shift in college football, one that has stripped the Big East of three prominent members in Pitt, Syracuse and West Virginia. With seven schools headed in the door and a new look set for 2013, nobody really knows what to make of the Big East -- especially without a commissioner, a pristine national image to cling to and no true idea about how the Big East is positioned in the future postseason beginning in 2014.
Associate commissioner Nick Carparelli tried to put on a happy face for the league in his opening remarks.
"There have been a number of stories in print and television that have been critical of the Big East and pessimistic about our future, but I will remind you that we are barely three months into a process that won't go into effect until 2½ years from now," Carparelli said. "The BCS oversight committee has made it clear there will be a place for all deserving conference champions and there will be a fair distribution of revenue.
"Major details of the new format have yet to be decided. We will wait until the process is complete, take a look at it and see where we are. Our absolute priorities are to maximize the Big East position in the new playoff system and assemble a lineup of bowl opponents and destinations that will distinguish ourselves from other conferences."
The answers await.
Louisville Picked to Take Title
By Andrea Adelson
ESPN.com
NEWPORT, R.I. -- Louisville has been a major underdog the last two seasons in the Big East. But now the Cardinals are the preseason favorite, the overwhelming choice to win the league title in the preseason media poll released today.
The role reversal wasn't lost on coach Charlie Strong.
"To take over a program that for two years, this same [media group] were the ones that chose us to finish last in the conference. Last year they picked us seventh," Strong said. "For some reason, I don't know why they picked us first this season. I will say this: Players are the ones that change programs. When they make a commitment to change a program with the right attitude, with the respect, discipline and sacrifice, those things will happen."
Strong has done an amazing rebuilding job after taking over a program that went 4-8 the season before he arrived. Louisville has posted back-to-back 7-6 seasons, and the Cardinals won a share of their first Big East championship last year with an extremely young team.
Despite the raised expectations, Louisville is once again young, with only nine seniors. The majority of its contributors are going to be underclassmen again, but at least they have playing experience to help them grow and move forward.
That all starts with quarterback Teddy Bridgewater, who returns for his sophomore season. There are unanswered questions at running back, with four players competing for the starting job. Depth and talent exist at receiver, but somebody needs to step up on a consistent basis. The offensive line has to get better as well, particularly after a poor showing in the Belk Bowl against NC State that led to Bridgewater taking too many hits.
Louisville has 17 starters returning and should once again have one of the top defenses in the league, but for Strong, maturity remains a big question moving forward.
"It's just how quickly can we grow and how quickly are we going to be able to improve from Year 1 to Year 2," Strong said. "Even though we played a lot of young guys, they still have to develop, they still have to get better.
"I look at our secondary; we started a freshman in Calvin Pryor and a freshman in Andrew Johnson, and we gave up some plays in the secondary, which we can't do. I'd like to see us improve on the defensive front. We were never healthy. I'd like to see us without the nicks and bruises."
Tracking Big East Media Day
One Good Thing

Cincinnati: If you think players don't use slights as motivation, think again. Offensive lineman Austen Bujnoch said the team has Athlon's most recent list of the top 50 players in the Big East hanging in the locker room. Cincinnati has three players on the list, all defensive players. Also in the locker room are the latest offensive line rankings from the same publication, listing the Bearcats fifth. "Some people use that as motivation; some people use fear as motivation," Bujnoch said." So everybody has their own type of motivation."

Connecticut: The big question of the day was how the injury to freshman quarterback Casey Cochran would affect the quarterback competition. Cochran broke his wrist and is scheduled to be in a cast for the next month. "It's three to six weeks, but we're very optimistic that he's going to be able to get something done in three weeks," coach Paul Pasqualoni said. "So to me, it's three weeks." Cochran enrolled early and participated in spring camp, so he already has had time with the offense and playbook. Still, redshirting remains an option.

Louisville: Coach Charlie Strong had one good line when asked about whether he thinks his team deserves to be the preseason choice to win the league. It's about USF coach Skip Holtz, whose team was picked to finish second with 20-plus seniors on his roster. Louisville has only nine. "I tell Skip, Skip's team is better than mine," Strong said. "I'm just kidding." The one position that remains up in the air for Strong is running back, where four players are vying for the starting job. "One of them needs to raise his head up above everybody else to become that guy," Strong said. "They all offer different abilities around them."

Pittsburgh: Defensive tackle Aaron Donald has received praise so far this preseason after finishing second in the league with 11 sacks in 2011. After playing a hybrid end/tackle in the 3-4 scheme the team ran last season, Donald is back inside at the position he feels most comfortable playing in the 4-3 new coordinator Dave Huxtable is installing. Last season was his first year playing end, and he prefers to be in the middle of the line. Donald said he made nearly all of his sacks and tackles behind the line inside.

Rutgers: Coach Kyle Flood announced that David Milewski suffered the third torn ACL of his career and would be out for the season. Flood had moved Milewski from linebacker to defensive end in the spring in the hopes of boosting depth up front, but Milewski has been dealt yet another setback. As for his quarterback situation, Flood said Gary Nova and Chas Dodd would split the reps to start camp. Flood has maintained he would make a decision on a starter seven to 10 days before the start of the season, but he could make an announcement before then if one of the players runs away with the job.

Syracuse: The Orange are doing things a little differently at preseason camp this year, forging a partnership with the military to train at Fort Drum in upstate New York. By all accounts, players love the decision coach Doug Marrone has made to get his team prepared for the start of the season even though hard work awaits. "During the season, teams lift and run. We're looking to substitute some of the things they do and making it as hard as possible," Marrone said. "Camp is not supposed to be easy. Camp is supposed to be hard. You don't wake up every day and say it's great. You wake up every day and change the attitude."

Temple: Coach Steve Addazio got his first opportunity to talk about Boston College transfer running back Montel Harris. "Being around him, he's a tremendous kid. He's humble. He's come in here and just been a quiet, humble guy. I've enjoyed that piece," Addazio said. "The football component, I know what I saw on videotape, and I can't wait to see that within our program in the next week. We're going to run the football. That's going to happen. So we need a group of running backs, and to be able to have someone with his ability and his experience to be able to step right in, it gives me a great comfort of knowing we have depth at that position and talent." Addazio said Harris is completely healthy after a knee injury sidelined him last year. Penn State transfer Kevin Newsome has yet to enroll.

USF: B.J. Daniels is going into his fourth year as the starter for the Bulls, and many have wondered whether this will be the year he puts it all together and becomes the best quarterback in the league. Considering how long Daniels has spent as a starter, it may seem as if he has been around a lot longer than he really has. Even coach Skip Holtz poked fun at Daniels during his time on the podium, introducing Daniels as a player who has started at USF since 2002. That drew chuckles from everybody, including Daniels.
Louisville's Hakeem Smith