Oh, How Times Have Changed
By David Ubben
ESPN.com
DALLAS -- This time last year, the Big 12's coaches formed a human wall on a spotlighted stage while a man with a microphone trumpeted the league's togetherness and unity.
Well, nine of the Big 12 coaches were there, anyway. Texas Tech coach Tommy Tuberville skipped out on the event for a golf outing with boosters.
Commissioner Dan Beebe hit home runs off softball questions from a hired interviewer about the league's stability moving forward, only hours after Texas A&M refused to sit down for interviews with Texas' new Longhorn Network.
"We're one!" the chorus rang.
[+] Enlarge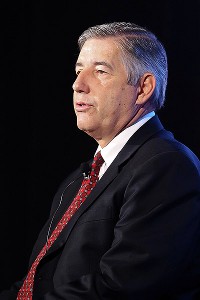 Kevin Jairaj/US PresswireIn his first season as Big 12 commissioner, Bob Bowlsby inherits a stable situation.
The conference doth protest too much, methinks. Only a few months later, the charade was up. Texas A&M was gone, taking Missouri with it to the SEC.
At Day 1 of this year's Big 12 Media Days, the league showcased a more relaxed approach with a new man in charge, fresh cash soon to be distributed to the league's 10 wallets and an air of stability that was questioned rarely during the event.
"I think the best days of this conference are ahead," Big 12 commissioner Bob Bowlsby said, delivering his 20-minute opening remarks from a lone chair on stage before taking questions from a few hundred media members.
Two years ago, a pall weighed down the event. Everyone knew Nebraska and Colorado wouldn't be returning. Last year, there was certainly speculation that Texas A&M wouldn't.
The pall was replaced by an excitement welcoming newcomers TCU and West Virginia, whose mascot roamed the halls of the Westin Galleria in north Dallas in a coonskin cap with a musket (though airport security made him pour out the gun powder in his powder horn) and impressive beard, making friends everywhere he went and generally stealing the show. He also led his fellow cheerleaders and mascots in a brave but off-key version of "Country Roads" in the lobby.
The league's no longer concerned about keeping members. A soon-to-be finalized TV contract with a 13-year grant of rights agreement helps the league keep at least its current members for more than a decade.
"The agreements made are extreme, but you have to say we're as solid as you could be," Kansas State coach Bill Snyder said.
More excitement spilled over from the recent Champions Bowl agreement that assured another postseason date with "everyone's favorite conference" ("I don't know if they're everybody's favorite league," retorted Bowlsby to a reporter), the SEC.
As for future expansion? Don't count on it. If the Big 12 voted today?
"I don't know that we'd get two votes," Bowlsby said.
Better than contraction, which has become an all-too-familiar occurrence for the conference.
Bowlsby echoed excitement about the round-robin schedule and the strength of TCU and West Virginia, whose entries gave the league six 10-game winners and three 10-win teams to begin the season.
"There's some quality teams," Tuberville said, "For some of us, they might be too quality."
Outside of a reference to Missouri's turf that played host to a pair of major knee injuries for Texas Tech starters, the Tigers and departed Aggies were seldom mentioned on Monday. Instead, the focus was on the Big 12, preparing for a defining season and the possibility of not only existing, but hosting a national championship game within its footprint to cap the 2014 season.
"We'd love to have it in the Big 12 footprint, and I think it will be on occasion," Bowlsby said.
Less than a year ago, the Big 12 almost didn't have a footprint, perhaps forced to watch the Pac-12 and SEC grow much larger at the expense of a league that has excelled on the field.
It's a different world in the Big 12 these days. That much was clear on Monday. To the smiles of everyone parading around Dallas with a Big 12 pin on their lapel, the Big 12's future is pretty clear, too.
TCU Finally Finds A Home
By Carter Strickland
HornsNation
DALLAS -- Texas Christian had the shortest commute to Big 12 media days.
But the private school in Fort Worth, Texas, certainly had the longest trip in finally making it here.
"Obviously it has been a long journey for us," said TCU coach Gary Patterson. "We have been through a lot of different conferences along the way."
[+] Enlarge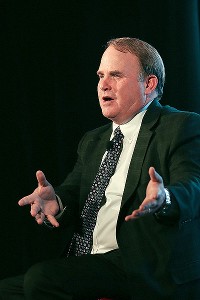 Kevin Jairaj/US PresswireGary Patterson knows the Big 12 is a different animal.
Elizabeth Taylor had fewer marriages. Seriously, just in the past 18 months TCU divorced and tied the knot with three different conferences. But the key is the Horned Frogs married up each time -- from the Mountain West to a quick annulment with the Big East and finally, now, with the Big 12. The line for the money dance queues to the left.
Now as for two-stepping through the conference like it has every other on Patterson's watch? Well, that is not so likely. When starting offensive guard Blaize Foltz is blinded by the lights just coming up the escalator in the Westin Hotel at Big 12 media days ("I got taken aback for a second," said Foltz), that's a pretty good indication there might be a slight learning curve. Or in the words of Patterson, a mountain to climb.
"When you're sitting on the side of the mountain, you don't rest," Patterson said. "We've got to keep climbing the mountain."
There are more than a few issues that could stymie the Horned Frogs' ascent, the first of which is though the Big 12 is not Everest (read: SEC), it certainly reaches higher into the clouds than anything TCU has scaled before.
"You've got to be prepared," said TCU defensive end Stansly Maponga. "The speed is going to be different."
Everything is going to be different: opponents, stadiums and, oh yeah, money.
TCU now joins Texas Tech and Iowa State as the three teams with the smallest budgets in the Big 12. The Horned Frogs had an overall budget of $56 million according to their 2010-11 equity in athletics disclosure documents. Point of reference: Texas has an overall athletic budget of $150 million.
"That's OK," Patterson said. "If you look at what we've had to accomplish and the facilities, we were walking a mile and a half to practice 15 years ago when [LaDainian Tomlinson] was our starting running back. And now our practice fields are right outside. So there's a lot of things that stand in front of us but I would say as a university and as a group totally that we do feel like that we're a little bit more stable in what we're doing."
To read the rest of Carter Strickland's story on TCU, click here.
All In The Family
By Jake Trotter
SoonerNation
Bob Stoops admitted Monday that Oklahoma's defenses have not met his standards lately.
In 2011, the Sooners ranked 55th nationally in total defense. The season before that, they ranked 53rd.
Stoops is banking that brother Mike Stoops, in his first season back with the Sooners, will be able to restore the OU defense to the prominence it enjoyed in the early 2000s.
[+] Enlarge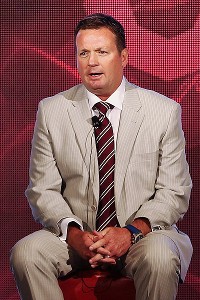 Kevin Jairaj/US PRESSWIREBob Stoops is confident the return of his brother, Mike, will help his defense improve.
"I do believe in the last couple of years, for whatever reason, that our defense hasn't been quite as strong as what we've been used to in our first 10, 12 years," Bob Stoops said. "I'm excited to have Mike back for a number of reasons, not only personally, but professionally. Our track record working together and competing together has been pretty positive."
When the Stoops brothers were last together, they annually formed one of the top defenses in the country. From 2000 to '03, the Sooners ranked in the top 10 in scoring and total defense, and capped an epic performance in the Orange Bowl by shutting down Florida State's offense to capture the 2000 national championship.
But when Mike Stoops left for Arizona after the 2003 season, the Sooners' defense has been on a gradual decline, especially in the defensive backfield.
In five seasons with Mike Stoops coaching the secondary, OU had five defensive backs named All-America. Since, the Sooners have had just one.
After 1999, the Sooners never finished worse than 25th against the pass under Mike Stoops, and in '03, they ranked second in pass defense.
In 2011, OU ranked a Stoops-era low 79th in pass defense, and surrendered a school-record 616 yards in a loss at Baylor, including 485 through the air.
"Hopefully we can make fewer mental mistakes in some areas and be a little sharper in what we're doing to play more consistently and better defense," Bob Stoops said.
"I trust Mike's judgment on a lot of issues. So I'm sure it will be a positive."
Oklahoma Center Ben Habern
One Good Thing

Iowa State: Iowa State shook up the college football world in 2011 when it upset Oklahoma State on a chilly Friday in November, clinching a bowl berth and ending the Cowboys' bid for a national title. Eight months later, the Cyclones are still enjoying the aftershocks.
Iowa State earned exposure that no amount of money can buy.
"You got the whole nation talking about it all weekend long," Cyclones coach Paul Rhoads said. "That spills over, most importantly for us, into recruiting. You go into living rooms and you go into schools and on the practice fields this spring and the Iowa State brand is recognized on a national level probably more so than it's ever been."
Rhoads' emotional postgame speeches after wins against Nebraska in 2009 and the OSU upset went viral on the Internet, helping that brand grow. Rhoads also helped carry the Cyclones into bowl games in two of his first three seasons.

Kansas State: Bill Snyder's never one for opening statements, but if he'd had one on Monday at Big 12 Media Days, he would have used it to shift the focus away from college sports' biggest news story happening nowhere near Dallas.
The NCAA handed Penn State a four-year postseason ban, a $60 million fine and had scholarships reduced by 20 per season for four years in the wake of the Jerry Sandusky molestation scandal. Asked about the penalty, Snyder brought the attention back to the reason he made the trip to Dallas.
"We're here about Kansas State University, about the young people that play the game for us and it's about the Big 12 Conference," Snyder said. "The rest of it I'm not interested in."
Instead, Snyder spent his time lauding more commendable characters, complimenting his quarterbacks' commitment to improvement and revealing that his biggest home-run hitter on the field, WR/KR Tyler Lockett, was healthy.

Oklahoma: One of the underrated weapons of Oklahoma's offense has been fullback Trey Millard. Also a ferocious blocker, Millard has been one of OU's most effective players with the ball in his hands. Last season, he averaged seven yards a carry and almost 10 yards a reception, but got only 37 touches all season.
Coach Bob Stoops said he would like to see Millard get more involved in the offense and touch the ball at least 10 times a game.
"I've said it all along, he's a great athlete," Stoops said. "We're always trying to find different ways to make sure he has opportunities."

TCU: Gary Patterson is taking a wait-and-see approach to this whole Big 12 thing.
Not on the field. There the TCU coach knows what to expect. Or at least he should after loading every Big 12 game from last season and watching them all summer long. But on the recruiting side of things, Patterson is not quite sure what to make of his brave, new world. To that end, he has pumped the breaks rather than race into recruiting in the new Big 12.
Patterson said he has been more cautious evaluating and subsequently offering scholarships early in the process. That's because the coach said he has been burned a few times in the past by leaping before he really looked at a player.
"I've backed up, making sure the guys we do [get to] commit to TCU," Patterson said of his more judicious approach to recruiting. "The old saying is it's not the guys that you lose [in recruiting] that get you beat; it's the one that you take that [can't] play."
The Horned Frogs have picked up eight of their 11 commitments since June. Ten of the 11 are from Texas, with one being from Georgia. Only one linebacker Paul Whitmill (Bastrop, Texas/Bastrop) is a four star recruit. As for the incoming class, TCU had 24 signees with only one being an ESPN 150 player, defensive end Devonte Fields.
"... I'm very excited about this freshman class that just came in," Patterson said. "And obviously they're freshmen. You hear me use the term `paper tigers.' So I don't know what they're like, but as far as character, credibility, work ethic, everything, what they've done so far this summer, they're going to make us a better football team."

Texas Tech: Eric Stephens is almost back. Texas Tech coach Tommy Tuberville says his injured running back is at about "80 percent" and will be suiting up for preseason camp. He won't be taking any contact, but that will change in the Red Raiders' first three games of 2012.
"We hope to get him some if not all of those games to get his confidence back, because that's what you need when you have an injury like that," Tuberville said.
Tuberville hoped to hide his defense's depth issues by running the ball and controlling the clock in 2011. That plan looked like it might be a success when Stephens was headed for a 1,000-yard season, but his campaign ended with a serious knee injury in a loss to Texas A&M. Doctors waited a month for the knee to heal naturally and reduce swelling before they performed surgery.
"It was devastating," Tuberville said. "It wasn't just a knee injury, it was a leg injury. Total replacement. It was one of those you hate to even think about, but he's gone through now eight or nine months of hard rehab after his surgery."
Kansas State LB Tre Walker
Tracking Big 12 Media Days

Want the latest from Big 12 Media Days? David Ubben is on the scene and tracking it all in the Big 12 blog. Follow along. Big 12 blog.
RecruitingNation
Oklahoma: SoonerNation


Follow everything Oklahoma at SoonerNation: Oklahoma Sooners football, basketball, news, recruiting and more.
• SoonerNation | Blog

| Recruiting news
RecruitingNation
Texas: HornsNation


Follow everything Texas at HornsNation: Texas Longhorns football, basketball, news, recruiting and more.
• SoonerNation | Blog

| Recruiting news