Injuries, Terrelle Pryor and an Oklahoma mystery
ather Dinich looks at a couple of key injuries, Terrelle Pryor's thoughts on the Ed O'Bannon verdict, and why a suspended Sooner is still practicing.
Some values never get old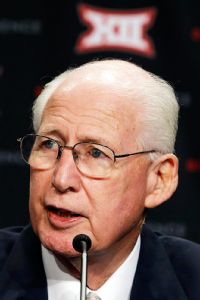 AP PhotoBill Snyder says his players know he cares about them.
1. Kansas State head coach Bill Snyder is 74 years old and still preaching old-school values. His players listen, he said, because "I explain to them how fortunate they are … that somebody cares about them to be so demanding to make certain they are doing the right things." That's not his only old-school notion. Snyder's opinion about the business of intercollegiate athletics, circa 2014: "We have gotten to the point where money has taken over college athletics, football and basketball in particular. Money, TV, the whole ball of wax. I mean this in a tamer way than it sounds, but we have virtually sold out."
2. Former Ohio State quarterback Terrelle Pryor apologized this week for breaking NCAA rules four years ago. Maybe he has matured. Maybe he feels after the O'Bannon verdict that intercollegiate athletics is meeting him halfway. But Pryor didn't trade memorabilia as a protest against the NCAA. He did it for selfish reasons, and hey, how bad could the consequences be? But Jim Tressel lost his job covering for Pryor, and the Buckeyes aren't back to where they were pre-scandal. Instead of being remembered for his career, Pryor is remembered for the problems he caused Ohio State. That would humble anyone.
3. Texas A&M head coach Kevin Sumlin and his staff developed three players recruited by Sumlin's predecessor, Mike Sherman, into 2014 first-round draft picks. But they were the only Aggies picked. "When you look at the top of our league, LSU and Alabama had nine and eight guys drafted," Sumlin said. "That speaks to depth." That means the heat is on for Sumlin's highly touted recruits (#WeRunThisState, anyone?) to play well and behave well. No one has forgotten Sumlin kicked off sophomore defensive starters Isaiah Golden and Darian Claiborne, both his recruits, in June after their arrests for aggravated robbery.
ESPN Senior Writer
Senior college football writer
Six-time FWAA award winner
Graduate of Stanford University
College Football Road Trip
---
Rece Davis and Danny Kanell are visiting seven campuses in six days on their #BusBlitz college football tour. On Tuesday, they were in Southern California to check out the UCLA Bruins and USC Trojans. Go behind the scenes with their updates. Follow along