Assume nothing until all the results are in
"Just when you think you have all the answers, I change all the questions."
I heard pro wrestler Rowdy Roddy Piper say that once. I was never the biggest pro wrestling fan, but I thought Piper was funny back in the day.
His taunt could be echoed by the BCS if we dare believe we've figured out all of the BCS combinations and permutations. Last week, Johnny Manziel and Texas A&M changed the questions by knocking previously-believed-to-be-invincible Alabama from its No. 1 perch.
[+] Enlarge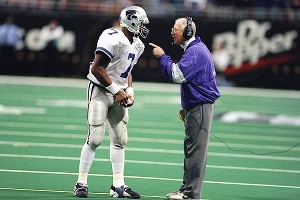 Stephen Dunn/Getty ImagesBill Snyder doesn't need to be told how quickly national championship fortunes can become undone. It happened to the Wildcats in 1998.
So who's next? Anybody? Our buddy, Chris Fallica, the noted College GameDay researcher, says there's a 14.4 percent chance that the top three contenders finish the season unbeaten. Simpler math than Fallica's tells us there's an 85.6 percent chance Notre Dame, Oregon and Kansas State won't. Or at least I think that's how it works.
The arithmetic matters far less than the attitudes of each team. There is a mathematical aspect to football. There is certainly a scientific component, but it is the artistic flair that is most compelling.
Who can handle the pressure? Who's motivated to play spoiler?
There were legitimate reasons to smell a potential upset ahead of Texas A&M's visit to Alabama. The first was that the Aggies are a really good and really hot football team. Their style of offense gave the Tide some matchup problems, and Alabama also had to deal with the emotional drain from the late rally to beat LSU the previous week. Even for those who didn't buy into those signs, the notion of an upset wasn't completely unreasonable.
Logic tells me there's a better chance of Notre Dame building a statue to honor Mark May than there is of a major upset among the top three this week. Then again, I wouldn't have expected "Dancing with the Stars" judge Len Goodman to like a Gangnam Style routine.
Late November can turn into a wild, freestyle dance in the BCS. Remember Pitt's still-inexplicable win to knock West Virginia out of the BCS National Championship Game in 2007, or 2001's chaos, which included Texas losing in the Big 12 title game to a Colorado team the Longhorns had beaten by 34 points earlier in the season, or the 1998 two-step that KO'd UCLA and Kansas State in season finales. Assuming you have the answers before all the results have been tallied has been dangerous throughout the entire history of the BCS.
There is no reason to think Baylor or Wake Forest have any answer that would lead to an upset of No. 1 Kansas State or No. 3 Notre Dame. Sure, the Bears are No. 2 in total offense, but being allergic to consistent tackling isn't conducive to beating the Collin Klein-led Wildcats.
Notre Dame has played to the level of its competition in South Bend. That would be the only reason to give Wake Forest hope. The Demon Deacons have been anemic on offense and the Fighting Irish are the stingiest scoring defense in the country.
A Stanford upset of No. 2 Oregon wouldn't seem completely unreasonable. It would fall somewhere between shocking and stunning on the upset spectrum. As good as the Cardinal have been the past two years, they've just been overwhelmed by Oregon's speed. The Ducks have won the past two meetings by a combined 44 points and have outscored the Cardinal 59-14 in the second halves of those two games.
[+] Enlarge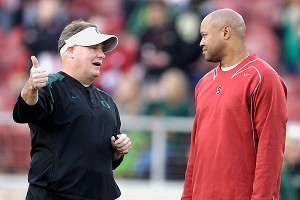 AP Photo/Paul SakumaStanford hasn't had any luck slowing down Chip Kelly and Oregon's offense in recent meetings.
The case for a potential upset of Oregon can be made based on the Ducks' banged-up defensive front. They resorted to using backup tight ends for some depth in last week's win against Cal.
Stepfan Taylor and the power running game of the Cardinal probably will have some success against the Ducks. But can they have enough success? Plus, QB Kevin Hogan is getting only the second start of his career in the House of Loud. Offense, however, is the least of the Cardinal's problems.
Stanford has the best rush defense in the country and top total defense in the Pac-12. You want no part of Stanford's defense fighting in a phone booth, but Oregon prefers to roam freely through wide-calling areas. Stanford's defense has warriors such as Chase Thomas, Trent Murphy and Ben Gardner who give them a shot to control the edge, but can the Cardinal do that and still control the middle in the running game?
If they do somehow take away the run, Chip Kelly will counter with the nation's most efficient passer in Marcus Mariota.
Too many weapons. Too little defensive speed to counter.
There's no logical reason to anticipate upsets among the top three teams. But I'm reminded of another Rowdy Roddy Piper quote, this coming from his acting days.
In John Carpenter's cult classic, "They Live," Piper's character announced, "I have come here to chew bubble gum and kick [butt] … and I'm all out of bubble gum."
With three weeks to go in the season, you never know who will show up all out of gum, but with just enough game to chew up the BCS standings.
---
Don't overlook a game with no BCS significance. Ohio State visits Wisconsin in what would be a humongous game if not for the Buckeyes' NCAA probation and postseason ban.
Brutus could have brought BCS championship aspirations to Camp Randall. Instead, Ohio State is the forgotten fourth undefeated team, but may have the biggest hurdle of all in its pursuit of perfection.
The Buckeyes face a Badgers team that is starting to resemble its old self again, with a devastating power running attack that was missing early in the season. Montee Ball's next touchdown will be his 78th, matching the FBS record for touchdowns scored.
The record is secondary. Wisconsin already has secured a spot in the Big Ten title game, though Ohio State has to win only one more to technically win the Leaders Division.
In a confusing decision by the conference, Ohio State can still be declared the winner of the Leaders Division despite being unable to represent it in the conference title game.
The Badgers' hopes of erasing a potential asterisk beside their trip to the conference title game isn't quite as compelling as shaking up the BCS race, but if you are a major upset connoisseur, that might be your best chance Saturday.
GameDay Twitter Kickoff
Editor's note: Rece Davis and ESPN.com's Mark Schlabach traded thoughts about Week 12 over Twitter on Thursday. The following is their exchange:
Herbstreit on Stanford-Oregon
Nickel Package
1. With a win over Tennessee this week, Vanderbilt will clinch its first winning season in the SEC since 1982, when the Commodores went 4-2 in the conference. That's a long time, but it's not the longest active streak among current FBS teams. In fact, you don't even need to look beyond the SEC East to find a longer streak. Kentucky has the longest current streak of consecutive non-winning seasons in conference games. The Wildcats haven't had a winning SEC record since 1977, when they went 6-0 but were ineligible for the SEC championship and a bowl game due to NCAA probation.
To read the rest of ESPN Stats & Info's Nickel Package, click here.
Blog Network: What to watch
Each week, our bloggers will take a closer look at the storylines you should watch. What's on tap for Week 12?

Like it or not, some team has to represent the ACC Coastal in the league's championship game. Duke can take one step closer to that aim by beating Georgia Tech, while Florida State can clinch its place with a win.
ACC

The bull's-eye is squarely on Kansas State's back as the Wildcats head to Baylor as the newly-minted No. 1 team in the country. How will they handle it?
Big 12

Was Syracuse's masterpiece performance against Louisville merely a flash in the pan? We'll find out when the Orange visit Missouri.
Big East

Wisconsin can not only stake its rightful claim as the Leaders Division representative in Indianapolis by beating Ohio State, Montee Ball can further etch his name in the NCAA record books.
Big Ten

A Pac-12 North showdown between Stanford and Oregon is wildly interesting and has BCS National Championship implications, but the Pac-12 South's marquee matchup between L.A. rivals is just as important in the league race.
Pac-12

Yawn. It's FCS celebration week in the SEC. If you're looking for something to pay attention to, keep an eye on teams still trying to become bowl eligible (Ole Miss, Missouri).
SEC

It's Senior Day in South Bend, which means Fighting Irish fans will have their last chance to see players like Manti Te'o at Notre Dame Stadium.
Notre Dame
ESPNU podcast
ESPNU College Football
Ivan Maisel talks to Kevin Gemmell about the latest happenings in the Pac-12 including the big games in the North and South. Plus, Mitch Sherman on UCLA recruiting.
Johnny Manziel vs. Marcus Mariota
Fantasy college football
By ESPN Fantasy
Make "GameDay" your game day with three ways to play.


• Pick 'Em: How confident are you?
• College Challenge: Build the best team
• College Showdown: Choose wisely