BCS title stakes in Atlanta, but what else is new?
The drama of this season has been replaced by anticipation.
There's no intrigue over a few decimal points in the final BCS standings. No. 1 Notre Dame will face either No. 2 Alabama or No. 3 Georgia in the BCS National Championship Game in January.
As good as the SEC has been during its run of six straight national championships, I still believe No. 5 Oregon is as good as any of the teams ahead of it in the BCS standings. But the reality is that neither Oregon's computer rankings nor its résumé match even that of No. 4 Florida.
The Gators will be left out too. Will Muschamp's team will be left to wonder "what if?"
[+] Enlarge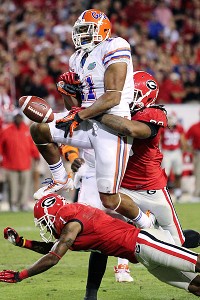 Icon SMIJordan Reed's fumble was the turning point in Georiga's win over Florida on Oct. 27.
What if TE Jordan Reed held on to the ball as he was headed toward the goal line late against Georgia? For that matter, what if the Gators could have any of their six turnovers against Georgia back?
Oregon can bemoan the bounce of the ball, too. A Stanford fumble in overtime that somehow squirted away from the Ducks allowed Cardinal kicker Jordan Williamson to nail the game-winning field goal that crushed the Ducks' dream.
The point is, there's not a lot of separation at the top of the pack. I also don't believe there is a truly elite team in the bunch. Last season, Alabama's defense was among the finest in the modern history of the sport. But if LSU won the title game, the Tigers would've perhaps been judged as the most accomplished champion in the BCS era in terms of their number of marquee wins.
Oklahoma State was an offensive juggernaut last season, and most any other year would've played for the title.
I don't think any of this year's contenders are at that level. There are a lot of very good teams. I just don't see any great ones.
But they don't engrave "best among the very good, but not truly elite teams" on the trophy. It just reads "Champion."
None of which is to say Alabama versus Georgia isn't ultra-compelling. All you have are the two most efficient passers in the game, dueling running back duos whose rushing totals are within 10 yards of each other, and ferocious defenses stockpiled with playmakers and NFL talent.
It's also the first time Alabama and Georgia have met in the SEC championship game. Alabama's seven SEC title tilts have all been against Florida; Georgia tangled with LSU in three of its four trips, so there's even a fresh feel in this clash of traditional conference powers. And for the third time in five years, the SEC championship game will serve as a national semifinal. Think of it as foreshadowing the playoff to come in 2014.
With six straight BCS championships tucked away, it's pretty much standard operating procedure for the stakes to be high in Atlanta. The tangible things at stake for the Crimson Tide and Bulldogs are obvious. Less obvious are the intangible qualities.
An Alabama win lifts the Tide one step closer to the rarefied air of being the dominant program of an era. Think Miami in the '80s, Nebraska in the mid-'90s or USC in the early and mid-2000s. Beating the Dawgs would give Alabama a date with the Fighting Irish and a chance to win its third BCS title in four years. Nick Saban would have a shot at his fourth BCS crown -- he's already the only guy to have won three.
Bama's AJ McCarron would earn a chance to become the first quarterback to lead his team to two BCS titles as its starting quarterback. Funny how one game can alter perception. If Alabama loses, the Tide would still have two national titles and a staggering 59 wins over the last five years, but only one SEC championship.
It's a thin line, for sure, but a win over Georgia would leave Alabama one victory away from the most dominant stretch in the BCS era.
Georgia has plenty on the table in terms of program perception, too. Mark Richt had near-misses for shots at a BCS crown in 2002 and 2007. This time, the dominoes fell the Bulldogs' way. Now they don't need help. They need only to win their biggest game since playing Penn State for the national championship in 1982 to get a shot at Notre Dame, the team they beat for their national title in 1980.
[+] Enlarge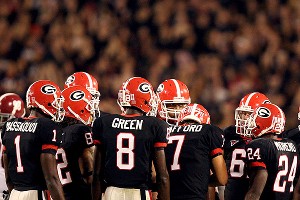 Doug Benc/Getty ImagesGeorgia wore black for its last meeting against Alabama, in 2008. It was appropriate considering the outcome.
Just last season, people were openly questioning whether the Georgia program had grown stale under Richt. After the Bulldogs started 0-2, analysts Mark May and Lou Holtz debated Richt's future on ESPN's "Final Verdict." Whatever the judge ruled at the time, the verdict is clear now: Richt has revived the Dawgs. Even though some have said Georgia's two straight SEC East titles are the product of fortuitous schedules, beating Alabama would silence any remaining doubters.
Saturday afternoon also represents a chance to come full circle for UGA. One game never completely defines the direction of a program, but it's hard to ignore the impact of its loss to Alabama in 2008, the last time these teams met. Georgia was undefeated, riding an 11-game winning streak dating to 2007 and viewed as a national championship contender with QB Matthew Stafford, RB Knowshon Moreno and WR A.J. Green.
Senior LB Christian Robinson was a freshman on that team. He told a reporter this week, "It was kind of an attitude change. We were kind of on cloud nine for a while, after the Sugar Bowl the year before."
Referring to Alabama, Robinson said, "Then you come in and play a team that was out to prove they belonged, and they were back."
That 41-30 loss wasn't nearly as close as the score indicated. The Tide had a 31-0 lead at halftime of the "blackout" game at Sanford Stadium. Plenty of black marks on Georgia's record soon followed. The thumping by the Tide was the first of 15 losses over the next three years, capped off by a Liberty Bowl loss to UCF to end the 2010 season that left Georgia at 6-7, Richt's only losing season in Athens.
On Saturday, the Dawgs get a chance to prove they're back. Georgia is brimming with confidence and exuding swagger. Senior safety Bacarri Rambo told ESPN Radio that Georgia is better than Alabama at every position. It is true that Georgia will have the most dominant individual defender on the field, LB Jarvis Jones.
Georgia QB Aaron Murray has taken his share of shots (many of them unfounded) as a result of his 3-9 record as a starting quarterback against ranked teams. He hasn't spoken to the media this week. That's OK.
Saturday's result will speak volumes about his legacy and the legacies of both these SEC giants.
GameDay Twitter Kickoff
Editor's note: Rece Davis and ESPN.com's Mark Schlabach traded thoughts about conference championships over Twitter on Thursday. The following is their exchange:
Blog Network: What to watch
Each week, our bloggers will take a closer look at the storylines you should watch. What's on tap for conference championships and the rest of Week 14's action?

Florida State's rush defense is banged up and smarting after being handled by Florida. Running the ball happens to be the thing Georgia Tech likes to do most.
ACC

Kansas State has had two weeks to recover from its loss at Baylor and prepare for Texas. The Wildcats still have a Big 12 title to wrap up and QB Collin Klein's Heisman hopes to bolster.
Big 12

Louisville plays at Rutgers with the Big East title on the line. What can the Cardinals -- and the Scarlet Knights, for that matter -- expect from QB Teddy Bridgewater?
Big East

Wisconsin has a habit of losing close games. Nebraska has a habit of winning them. Will that stand true in the Big Ten championship game?
Big Ten

Throw out the first game; it's all about the title-game rematch. Can Stanford dominate the point of attack on both sides of the ball as it did in last week's win over UCLA?
Pac-12

Notre Dame will be among the most interested parties watching the action in Atlanta. Can Alabama continue its run of dominance or will Georgia break through?
SEC
Texas-Kansas State preview
ESPNU podcast
ESPNU College Football
Ivan Maisel talks to Adam Rittenberg, Edward Aschoff and Mitch Sherman about the impact of conference championship games.
Win big or win often?
Is it better to have won and lost than to never have won at all? Hot Button »

• What went wrong at Colorado? » Podcast

•
Remembering seasons fans want to forget »
Fantasy college football
By ESPN Fantasy
Make "GameDay" your game day with three ways to play.


• Pick 'Em: How confident are you?
• College Challenge: Build the best team
• College Showdown: Choose wisely