Hunters become the hunted
"When you're huntin' somepin you're a hunter, an' you're strong. Can't nobody beat a hunter. But when you get hunted -- that's different. Somepin happens to you. You ain't strong: maybe you're fierce, but you ain't strong." -- Muley Graves, "The Grapes of Wrath."
Muley had lost his farm and his family in John Steinbeck's classic novel, but what he'd really lost was his edge and his drive. Rather than pursue, he was protecting.
You haven't stumbled into an American Lit class, but rather a human nature clinic, with college football as a guide.
South Carolina, West Virginia and Kansas State would do well to learn from ol' Muley. Though Florida and Notre Dame don't fit neatly into this profile based on their tradition and past success, the current congregation of Gators and brood of Irishmen would do well to heed the lesson.
[+] Enlarge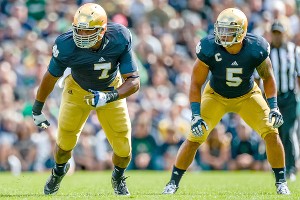 Robin Alam/Icon SMINotre Dame's front seven faces perhaps its biggest test yet against Stanford.
Pursuing is preferable to protecting. These teams, to varying degrees, have been the "it" teams over the first six weeks of the season.
The challenge is to maintain the hunter's edge.
Nowhere is that more evident than with South Carolina. The Gamecocks have a long history of frittering away prosperity. The most recent example came after Stephen Garcia's perfect game against No. 1 Alabama in 2010.
What happened the following week? Cocky went beak first into the dirt against Kentucky, losing 31-28.
LSU might be struggling on offense. But the Tigers aren't Kentucky. What they are now is the hunter. South Carolina risks being the prey.
Where the hunters will aim: One place to target South Carolina is in the back seven of its defense. Of course, the Gamecocks' magnificent front four can render that relative vulnerability moot. Few can help a defense to keep its edge (and keep an offense on edge) like Jadeveon Clowney. He was a straight freak against Georgia, and LSU has had problems in protection.
By the way, what kind of luxury is it that Devin Taylor might be your third-best defensive lineman? I don't mean that as a slight, but Clowney is otherworldly and Kelcy Quarles is a force in the middle. Taylor quietly shuts down his side of the line.
LSU might find a softer spot in South Carolina's armor by forcing Connor Shaw to stay in the pocket and beat the Tigers by passing. Shaw has been efficient, but LSU is one of the few defenses equipped to negate his running ability and challenge him as a passer.
Shaw hasn't thrown the ball a lot; he hasn't needed to. What if he did? Might South Carolina lose its edge if its running game is taken away? LSU has the players to do it. And after the loss to Florida, the Tigers are now in the role of the desperate hunters.
West Virginia has the classic sandwich game. The Mountaineers go to Lubbock to face Texas Tech on Saturday, this coming after they won their Big 12-opening shootout with Baylor and then passed their litmus test against Texas, and before they receive a visit from Kansas State.
Where hunters will aim: Defense is obviously the issue for the Mountaineers. They made a couple of clutch stops against Texas, but at some point applying that pressure to its own offense, no matter how potent, will prove fatal.
West Virginia has to stay in attack mode on offense, but coach Dana Holgorsen has been very patient. Let's say a team goes on a long, sustained drive. Will the Mountaineers become impatient? It's a potential weakness and, honestly, one that is more likely to be exploited by Kansas State than Texas Tech.
Notre Dame, some would argue, is always the hunted. I understand that. There's still a measure of validation that comes with beating a program that has such a storied tradition. But this current team hasn't had a hand in building that tradition.
Now, people are loving up the Fighting Irish's defense. The running game can be potent as well.
Where hunters will take aim: The Irish secondary. Stanford doesn't necessarily have the wide receivers to scare Notre Dame's defensive backs, but tight ends Zach Ertz and Levine Toilolo are matchup nightmares for almost any team.
The Cardinal won't avoid the Irish's strength, which is their front seven. Stanford will pound away with Stepfan Taylor, try to hit play-action, and use those tight ends in creative ways.
Plus, there may be even more pressure on the Irish defense because the Cardinal's defense tends to play well against power teams, while Pac-12 opponents like Oregon and Arizona present matchup problems. While Notre Dame coach Brian Kelly has been masterful with his take on the spread, this Irish team is constructed more for power and plays a style much more to Stanford's liking.
Florida, like Notre Dame, is always the hunted to a degree.
But the Gators have had early-season success because of a relentless drive to prove they aren't the same soft team that wilted last season. They've certainly played like fully grown men during the second halves of games.
Where the hunters will take aim: Gators' passing game. Vanderbilt probably doesn't have the weaponry to exploit the Gators' vulnerability this week, but it's key that Florida continues to develop its passing game.
Florida is unlikely to be able to run the ball 25 consecutive times to finish a game against some of the remaining teams on its schedule. Then again, I would've never believed the Gators could beat LSU that way. My point is that's a hard way to make a living.
South Carolina and Florida State will try to force the Gators into throwing when they don't want to. Is Jeff Driskel up to it? Can Florida develop some consistent game-breakers?
As for Kansas State: I can't imagine that Kansas State under the Wizard, coach Bill Snyder, and the gladiator , QB Collin Klein, will ever lose that hunter's mentality.
However, the Wildcats should guard against entering Saturday's game against Iowa State flat. The Cyclones notched an impressive win over the Horned Frogs; yes, TCU was without suspended QB Casey Pachall, but still an impressive victory. They're stingy on defense and have some playmakers, such as WR Josh Lenz, on offense. And as we all know, you don't just waltz into Jack Trice Stadium and stroll out with a victory. Not if you allow yourself to slip into the mentality of being the hunted, protecting rather than pursuing.
These "it" teams need to remind themselves: If you let the hunter's edge slip away, you risk tasting the Grapes of Wrath.
GameDay Twitter Kickoff
Editor's note: Rece Davis and ESPN.com's Mark Schlabach traded thoughts about Week 7 over Twitter on Wednesday. The following is their exchange:
Les Miles vs. Steve Spurrier
Blog Network: What to watch
Each week, our bloggers will take a closer look at the storylines you should watch. What's on tap for Week 7?

Duke can become bowl-eligible this weekend with a win over Virginia Tech. Fact. And how will Florida State respond against Boston College?
ACC

TCU will need to reach deep to overcome the loss of QB Casey Pachall. Plus, Red River stakes and challenging road tests for Kansas State and West Virginia.
Big 12

Can Pitt's offensive line offer Tino Sunseri any protection? And can Rutgers RB Jawan Jamison keep his 100-yard rushing streak going?
Big East

Follow the Leaders, or, in this case, Wisconsin and Purdue. Which team will get a leg up in the divisional race?
Big Ten

What can we expect from Oregon State backup QB Cody Vaz, who fills in for Sean Mannion? Plus, it's gut-check time for USC and Washington.
Pac-12

Zach Mettenberger needs to bounce back for LSU, which won't be easy against South Carolina's defense. Elsewhere, can the Gators maintain their focus?
SEC

Stanford poses a unique challenge for Notre Dame. Namely, the Cardinal might be able to match the Fighting Irish at the line of scrimmage.
Notre Dame
Red River Rivalry preview
Fantasy college football
By ESPN Fantasy
Make "GameDay" your game day with three ways to play.


• Pick 'Em: How confident are you?
• College Challenge: Build the best team
• College Showdown: Choose wisely