Living in a week-to-week world
One week you're the toast of the town; the next you're roasted on Twitter.
One week you're dating Mila Kunis; the next you're being shot down by Rhea Perlman.
USC, LSU, Florida State, West Virginia and South Carolina all have experienced fate's fickle hand taking them from the mountaintop to the abyss and, in some cases, back toward the top.
How do you respond when you take a sledgehammer to the gut? West Virginia and South Carolina will get a chance to show us their mettle this weekend.
[+] Enlarge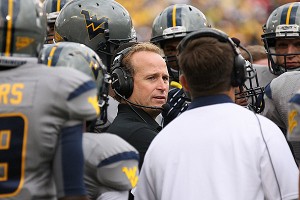 Brad Davis/Icon SMIHow will Dana Holgorsen's team respond after suffering its first loss of the season?
In this 140-character, instant-reaction world, preaching patience in our discourse is not a virtue and is rarely admired.
That's OK. As sports fans, visceral, hyperbolic reactions are part of the charm. But just as the breathless discussion of whether West Virginia's high-speed attack was the latest new wave and would set the trend for the way the game is played, the Mountaineers showed up in Lubbock, Texas, and looked as stylish as black socks with sandals.
It takes just one week in a college football season to come back into fashion.
West Virginia will be cutting-edge again if it can knock off undefeated Kansas State. I love this matchup because the styles are polar opposites. The Mountaineers are Urban Outfitters. The Wildcats are Brooks Brothers. The Mountaineers' coach watches Felix Baumgartner break the speed of sound. The Wildcats' coach watches Pinocchio break his word. Both approaches work, but only one can win this week.
The culture clash will be fascinating. This game will be about which team imposes its will and tempo. It's often said that it's easier to slow a game down than speed one up. West Virginia averages about 15 more snaps per game than Kansas State. Collin Klein and the Wildcats' offense held the ball nearly 35 minutes when the Cats beat Oklahoma.
Time of possession might not mean anything to West Virginia, but it can affect tempo and pressure. If K-State can finish long drives with touchdowns, Geno Smith and the offense will know their number of possessions will be reduced. Will the Mountaineers begin to press?
West Virginia's defense might actually have a good matchup. The Mountaineers are 20th in the nation in yards per play allowed per rushing attempt. Is that because everyone has just thrown the ball on West Virginia's poor pass defense? We'll see. K-State isn't going to start pitching it all over Milan Puskar Stadium. The Wizard, Bill Snyder, will stay true to his identity. Saturday night will tell us plenty about the identity of both teams and whose style is timeless, at least for this week.
---
Steve Spurrier said this week that he'd like to see Florida finish second in the SEC East.
"That would be a good season for them," the Head Ball Coach said.
Spurrier will know whether his season has a chance to be good or great Saturday night. If the Gamecocks don't beat Florida, their chances to win the SEC East will be virtually gone. A Florida win would give the Gators a two-game edge and the head-to-head tiebreaker on South Carolina with two games to play.
South Carolina defensive end Jadeveon Clowney called out some teammates because he wanted more effort and intensity. South Carolina has major intensity and a major opportunity. The Gamecocks are finishing perhaps the most brutal three-week stretch any team will face this season. Georgia. At LSU. At Florida. If they leave the Swamp with a second win in that stretch, the path will be wide-open to the SEC East crown and a date in the championship game in Atlanta.
---
How West Virginia and South Carolina respond to losses will be telling. So too will be how Texas Tech responds to its beatdown of the Mountaineers. The Red Raiders go to TCU.
[+] Enlarge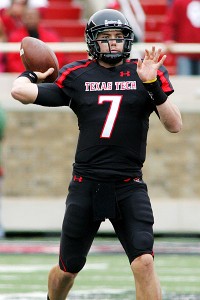 Michael C. Johnson/US PresswireHow will Seth Doege and Texas Tech handle success this season?
Tech beat Oklahoma last season but looked as though it handed in its uniforms after that game. Texas Tech didn't win again, losing its final five games while giving up approximately 5 million points in the process -- a slight exaggeration. Three times the Red Raiders allowed 50 or more. Twice they allowed 66. Just one game in that stretch was decided by fewer than 24 points. Can Tommy Tuberville's team stand prosperity?
Quarterback Seth Doege is keenly aware of how quickly fortunes can change. Comparing the fans' reaction to the Red Raiders' loss to Oklahoma two weeks ago and the win over West Virginia this past Saturday, Doege said, "People didn't want to talk to us. Nobody wanted to shake our hand. This week, everybody wants to pat us on the back."
Just as everybody in Baton Rouge is patting LSU on the back after it beat South Carolina. The Tigers were desperate, and they responded brilliantly. As telling might be how they handle a morning kickoff at Kyle Field and Texas A&M's transcendent freshman quarterback Johnny Manziel.
All Johnny Football has done in his six-game, thrill-a-snap career is break the SEC single-game total offense record twice, the latest output being 576 yards against Louisiana Tech. But this week he faces Louisiana State. Same state, different state of mind defensively.
It took LSU's past three SEC opponents combined to put as many yards on the Tigers as Manziel had against Louisiana Tech. LSU has throttled dual-threat quarterbacks the past two weeks, as Florida's Jeff Driskel and South Carolina's Connor Shaw combined to rush for zero yards against the Tigers. Bottling up Johnny Football and his freewheeling, Fran Tarkenton-esque style might prove trickier. Then again, it might not.
This is LSU's last game before its showdown with Alabama on Nov. 3. The Tigers are already in prime position among one-loss teams in the BCS standings. But as LSU and others have already learned the hard way, prime position in college football is a week-to-week proposition.
GameDay Twitter Kickoff
Editor's note: Rece Davis and ESPN.com's Mark Schlabach traded thoughts about Week 8 over Twitter on Wednesday. The following is their exchange:
Blog Network: What to watch
Each week, our bloggers will take a closer look at the storylines you should watch. What's on tap for Week 8?

What happens at quarterback for Miami, and can Virginia Tech keep its momentum?
ACC

Quarterback questions for Kansas, Oklahoma State and Texas highlight the weekend. Plus there's that big game in Morgantown.
Big 12

Revenge against the MAC, Syracuse's improving defense and Tino Sunseri's hot streak are in the spotlight.
Big East

The Michigan seniors would like to do something they've never done: beat Michigan State. Plus, Blackshirts versus Blackshirts and the Weisman Watch.
Big Ten

Cody Vaz wasn't just a pleasant surprise; he was sensational in making his first start on the road for the injured Sean Mannion. And Arizona State looks for its big shot versus Oregon.
Pac-12

The East race starts to clear up some this weekend, and A&M QB Johnny Manziel gets his shot at entering the Heisman race.
SEC

Everett Golson gets the call again, as Brian Kelly shows a lot of faith in his young QB.
Notre Dame
South Carolina-Florida preview
Fantasy college football
By ESPN Fantasy
Make "GameDay" your game day with three ways to play.


• Pick 'Em: How confident are you?
• College Challenge: Build the best team
• College Showdown: Choose wisely