Uncertainty reigns supreme in spring
Spring practice is typically a time to answer questions, not create them. But the NCAA allegations released last month against Ohio State coach Jim Tressel have removed the Buckeyes from the gravity of preseason predictions.
[+] Enlarge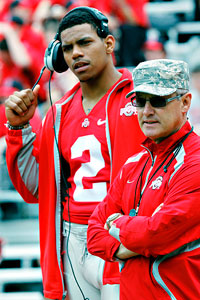 AP Photo/Terry GilliamIt's difficult to predict what the future holds for Jim Tressel and Ohio State coming out of spring practice.
Really, how can anyone peer into the future and find the Buckeyes? First, the NCAA suspended quarterback Terrelle Pryor and four other players for the first five games of the season. Second, the university announced that Tressel would serve a similar suspension. Finally, the allegations that Tressel misled the NCAA and did not act honestly mean that five games is now the floor for what he will serve.
Ohio State is in limbo. So is the rest of the Big Ten Conference -- Wisconsin and Iowa are both rebuilding; Penn State must mature; Michigan State must prove it can recover from its devastating bowl loss to Alabama.
Limbo is a pretty good word to describe the rest of college football. What I learned from spring practice is that after Oklahoma, Alabama, the Pac-12 North duo of Oregon and Stanford and maybe Boise State, there are no obvious national championship contenders.
And that's OK. Auburn came out of relative nowhere to win the crystal football last year. After a tumultuous (Ohio State, Fiesta Bowl) offseason, the best thing that the 2011 season offers is unpredictability.
Oklahoma has returning players at nearly every position from the team that went 12-2 and won the Big 12 championship. The Sooners are unproven at running back and in the secondary. But the spring showed that they have talent waiting to step into the lineup -- at tailback, January enrollee Brandon Williams looked as promising as heralded -- and they have a favorable schedule. The second game of the season, at what will be a highly ranked Florida State, comes early enough (Sept. 17) that the loser of the game will remain in the national championship race.
Alabama had the most players selected in the first round of last week's NFL draft (four) and lost quarterback Greg McElroy, a seventh-round pick of the New York Jets. But the Crimson Tide have capable replacements and the motivation of a cause. Head coach Nick Saban is best known for keeping his team focused. The devastation wreaked by last week's tornadoes will throw a wild card of emotion into Saban's preparation.
The tilt of the inaugural Pac-12 season will be to the north. Oregon and Stanford finished last season in the top five and are likely to pick up where they left off. A resurgent Washington looks as though it will continue to improve. In the South, there are more questions than answers. Will USC win its NCAA appeal? Will Utah survive the schedule upgrade? Will Arizona rebound from its late-season collapse?
Florida State may return to the national championship picture, which is more than anyone else in the ACC can say at this point. But redshirt junior EJ Manuel started six games in place of an injured Christian Ponder the past two seasons. Manuel is expected to make a smooth transition into the Seminoles' offense.
Any team that emerges from the Big East into the BCS discussion will be a dark horse. Boise State moves into the Mountain West Conference as a favorite over two-time defending champion TCU, both because of the Horned Frogs' youth and because the MWC made sure the two teams would play in Boise. TCU, which is leaving for the Big East next year, got no schedule breaks. With senior Kellen Moore at quarterback, the Broncos will be in the national hunt.
Spring tidings can portend summer danger
So, your favorite school has bounced out of spring practice looking good. The team has a ton of returning starters, some young players stood out in the spring game and a big recruiting class is on the way.
What could possibly go wrong?
Plenty.
Before you go booking hotel rooms for January in New Orleans, consider the plethora of offseason perils that are out there just waiting to snatch your team and drag it down into disappointment and underachievement. These are the reasons that coaches get nervous from May until the start of fall camp in August:
[+] Enlarge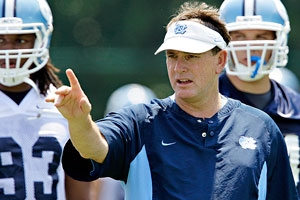 AP Photo/Gerry BroomeThis time last spring, Butch Davis had a dark-horse national contender on his hands. Things unraveled quickly as summer approached.
NCAA issues: Think back to last year at this time. North Carolina was considered a prime breakthrough candidate, talented enough to win the Atlantic Coast Conference and make a dark-horse challenge for the national title. Except then Agent Armageddon stripped the team of many top-shelf players and steeped the season in turmoil. Result: The Tar Heels wobbled to an 8-5 record, losing an opportunity for one of the greatest seasons in school history.
USC's 2010 season was scuttled before it started by the June NCAA Committee on Infractions ruling that banned the Trojans from bowl games for two years. A.J. Green was headed for a four-game suspension at Georgia -- and the Bulldogs would lose three of those games without him.
Bad behavior: I don't have statistics on hand, but there tend to be plenty of player arrests throughout the summer months. Something about idle time being the devil's workshop.
These days, heavy emphasis is put on players' staying on campus to work out together -- but most of them are taking a lighter academic load. Without daily practice and a full class schedule, they have more free time on their hands. Also, with fewer students on campus, there are fewer reasons for players to spend time there -- which can increase the possibility of heading to the proverbial "wrong side of town" in search of fun.
This also can be a time for failed drug tests to pop up, leading to the telltale "violation of team rules" and subsequent suspension for a game or two or three to start the season.
Academics: For some players, summer school is catch-up time -- and some of them fail to catch up. There is usually a smattering of ineligible players by the time we get to kickoff in September.
Freak injury or other misfortune: Hopefully, nothing ever so tragic as what befell blue-chip Notre Dame offensive line recruit Matt James, who fell to his death from a hotel balcony while on a spring break trip to Florida last year.
Flunking chemistry: In August, you will hear a unanimous refrain from sea to shining sea: We had a great summer in the weight room; we're bigger and faster than we've ever been; attendance at "voluntary" workouts was great; we're closer than ever; we came together as a team. Sometimes it's true. But sometimes the opposite is true -- sometimes a team comes apart during the offseason. If a team already has shaky chemistry, locker room fissures can intensify in the summer months, when coaches are less present to smooth over any disagreements or issues that arise.
Coaching miscalculation: Every once in a while, a coaching staff will make a significant strategic change in the offseason -- and whiff. Texas 2010 comes to mind, when the Longhorns recommitted to a power running game at precisely the time they had an offensive line and running backs who couldn't handle the assignment. Despite the usual sunny prognosis that accompanies any change in offensive or defensive philosophy, not every system alteration works.