Can't lose with Ducks-Trojans, Tide-Tigers
By Mark Schlabach
ESPN.com
Imagine you're a college football fan with no ties to the Pac-12 or the SEC, nor any to the West Coast or the Southeast. You've barely digested this past Saturday's action and the phone rings Sunday morning with an unimaginable offer: two game tickets, plus an all-expense-paid trip to see either Oregon at USC or Alabama at LSU this coming weekend.
[+] Enlarge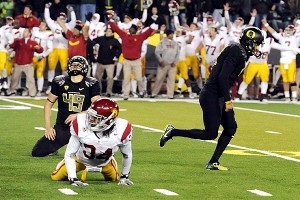 Steve Dykes/Getty ImagesLast season, USC ended Oregon's 21-game home winning streak at Autzen Stadium.
Yes, the Oregon-USC game at the Coliseum in Los Angeles on Saturday night lost some of its luster when the Trojans fell 39-36 at unranked Arizona this past weekend. But how can you pass up the chance to watch the No. 4 Ducks' high-powered offense and fashion show?
Also remember that the Trojans upset the Ducks 38-35 last season, which ended Oregon's 21-game winning streak at Autzen Stadium, the longest home streak in the country at the time.
With quarterback Matt Barkley and receivers Marqise Lee and Robert Woods, the Trojans might still have the best chance at knocking off the Ducks in the regular season. Given Oregon's soft nonconference schedule and its company at the top of the BCS standings, it probably can't afford to lose a game if it wants to play in the Jan. 7 Discover BCS National Championship Game in Miami.
Of course, No. 1 Alabama and No. 5 LSU played two epic games last season. The Tigers defeated the Crimson Tide 9-6 in overtime in Tuscaloosa in the regular season, but the Tide won the rematch 21-0 in the Allstate BCS National Championship Game in New Orleans to win their second national title in three seasons.
Alabama looks unbeatable again this season, moving to 8-0 with a 38-7 rout over then-No. 11 Mississippi State on Saturday night. LSU has lost only once, falling 14-6 at Florida on Oct. 6. Although the Tigers have looked like a mess at times on offense, they still have one of the country's most ferocious defenses. And they'll have the undeniable advantage of playing at home on Saturday night at Death Valley, one of the most intimidating stadiums in the country.
The winner in Baton Rouge takes control of the SEC West and takes a big step toward playing in the Dec. 1 SEC championship in Atlanta's Georgia Dome. Unlike last season, when Alabama won a BCS national championship without winning its division or conference, the Tide probably won't get a mulligan this year.
"It's the game," Alabama center Barrett Jones said. "It's the game we circle on our schedule every year, and it's been hard not to think about it until now. We know we're going to get their best, especially in Death Valley."
You can choose only one game to attend. How do you decide? Here's how:
Location
If it's about atmosphere and tailgating, the Bayou wins in a landslide. There might not be a better place to eat a pregame meal than Baton Rouge, from its Cajun gumbo to crawfish to shrimp etouffee. When Alabama (or any other ranked opponent, for that matter) comes to Baton Rouge, it's the only show in town. You can bet that political consultant James Carville will even take a break from the presidential election to watch his beloved Tigers play at home.
[+] Enlarge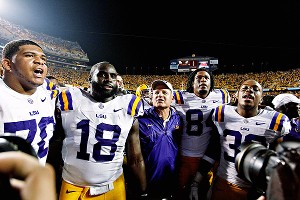 Derick E. Hingle/US PresswireDeath Valley on Saturday nights gives LSU a decided home-field advantage.
Although the Coliseum is one of the most recognizable stadiums in the country, there's too much going on in L.A. for it to be the biggest event in town, especially after the Trojans lost last week.
Furthermore, there are few stadiums in the country as raucous or intimidating as Tiger Stadium. LSU owns a 22-game home winning streak, the longest current streak in the country and the best in school history. The Tigers' last home loss came against No. 1 Florida on Oct. 10, 2009. Under coach Les Miles, the Tigers are 48-6 at home. It's especially difficult to defeat the Tigers when they're playing at home at night: They have a 226-60-4 record in night games at Tigers Stadium since 1960 (they're only 25-26-3 in day games in that span).
Advantage: Alabama at LSU
Coaches
Alabama's Nick Saban and LSU's Les Miles have combined to win four national championships. Saban won a BCS title at LSU in 2003 and two more at Alabama in 2009 and 2011. He is the only coach to win three BCS titles and win a BCS championship at two schools. Miles, a former Oklahoma State coach, replaced Saban at LSU and won a BCS national title in his third season in 2007.
Few coaches have accomplished more in their first four FBS seasons than Kelly, who has a 42-6 record with the Ducks. He is the first Oregon coach to guide the Ducks to three consecutive undisputed conference championships, and he has led them to two Rose Bowls and the 2011 BCS National Championship Game, which they lost to Auburn, 22-19.
USC's Lane Kiffin, 37, has been a lightning rod in his four-year career as a college head coach. He bolted Tennessee after only one season in 2009 and inherited a USC program riddled by NCAA probation. The Trojans went 8-5 in his first season in 2010 but finished 10-2 last season. After Barkley decided to return for his senior season, the Trojans were a popular choice to win a national title this year. But USC has already dropped two games, losing 21-14 at Stanford on Sept. 15, then at Arizona. Kiffin is 24-9 in two-plus seasons at USC.
Advantage: Alabama at LSU
Two-minute drill
Which game would be more exciting if it came down to a final drive? If you've watched LSU during Miles' tenure, you know you can never know what to expect. The "Mad Hatter" has gambled on fourth down and pulled off fake field goals with the game on the line. Over the past couple of seasons, however, Miles has coached closer to the vest, relying on his defense and punter to win games.
Oregon's fast-paced, high-octane spread offense always seems to be a two-minute drill. There isn't an offense in the country more adept at scoring points in a hurry.
You want drama? What if the game in Baton Rouge comes down to an Alabama field goal attempt? The Tide missed four field goals in their regular-season loss to LSU in 2011.
Advantage: Alabama at LSU
Play calling
You might be able to call the plays from your couch for Alabama-LSU. If you watched last season's doubleheader between the schools, you know the defenses dominated both contests. LSU hasn't scored an offensive touchdown against the Crimson Tide in more than 120 minutes. Neither team found the end zone in their regular-season meeting last season; it was the second-lowest-scoring game ever between Nos. 1 and 2 (No. 1 Army tied No. 2 Notre Dame 0-0 in 1946).
[+] Enlarge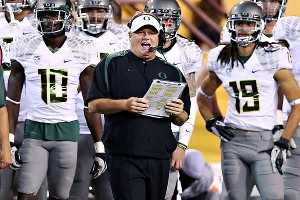 Christian Petersen/Getty ImagesOffensive play calling is never dull when Chip Kelly has the clipboard and headset.
Alabama has opened up its offense more under first-year coordinator Doug Nussmeier, who has put more responsibility on quarterback AJ McCarron's shoulders. But LSU's offense has been a mess with new quarterback Zach Mettenberger under center; the Tigers rank 106th nationally in passing with only 177.4 yards per game.
You have to imagine that Kelly has something up his sleeve for USC's porous defense. The Ducks rank No. 1 nationally in scoring offense with 53.4 points per game; they scored eight touchdowns in the first half of Saturday's 70-14 victory over Colorado. It's always fun to watch Kelly match wits with USC defensive coordinator Monte Kiffin, the father of the famous Tampa 2 defense.
Advantage: Oregon at USC
If you like offense …
Keep it tuned to the game in Los Angeles. The Ducks and Trojans have combined to score 88.4 points per game this season. LSU and Alabama combined to score one touchdown in two games last season.
In USC's upset of the Ducks in 2011, the teams combined to score 73 points and gained 936 yards. The teams went 16-for-30 on third down and completed 49 passes.
Advantage: Oregon at USC
If you like defense …
Watch the game in Baton Rouge. Alabama ranks No. 1 nationally in run defense (57.3 yards), pass-efficiency defense (86.6 rating), total defense (203.1 yards), scoring defense (8.1 points) and pass defense (145.9 yards). Even after losing several starters to the NFL draft, the Tide haven't allowed more than 14 points in a game this season.
LSU's defense has been nearly as good. The Tigers rank No. 2 in pass-efficiency defense (90.4 rating), No. 3 in total defense (243.4 yards), No. 9 in scoring defense (14.6 points) and No. 5 in tackles for loss (8.1 per game).
After the Crimson Tide and Tigers combined to kick field goals in their regular-season meeting, LSU managed only 92 yards of offense in the rematch in New Orleans.
Advantage: Alabama at LSU
Quarterback play
Barkley came into his senior season as the Heisman Trophy favorite, but the Trojans' early-season loss to Stanford all but knocked him out of the race. He's completing 65.3 percent of his passes for 2,266 yards with 25 touchdowns and eight interceptions (four of which were thrown in USC's two losses).
Oregon freshman Marcus Mariota has been sensational in his first season as a starter, completing 68.6 percent of his attempts for 1,483 yards with 18 touchdowns and five interceptions. He has orchestrated Kelly's spread offense to near perfection and largely has avoided mistakes that typically plague young quarterbacks. He also is the biggest threat among the quarterbacks in these games to run the ball, averaging 6.6 yards on 57 carries, including an 86-yard touchdown run against Arizona State.
McCarron, a junior from Mobile, Ala., has shed his label of being nothing more than a "game manager" in Alabama's offense. He has emerged as a legitimate Heisman Trophy candidate, completing 68.9 percent of his passes for 1,684 yards with 18 touchdowns. McCarron leads the country in pass efficiency with a 182.4 rating and hasn't thrown an interception in 177 attempts.
Mettenberger, who signed with Georgia and transferred to LSU after playing at a junior college, was supposed to give the Tigers a more potent downfield passing game. But he has struggled in his first season, completing only 56.5 percent of his attempts with seven touchdowns and four interceptions.
Advantage: Oregon at USC
Running back play
USC has long been known as "Tailback U.," but Alabama and Oregon have produced better tailbacks recently. This season is no different, as the Crimson Tide and Ducks have two of the country's most potent one-two punches in the backfield.
Oregon's Kenjon Barner is No. 10 nationally in rushing with 121.8 yards per game and needs only 26 yards to reach 1,000 for the season. Sophomore De'Anthony Thomas is probably the most dangerous player on the field, however, with 499 rushing yards on only 58 carries and 218 receiving yards on 24 catches.
USC's best tailback is Silas Redd, who transferred from Penn State in August. He leads the Trojans with 640 rushing yards with seven touchdowns.
Alabama's Eddie Lacy and freshman T.J. Yeldon have shared the load this season, combining to run for 1,245 yards with 14 touchdowns behind the country's best offensive line.
LSU prefers a tailback by committee with five players -- Kenny Hilliard, Michael Ford, Jeremy Hill, Alfred Blue and Spencer Ware -- each running for more than 200 yards.
Advantage: Oregon at USC
Wide receiver play
[+] Enlarge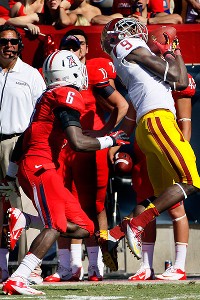 AP Photo/Wily LowMarqise Lee has turned in a number of impressive performances this season, none more so than Saturday's 345-yard effort against Arizona.
No team in the country has better receivers than the Trojans. Lee ranks No. 2 nationally in receiving with 76 catches for 1,129 yards with 10 touchdowns. In Saturday's loss at Arizona, Lee caught 16 passes for 345 yards with two touchdowns, the fifth-best receiving day in NCAA FBS history. Woods has 53 catches for 585 yards with nine touchdowns, and he caught 111 passes in 2011.
The Ducks do much of their damage on the ground and distribute passes among a lot of players (seven Oregon players have 10 or more catches).
Alabama's receiver corps is more explosive than it was a year ago; freshman Amari Cooper is averaging 14.8 yards per catch, and Kenny Bell averages 25.8.
LSU sophomore Odell Beckham Jr. is the Tigers' best perimeter threat with 26 catches for 420 yards with two touchdowns.
Advantage: Oregon at USC
If you didn't receive that phone call Sunday morning, keep your TV remote close by because the two games kick off only an hour apart Saturday night. Who knows? You might be watching the two teams that will play for a BCS national championship on Jan. 7.
On The Mark
There's a reason so many players and coaches from around the country have offered their heartfelt support for injured South Carolina running back Marcus Lattimore, who suffered a serious knee injury in the Gamecocks' 38-35 victory over Tennessee on Saturday.
It's because there might not be a more humble superstar in the country, and teammates and opponents alike know how hard Lattimore worked to return from a torn ACL he suffered in his left knee last season.
Now Lattimore's career might be in jeopardy after one of the most gruesome injuries you'll ever see. South Carolina doctors said Lattimore hyperextended his right knee, causing injury to several ligaments. Gamecocks coach Steve Spurrier said he's confident Lattimore can return to football and indicated his star tailback might redshirt in 2013 while recovering.
Notre Dame linebacker Manti Te'o, NFL players A.J. Green, Tim Tebow, DeMarco Murray and J.J. Watt, and NBA star LeBron James offered their support on Twitter. Georgia's players and coaches prayed for Lattimore's recovery after their victory over Florida.
South Carolina officials planned a rally on their campus for Lattimore on Monday, his 21st birthday.
"He knows what the road ahead is," Spurrier said. "We're all hoping and praying he'll be back."
Off The Mark
There's bad luck and then there's Maryland's luck. The Terrapins lost their fourth quarterback to a season-ending injury in Saturday's 20-17 loss at Boston College. Freshman Caleb Rowe, who started the season as a third-stringer and was forced into action after C.J. Brown (torn ACL), Perry Hills (torn ACL) and Devin Burns (foot) were lost, tore the ACL in his left knee and will be sidelined for the remainder of the season.
The Terps will start Shawn Petty, a converted linebacker, in Saturday's game against Georgia Tech on Saturday. Randy Edsall hasn't been the most popular coach, but even his biggest critics have to be sympathetic. At 4-4, the Terps must win two of their final four games to become bowl-eligible.
"It's very unusual," Edsall told reporters during a conference call Sunday. "I don't know something like this has ever happened to a team at that position. With this team, they understand and they feel bad for Caleb, but they know we still have games that we want to win."
On The Mark
The last time Kent State played in a bowl game, in 1972, Nick Saban and Jack Lambert were starting on its defense and Missouri coach Gary Pinkel was catching passes as a tight end. The Golden Flashes, who were coached by Don James, went 6-5 and lost to Tampa 21-18 in the 1972 Tangerine Bowl.
Forty years later, the Golden Flashes took a big step toward their first bowl game since then by upsetting No. 15 Rutgers 35-23 on Saturday. Kent State forced seven turnovers, including six interceptions, and now leads FBS teams in turnover margin at plus-19.
Kent State was 0-22 against ranked opponents in 90 seasons of football until beating the Scarlet Knights.
"We're 4-0 on homecoming, so be careful," Kent State coach Darrell Hazell said.
Off The Mark
Auburn coach Gene Chizik's biggest concern about his job security has to be that the Tigers aren't getting any better. Instead, they seem to be getting worse every week.
The Tigers fell to 1-7, 0-6 SEC after Saturday's 63-21 loss to Texas A&M, which is the most points Auburn had allowed since the final game of the 1917 season and the most ever at home.
The Aggies gained 671 yards, the most ever allowed by Auburn, and led 28-0 before the Tigers picked up their initial first down.
"I haven't studied the record books exactly, but when you play in a game like that and are involved in a game like that, you have to know historically it's somewhere at the very bottom," Chizik said. "Whether that's at the very bottom or somewhere close, you know that's where you're at."