Three weekend observations

1. Upset Saturday arrived weeks late, but in good health. No. 5 Stanford, No. 7 Georgia and No. 18 Michigan all lost conference games. However, there is a silver lining for Stanford and Michigan, which control their destiny in their conference races. And with Missouri quarterback James Franklin suffering a separated shoulder on Saturday, the Dawgs know that the No. 25 Tigers hardly have a firm grip on the SEC East. And none of them looked as bad as No. 12 Oklahoma in its neutral-site loss to archrival, given-up-for-dead Texas.
2. Lane Kiffin sounded all the right notes in his "College GameDay" interview Saturday morning with Chris Fowler. Kiffin sounded humbled, even as he pointed out the difficulty of coaching under NCAA penalties. A few hours later, Penn State, dealing with harsher NCAA sanctions, delivered an improbable 43-40, four-overtime upset of Michigan. O'Brien, unlike Kiffin, has not exacerbated the sanctions by creating controversy at every turn. O'Brien acknowledges the problems when asked. What he really does is keep grinding. So does his team. That's why the Nittany Lions are 4-2, 1-1 in the Big Ten.
3. Even after the 41-38, last-play loss to No. 9 Texas A&M, Hugh Freeze and his up-tempo spread offense have injected life and hope into Ole Miss (3-3, 1-3). But live with the spread, die with the spread. After the Aggies tied the game at 38 with 3:07 to play, Ole Miss threw three incomplete passes. Not only did the Rebels punt, but they gave Johnny Manziel the ball with 2:33 to play. That's all but an unconditional surrender. Manziel took Texas A&M down the field to win the game.
Week 7 Impact Performances
GameDay crew final thoughts
RECE DAVIS

A week to go until the BCS standings come out. We've been looking for the shake-up day. We spend so much energy sometimes early in the season looking forward to the showdowns that are coming later in the year and don't anticipate where the land mines might be.
Looking forward to Stanford-Oregon all year. It's still going to be a great game, but now it certainly takes on a very different feel. On the flip side, you have LSU having navigated most of its hurdles and now it's pointing toward a major showdown with Alabama in a few weeks.
But you always have to be careful looking ahead. You never know where you might lose focus, where you might lose concentration, where you might be coming off a particularly tight game and have a difficult time getting up emotionally again the following week, which could cause you to trip up -- as we saw with Stanford and Georgia, coming off consecutive emotionally tough games and really battered and bruised physically.
Helmet stickers go to ...
• QB Johnny Manziel, Texas A&M
• QB Case McCoy, Texas
MARK MAY
Impressed with Marcus Mariota going on the road and Oregon winning a physical game, its biggest challenge of the year, and it still ended up winning by 21 points. He had another spectacular game -- over 300 yards passing and almost 100 yards rushing.
The Stanford game: I was surprised the way the Cardinal came out and were sluggish in the game. Utah was beating them on the punch a lot and the defense struggled, which surprised me. It almost looked like they were playing in sand. The decisions at the end of that game really surprised me, when they got 8 yards on the first two downs rushing and then decided to throw it on third down, forcing them to throw again on fourth down on the 6-yard line with a chance to take the lead late in the game.
Mack Brown and Texas, you have to hand it to them. Who are these guys and what did you do with the Texas Longhorns -- especially on defense, since this isn't what we've seen from them all season long? They won at the point of attack and in the trenches, doing a great job stopping the run. If Texas continues to play like this, it'll be extremely difficult to beat the remainder of the way, but it has to bring it every single week.
It was a great, great victory for Missouri to go on the road and between the hedges to beat Georgia. I thought the Tigers had a chance to do it, but unfortunately they lost quarterback James Franklin in the game. That's going to be instrumental for them down the road. They're the first team to become bowl eligible in the SEC, but losing Franklin for the rest of the season is going to put a lot of pressure on backup Maty Mauk.
Helmet stickers go to ...
• DE Dadi Nicolas, Virginia Tech
• QB Travis Wilson, Utah
LOU HOLTZ
You knew this week would happen, you just didn't know when there'd be a lot of upsets and several undefeated teams going down.
I'm not that surprised with Stanford, since I know it's in midterm exams and I know how difficult that is for a football team at a strong academic institution. Their focus, their attention, they're up all night, etc.
I wasn't surprised about Georgia -- not because the Bulldogs have had so many injuries on offense, but because they don't play very good defense and it's come back to haunt them. Aaron Murray has to try to make too many plays.
I think Alabama is a very impressive team, but it won't be challenged outside the LSU game and maybe the SEC championship game.
Oregon beating a top-20 team by 21 at home is very impressive. They're very explosive and do a lot of good things.
I thought that LSU played its finest football game of the year by far. It has been struggling on defense. Its offense is very solid, but its defense has been what's hurting it in recent weeks.
I was shocked that Texas beat Oklahoma. I thought that Oklahoma looked so impressive at Notre Dame. But then again, Notre Dame has lost to Oklahoma and Michigan, and neither of those teams have been very impressive. The Wolverines had been getting by not-very-impressively, and it caught up to them this week.
There's going to be some more strange things happening as we continue to go, but I think that Florida State is the best team in the ACC, Ohio State is the best in the Big Ten, Alabama and Oregon are the best in their conferences and there's nobody in the Big 12 that really stands out. I think Louisville is a very good football team, but it isn't going to be challenged.
If I were picking the four teams with the best chance to be standing at the end of the season, it would be Oregon, Alabama, Ohio State and Florida State.
Helmet stickers go to ...
• QB Marcus Mariota, Oregon
• RB Terry Baggett, Army
What we learned in Week 7
Click below to see what our reporters learned in each conference after the seventh weekend.
---

Clemson's offense struggled against Boston College, but the good news for the Tigers is they showed they can win with their defense. ACC
---

Not many people gave Texas a chance against Oklahoma, but the Longhorns showed they aren't dead yet, while OU showed it has work to do to be the Big 12's go-to team. Big 12
---

Michigan finally ran out of luck. In the Wolverines' third down-to-the-wire game of the season, they couldn't pull out the victory. Meanwhile, Michigan State showed it can be the Big Ten's No. 2 team with a good showing against Indiana. Big Ten
---

Oregon smoothed out any doubt of it not being the Pac-12's best team by playing a complete four quarters of football in its win over Washington. Now everyone else is just competing for second place. Pac-12
---

Upset Saturday took its toll on Georgia and almost took Texas A&M as well. Don't expect much different in the weeks to come as injuries to high-profile SEC players continued to hurt the league this weekend. SEC
Photos from Week 7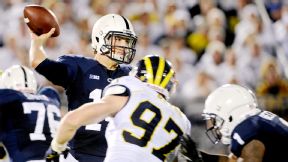 Abby Drey/Centre Daily Times via Getty Images
Take a tour around the country and check out the best images from Week 7 in college football. Best of Week 7

Helmet stickers for Week 7
Every week our reporters will hand out helmet stickers to the week's top players, coaches, teams or anything else worth this honor.
• ACC: Anthony Boone, Vic Beasley, Syracuse RBs
More ACC stickers
• Big 12: Johnathan Gray, Tevin Reese, Davis Webb
More Big 12 stickers
• Big Ten: Jeremy Langford, Randy Gregory, Melvin Gordon
More Big Ten stickers
• Pac-12: J.R. Tavai, Nate Orchard, Ty Montgomery
More Pac-12 stickers
• SEC: L'Damian Washington, Connor Shaw, LSU defense
More SEC stickers