Three weekend observations

1. It's one of the oldest rules in the game, dating back to Gen. Robert Neyland's game maxims. The team that makes the fewest mistakes wins. Well into the third quarter, No. 13 LSU made more big plays than No. 1 Alabama, but the Tigers also committed two turnovers and costly penalties. That wasn't the only reason the Tide won. Alabama established a run game in the second half with touchdown drives of 14, 10 and eight plays. But LSU demonstrated that you can't beat yourself and beat No. 1.
2. A 1-5 record is bad, but it's not final. At that point, the season is only halfway done. North Carolina disappointed everyone by starting the season 1-5. But the record didn't seem right. The Tar Heels had close losses to Georgia Tech and Miami. After beating Virginia 45-14 on Saturday, North Carolina is working on a three-game winning streak with an average margin of victory of three touchdowns. A bowl game is not guaranteed -- North Carolina must beat either Pitt or Duke to get to six wins -- but a bowl game is conceivable.
3. The hit that Houston defensive back Zachary McMillian delivered to UCF wide receiver Breshad Perriman was everything that the targeting ejection rule is designed to stop. McMillian hit a defenseless player in the head, and Perriman went off the field on a board, although he did give a thumbs-up sign as he left. But the problem with the rule is that not every targeting call is that obvious (ask Notre Dame and Stephen Tuitt). The rule also penalizes a team for 15 yards even if the replay official overturns the ejection. The belief is the extra protection is worth the unjust penalties. That's better in theory than in reality.
Week 11 Impact Performances
GameDay crew final thoughts
RECE DAVIS
Saturday was supposed to be underwhelming, but I saw a lot of really cool things.
First was Myles Jack, who I've always been so impressed with as a linebacker for UCLA, giving a little spark to the Bruins' running game. The Bruins came in with some injuries, and he comes in with 120 yards, including a 66-yard touchdown. He's a sensational athlete, and that's really impressive. UCLA got a big win at Arizona, a place where it's been tough for them to win, thanks to a two-way player -- something you don't see any more in college football.
The Heisman race is wide open right now, and it's going to be interesting to see how voters respond. You hate to see a guy play his way out in one game, but Marcus Mariota probably did. Now the question is how are voters going to react to Johnny Manziel's weekly highlight reel versus Jameis Winston's precision or AJ McCarron's long service or Bryce Petty's numbers.
It will be as entertaining and perhaps as suspenseful a Heisman race as I can remember in many years coming down the stretch. Winston doesn't have a lot of marquee games left. McCarron has a huge game coming up. Petty will start getting onto the radar as Baylor hits the meat of its schedule. Manziel will have the opportunity to just be Johnny a few more times, and that's always worth watching.
Auburn's running game will set the stage in a few weeks for perhaps the most significant Iron Bowl since the Tigers and Alabama met as undefeated teams in the early 1970s (should both teams get past their opponents in the immediate weeks ahead). It's great theater, and we're going to have a tremendous November.
Helmet stickers go to ...
• S DeVon Edwards, Duke
• RB T.J. Yeldon, Alabama
MARK MAY
It was a big weekend for college football. Obviously it started on Thursday night with Stanford upsetting Oregon, jumbling the BCS. Florida State and everybody in Tallahassee were happy about that. It was also impressive what the Noles did Saturday against Wake Forest, taking care of business on both sides of the ball. They wanted everyone in America to know that they are one of the top two teams in the nation.
Alabama came out and dominated the game against LSU, particularly in the second half. I was impressed with the halftime adjustments by the coaching staff on both sides of the ball. Alabama shut LSU down, only allowing three points in the second half while scoring 21 points and running it down the Tigers' throats.
I was really surprised with how Virginia Tech got its offense going Saturday since it's been so inept all season on that side of the ball. I was disappointed in how Miami came out, though.
Gus Malzahn has done a terrific job at Auburn. It's night and day the difference between this season and last year. He has gotten the whole team to buy in, and it's impressive how physical they are in the running game.
For Florida, something has to happen there. Will Muschamp has to change coordinators or something, but it can't remain the way it is. Going from the Sugar Bowl to a losing record and possibly no bowl within a year is unacceptable for Florida.
Really happy with my alma mater, Pitt, beating Notre Dame. It was a great win for Paul Chryst and the program.
Helmet stickers go to ...
• LB Myles Jack, UCLA
• PR Nelson Agholor , USC
LOU HOLTZ
The race for the championship is starting to really take shape now. Unless Alabama or Florida State doesn't play up to its potential, I don't see anybody beating either of them. But I think we may have as many as three undefeated BCS AQ teams.
I think the Heisman is down to a two-man race between Johnny Manziel and AJ McCarron, though not necessarily in that order.
In the ACC, you have a different team every week. Virginia Tech looked unbelievable Saturday, throwing a wrench into the standings. It will be interesting to see what Clemson does. The Tigers have Georgia Tech next -- if they win that one and beat South Carolina, you could have two ACC teams in BCS bowls.
On the West Coast, Oregon's loss shocked everybody. It tried to get touchdowns while Stanford tried to get first downs. You get enough of those in a row, and you usually win.
Helmet stickers go to ...
• RB Kapri Bibbs, Colorado State
• QB Logan Thomas, Virginia Tech
What we learned in Week 11
Click below to see what our reporters learned in each conference after the 11th weekend.
---

The dominoes started to fall in Florida State's favor on Thursday when Oregon lost. Then FSU left no doubt against Wake Forest on Saturday. The cards are falling the opposite direction for Miami, which has now lost its quarterback and two straight games with Saturday's home defeat at the hands of Virginia Tech. ACC
---

Baylor is worthy to contend for a national title at this point, but for it to have a chance, the teams in front of them will have to slip up. Elsewhere around the league, Kansas State has really started to heat up in November and Texas Tech is collapsing -- as is Oklahoma's offense. Big 12
---

Michigan State has the upper hand in the Legends Division, but it's not going to breeze into the championship game. It still has Nebraska and Minnesota, two teams building steam, in the way. If the Spartans make it to the league championship, they will likely meet Ohio State, which should consider this off week a win for its national title hopes with Oregon losing on Thursday. Big Ten
---

Oregon hasn't found a way to figure out Stanford's defense the past two seasons. Cal can't figure out how to cover kick returns. And figuring how to account for Myles Jack will be a problem for any Pac-12 defense. Pac-12
---

If you want to be the best, you have to beat the best. And no one has been able to beat Alabama. Two more Tigers teams could have the chance when Alabama meets Auburn in the Iron Bowl and potentially Missouri in the SEC title game. SEC
Photos from Week 11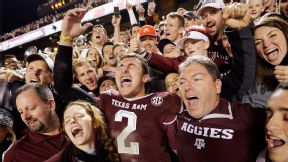 AP Photo/David J. Phillip
Take a tour around the country and check out the best images from Week 11 in college football. Best of Week 11

Helmet stickers for Week 11
Every week our reporters will hand out helmet stickers to the week's top players, coaches, teams or anything else worth this honor.
• ACC: Andre Williams, DeVon Edwards, FSU's defense
More ACC stickers
• Big 12: John Hubert, Shock Linwood, Trevone Boykin
More Big 12 stickers
• Big Ten: Randy Gregory, James White, Jordan Canzeri
More Big Ten stickers
• Pac-12: Stanford, Nelson Agholor, Will Sutton
More Pac-12 stickers
• SEC: Aaron Murray, Johnny Manziel, Nick Marshall
More SEC stickers