Three weekend observations
1. Miracle may be too strong a word for what Bill O'Brien accomplished this season at Penn State, but the second-year coach continues to make the Nittany Lions a sum greater than their diminished parts. The 31-24 victory at No. 15 Wisconsin gave Penn State (7-5) its second straight winning record under O'Brien despite its NCAA scholarship penalties. It also showcased the work that O'Brien, a quarterback whisperer, has done with freshman Christian Hackenberg. He is, literally and otherwise, a freshman no longer.
2. The popular sentiment that USC interim head coach Ed Orgeron should lose the "interim" may have cooled considerably after UCLA beat its crosstown rival 35-14. But the louder the cheering for Orgeron has gotten, the quieter it seemed that USC athletic director Pat Haden got. The fact that Orgeron went public with his desire to win the job told me that Haden had not told him anything. Given the Trojans' scholarship woes, I would expect a decision soon. The new guy needs to hit the recruiting trail.
3. There may have been a miracle at Auburn, and a collective dropping of jaws in Ann Arbor, but the folks in Hattiesburg, Miss., feel like a little bit of both happened Saturday. Southern Mississippi, which enjoyed its last victory in the 2011 Hawaii Bowl, not only broke a 23-game losing streak, but took out two seasons of frustrations on poor UAB. The Eagles' 62-27 rout will make for a more tolerable offseason in Hattiesburg, if not in Birmingham.
Week 14 Impact Performances
GameDay crew final thoughts
RECE DAVIS
A couple of big-picture things: I think it used to be that you thought a new coach or even a veteran coach coming off a bad season needed a lot of time to turn it around. Well, the game has changed a bit, and there are various ways -- whether it's a change in offensive philosophy or doing something else -- to turn things around quickly, as Auburn and Missouri have.
Auburn and Missouri make for a very improbable SEC championship game. This is the year of improbable teams reaching conference championship games. There's also Duke in the ACC, which I think is the most incredible story of all. Duke has no football tradition, but here they are with 10 wins.
David Cutcliffe told me during the summer that he would be very disappointed if his team was simply shooting for a bowl and nothing more. The Blue Devils have maxed out -- I don't think there's any way they beat Florida State -- but that shouldn't diminish by one iota what they've accomplished this year. It's been a remarkable story, and Cutcliffe gets my vote for coach of the year.
You saw something really rare on Saturday. You saw Nick Saban make some coaching mistakes that might not have cost his team the victory, but as much as we've praised him, the Tide had some questionable clock management at the end of regulation, they had some curious decisions with the kicking game and they failed to take advantage of some opportunities. It isn't all on coaching -- a lot was due to execution and intensity -- but it was not a characteristically sharp performance by Alabama in a big game, and in a hostile environment against a team like Auburn, you can't afford to have anything but your sharpest performance.
You saw some teams get away with less-than-stellar performances -- most notably Ohio State. Florida State hasn't had that moment yet this year. The Seminoles are the only team in the country that hasn't had a performance at less than its A game. Because of that, they look like the best team in the country. We'll see how that plays out, since as we've learned these past few weeks, one week changes everything.
The other thing that is very confusing at this time is who is going to win the Heisman Trophy. If not for the uncertainty with the investigation involving Jameis Winston, it would be over. But until that uncertainty is resolved -- if it's resolved this season -- there is at least a question. Other than Winston, it's really hard to find anyone out there you feel great voting for.
That's not to say that there aren't great players and there haven't been great performances. But in voting for the Heisman you look for consistent performance. So far to me, speaking strictly about what's on the field, the only guy to deliver this year has been Winston. It will be interesting to see how everything plays out and the impact it has on his Heisman candidacy.
Helmet stickers go to ...
• QB Christian Hackenberg, Penn State
• WR Kelvin Benjamin, Florida State
MARK MAY
The big shocker this week was obviously Alabama, not only losing the game but the way it lost at the end. You have to give credit to Auburn coach Gus Malzahn, considering the way he's coached his team the whole season. This is the third time this season the Tigers have won right at the end of the game. All the players believed in him, and this is one of those games that will go down as one of the best Iron Bowls ever.
Of the top three teams, the most impressive team was clearly Florida State. It took care of business the way it was supposed to, winning big against Florida in a rivalry game.
Ohio State-Michigan was one of those rivalry games. You never thought the Wolverines would be able to put up 41 points and more than 600 total yards against the Buckeyes' defense, with the game coming down to a two-point attempt conversion in the final minute. Nobody expected that or thought it was going to happen.
You have Missouri earning everybody's respect coming off last year and Auburn also bouncing back from a down season. Those teams will play in the SEC championship game. A tremendous job by both of those coaches.
Helmet stickers go to ...
• QB Brett Hundley, UCLA
• LB Andrew Wilson, Missouri
LOU HOLTZ
You never know what's going to happen. You have to be lucky to win a championship, and some way or another, Auburn has been very lucky. This was a great win for them. It's going to be interesting to see how the Tigers bounce back against Missouri after such an incredible win over their archrival and how they did it. Everyone's going to be talking about that and not about Missouri.
I want to congratulate Missouri. I didn't think that it could win at Ole Miss and then come back to beat Texas A&M, but it did it.
Ohio State was lucky Saturday -- that game could have gone into overtime, and at that point, who knows what would've happened? There are only two types of teams at this time of year: those that have a chance to achieve something spectacular and those whose joy comes from ruining somebody else's season. Michigan-Ohio State was a prime example of that, and Ohio State's defense was very suspect.
It looks like Arizona State is playing as well as anybody right now. It gets to host Stanford in the Pac-12 championship game. Stanford won't be able to play them with just the power game as it normally does; it'll need to be more wide open.
As for Florida State, we'll have to see what happens to Famous Jameis, but the Noles have looked very impressive in every phase of the game.
Helmet stickers go to ...
• CB Chris Davis, Auburn
• QB Anthony Boone, Duke
What we learned in Week 14
Click below to see what our reporters learned in each conference after the 14th weekend.
---

Duke has done it. It has won the ACC Coastal outright and will play Florida State in the ACC championship game. Besides the Seminoles' win over Florida, however, the ACC didn't do too well against its SEC rivals, even though the real estate was prime for the taking. ACC
---

Week 14 went off without any surprises in the Big 12, but there is still one week of regular-season play to go, and the conference and its automatic BCS bid is still up in the air. Oklahoma State, Texas and Baylor are all in the hunt. Big 12
---

Ohio State did not look like its dominant self on Saturday against Michigan, but it won, and most likely moved up into the No. 2 spot with Alabama's loss to Auburn. The Buckeyes have Michigan State in the Big Ten championship. The Spartans would also be undefeated had it not been for a slip-up against Notre Dame. Big Ten
---

Arizona State won the Territorial Cup over in-state rival Arizona and the right to play in their territory in the Pac-12 championship. ASU welcomes Stanford, which eked past Notre Dame 27-20. Pac-12
---

Auburn and Alabama played the game of the week, but the ride isn't over for Auburn, which will play in the SEC championship versus Missouri, a team that has proved it deserves to be there with wins over Ole Miss and Texas A&M the past two weeks. SEC
Helmet stickers for Week 14
Every week our reporters will hand out helmet stickers to the week's top players, coaches, teams or anything else worth this honor.
• ACC: DeVon Edwards, C.J. Brown, Stacy Coley
More ACC stickers
• Big 12: Baylor's defense, Grant Rohach, Jackson Jeffcoat
More Big 12 stickers
• Big Ten: James Morris, Denicos Allen, Carlos Hyde
More Big Ten stickers
• Pac-12: Bishop Sankey, Hau'oli Kikaha, Josh Huff
More Pac-12 stickers
• SEC: Tre Mason, Connor Shaw, James Franklin
More SEC stickers
Photos from Week 14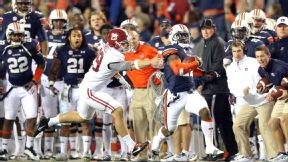 John David Mercer/USA TODAY Sports
Take a tour around the country and check out the best images from Week 14 in college football. Best of Week 14

Social media recap
For a recap of Saturday's best college football tweets, pictures, videos, statistical factoids and more, visit this week's Campus Connection.