It's early, but the Crimson Tide look unbeatable
By Edward Aschoff
ESPN.com
FAYETTEVILLE, Ark. -- It was just another Saturday for Alabama football.
Even with the Crimson Tide not exactly playing their best ball, Alabama sent Arkansas fans piling onto Dickson Street before halftime even began in a 52-0 rout of the Razorbacks.
Sure, Arkansas was banged up and played without quarterback Tyler Wilson, who was out with a head injury. But this was a possible national title contender entering the season, and the Crimson Tide dominated every aspect of Saturday's shellacking inside Razorback Stadium.
Crimson Tide coach Nick Saban has spent the past two weeks preaching to the media about respecting Alabama's opponents, but even his team failed to do that on the field Saturday. Alabama displayed about as much flash as an unlit match yet handled Arkansas without a problem.
"What we've really been fighting with this group about ever since the Michigan game is allowing ourselves to accept average and getting them to demand more of themselves," Saban said. "I think that we started to gain a little bit today."
[+] Enlarge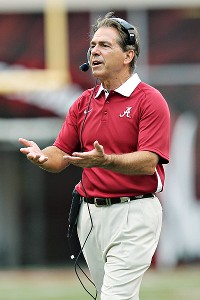 Nelson Chenault/US PresswireNick Saban's Crimson Tide made it look easy against Arkansas.
This was a game that Alabama could have rolled into with a disinterested attitude. Arkansas was down and counted out. It was wet and cold and felt more like a day for reading than hitting.
But Saban's team came out ready and showed tremendous confidence, maybe because it knew that without having to face Wilson, things wouldn't be as difficult.
"Tyler Wilson is one of the best quarterbacks in the country, and the whole program is built around the guy, the whole team is built around the guy," Saban said.
Translation: Without Wilson, Alabama knew it could create more havoc for the Hogs to deal with.
And it did … again and again.
Even with a former Heisman candidate in running back Knile Davis in the backfield, the Razorbacks didn't cross the century mark in offensive yards until the fourth quarter, and that was when Alabama's backups' backups were on the field. You can say what you want about how good -- or bad -- Arkansas is, but Alabama just re-established that it is the undoubtedly the best team in the country.
It seemed that way after Alabama dismantled Michigan to open the season. Last week's 35-0 win over Western Kentucky reinforced that feeling. Now voters shouldn't hesitate to put a first-place vote next to the Crimson Tide.
Not doing so would be a crime.
Alabama made things look easier than they should have been and proved that even when it isn't completely playing to its potential, it's still probably better than everyone else.
So can anyone beat Alabama? Is anyone close to being on the Tide's level?
Right now it doesn't seem like it, and Saban had better get used to even more praise being chucked at his team because the gap between the Tide and the rest of the country is growing each week.
Big Ten falls out of BCS race -- again
Just like last season, the Big Ten's hopes of ending its BCS title drought ended in Spartan Stadium.
But unlike 2011, when Wisconsin lost on a Hail Mary in East Lansing, the league's virtual elimination contained little drama this time around. Just a Michigan State team that had no prayer of moving the ball against Notre Dame.
At least the Badgers made it to late October last year before losing. In 2012, the Big Ten was choked out by Week 3.
We offer sincere apologies to Northwestern and Minnesota, which remain unbeaten, if unloved nationally. And probation-saddled Ohio State is technically eligible to finish No. 1 in the Associated Press poll. But realistically, this conference is already out of legitimate contenders to raise the BCS crystal ball, something no league team has done since the Buckeyes beat Miami in the 2003 Fiesta Bowl.
One by one, the Big Ten contenders have fallen early this season, beginning with Michigan in Week 1 and followed by Nebraska and Wisconsin in Week 2. Michigan State represented the league's last, best chance, and the Spartans' outstanding defense was supposed to help carry them the Big Ten banner. That banner is now in tatters after Notre Dame exposed Michigan State's lack of a passing game and offensive line flaws in a 20-3 Irish road win.
So it's already back to the sideline for the national title hunt for the Big Ten. The conference will turn its focus for the remaining two-plus months on what should be a wild, wide-open race for the Rose Bowl. Good thing Pasadena is so nice on New Year's Day, because that has become the ceiling for the league. Unless Northwestern and Minnesota are a whole lot better than anyone realizes.
Ash impressive again as Longhorns roll
David Ash completed just 57 percent of his passes as a wide-eyed true freshman in 2011. He compounded his problems by outweighing his four touchdowns with eight interceptions.
This was Garrett Gilbert's team through all the offseason leading up to 2011. Ash was the true freshman who was better than expected but not good enough to get more than four snaps in Texas' spring game last season.
[+] Enlarge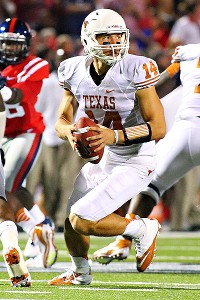 Spruce Derden/US PresswireTexas QB David Ash has found his comfort zone so far in 2012.
By the end of 2011, it was clear that Texas was Ash's team, but he looked wholly unprepared to shoulder the load and lead the way. And now? After what Ash did to Ole Miss? The stat sheet tells you pretty much everything you need to know.
Ash is one of just three Big 12 quarterbacks (Heisman front-runner Geno Smith and TCU's Casey Pachall) without an interception, and he's been good enough to add seven touchdown passes, including four in Texas' 66-31 rout of Ole Miss.
He's also completing 76 percent of his passes this time around, including 83 percent on Saturday night. His 326 yards were the second consecutive game in which Ash set a career high for passing yardage, too.
Scoff at the opponents (Ole Miss and New Mexico won a combined three games in 2011), but Ash has Texas looking more and more like it's ready to return to a spot among the nation's elite. He doesn't need to complete 76 percent of his passes every night. He can throw a pick or two. But he's been good, and far better than he needs to be for Texas to improve on its eight-win season a year ago. For now, as long as Ash is stringing together completions (he hit on 15 consecutive passes on Saturday), defenses will soften up for a powerful running game with a revolving door of backs who will always have fresh legs.
When that happens, a defense that's led the Big 12 in total defense four years running gets more leeway it doesn't necessarily need.
Add that all up, and you get a scary proposition for the rest of the Big 12: Texas beginning to put together the pieces that comprise a return to a college football juggernaut.
Welcome to the ACC: Panthers surprise Hokies
By Heather Dinich
ESPN.com
No. 2 USC's loss to No. 21 Stanford was huge. No. 10 Michigan State's loss to No. 20 Notre Dame was a definite upset. Western Kentucky won an overtime thriller. And Arkansas was absolutely humiliated by top-ranked Alabama.
But Virginia Tech's loss to Pitt was arguably the biggest surprise of the day.
The Hokies were supposed to be the No. 13 team in the country with a first-round NFL draft pick at quarterback (you know, with Logan Thomas as the next Cam Newton). Pitt was supposed to be a team in transition under coach Paul Chryst, a team that lost at home to FCS school Youngstown State, then was embarrassed on the road in a loss to Cincinnati. ACC fans were ready to pool their money together for the $50 million ACC buyout fee to keep the Panthers out of the league before they even joined.
[+] Enlarge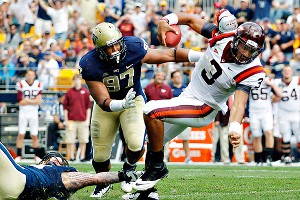 Justin K. Aller/Getty ImagesThe Hokies and QB Logan Thomas struggled to hold on to the ball against Pitt.
On Saturday, though, Pitt looked ready to win the Coastal Division -- not just join it.
The Panthers' win wasn't only shocking, it was inexplicable. Bud Foster's defense, which was billed as one of the best in the ACC, allowed a 100-yard rusher (Rushel Shell) and a 100-yard receiver (Mike Shanahan), not to mention 537 total yards. The Hokies' defensive line was outplayed by a pedestrian Pitt offensive line.
Virginia Tech had four turnovers on its first six possessions -- including three interceptions by Thomas -- against a defense that had yet to get a takeaway until Saturday. Thomas completed just 14 of 31 pass attempts, Virginia Tech was held to 59 rushing yards, and the Hokies struck out on both fourth-down attempts.
Neither Virginia Tech nor Pitt resembled anything near what we saw from either team in the first two weeks.
Virginia Tech saw the nation's longest true-road-game winning streak snapped at 13. With the loss, the Hokies have lost at least once in the first five games of the season for the seventh straight season.
History says it shouldn't have been a surprise. The past two weeks say otherwise.
Gators are only going to get better
By Travis Haney
ESPN Insider
KNOXVILLE, Tenn. -- Florida was 3-0 in 2011. Florida is 3-0 in 2012.
Will Muschamp contends that those are different records, though.
"Better teams," the Florida Gators' second-year coach said.
And a better team at UF?
Each point is difficult to debate, at least through Week 3. Forget the slop against Bowling Green and consider that a Florida team that's still trying to fully understand itself -- head coach included -- went to College Station and Knoxville in consecutive weeks, both the sites of ESPN's "College GameDay" program, and won.
Each time, it overcame emotionally charged environments in which statements were trying to be made.
Each time, the team's second-half efforts were almost mystical. What was it doing with those precious 20 minutes, exactly? Who knows? Regardless, the coaches are adjusting and, well, coaching. And the players are emerging more confident, more competent with the plan. The Gators already have made some great strides, and they have plenty of room to improve. They were one of the teams getting better in Week 3 while others were trending down.
To read the rest of Travis Haney's story, click here

.
Three weekend observations
By Ivan Maisel, ESPN.com

1. Sometimes, what doesn't happen is the reward. With Stanford's 21-14 defeat of USC, Cardinal coach David Shaw won't have to hear about how his success came thanks to Andrew Luck. The overtime loss to Oklahoma State in the Fiesta Bowl left Shaw vulnerable to eight months of criticism. But nothing warms a Cardinal fan's heart like beating the No. 2 Trojans without Luck. Shaw will dismiss the argument. But the USC victory is the biggest of his 14 career victories by a long shot.

2. Arkansas quarterback Tyler Wilson might have awakened Sunday and wished he hadn't delivered the tirade calling out his teammates after the 52-0 loss to No. 1 Alabama. As they say in Washington, D.C., a gaffe is when you tell the truth. What Wilson said is no different in spirit than what Tim Tebow said after Florida lost to Ole Miss in 2008. The Gators won a national championship and erected a statue of Tebow. Neither will happen in Fayetteville. But Wilson shouldn't be vilified for speaking out.

3. Speaking of reprising historic moments, Utah gave us a stunning portrait of a university obsessed with its archrival. Unlike the original, however, this didn't end with the Utes traipsing through the Cal band. This ended with Utah clinging to a 24-21 lead when the BYU kicker banged a kick off the left upright, his second miss in as many plays. It's not a play that will draw the attention of the nation for an entire generation the way that the Cal play did against Stanford 30 years ago. Maybe it will just remind fans to stay off the field until the play ends.
GameDay crew final thoughts

RECE DAVIS

What really impressed me was Stanford's physical performance. I thought that the Cardinal would not match up well with USC, because from watching them in the San Jose State game (and I didn't put too much stock into the Duke game), I didn't think they would accomplish enough on offense. But Stepfan Taylor was a such a beast and so relentless. That guy is a stud running back, and he had a great day. Stanford's defense also was spectacular.
There are teams right now that make you say "What's your deal? What's wrong with you guys?" Auburn, Virginia Tech and Wisconsin come to mind. Wisconsin was very fortunate not to have lost its game (to Utah State); so, too, is Auburn (to Louisiana-Monroe). Virginia Tech did lose. For the Hokies to go into a game against a Pittsburgh team that was reeling and whose confidence was so fragile, to play like that is inexcusable.
Wisconsin's identity, though, seemed to get a little better and more like Wisconsin in the second half. I know the Badgers have some new guys, but they just don't look like Wisconsin right now.
As for Auburn, I guess the change is just so dramatic on offense that the Tigers look lost. They don't tackle well on defense and the offense doesn't seem to have a whole lot of rhythm, and if they don't get those issues fixed quickly, it is going to be a very long season at Auburn. The same can be said for Wisconsin.
And speaking of the Big Ten, who would've thought that right now, Northwestern would be carrying the banner for the conference? The Wildcats are 3-0, and they've beaten a Big East team (Syracuse), an SEC team (Vanderbilt) and an ACC team (Boston College).
Helmet stickers go to:
• RB Stepfan Taylor, Stanford
27 carries, 153 yards, one TD in win vs. USC
• LB Manti Te'o, Notre Dame
12 tackles 1 TFL, fumble recovery, 2 passes defended in win at Michigan State
---

LOU HOLTZ

One thing I'm convinced of, and it doesn't change each week, is that you never have the same team two weeks in a row. You always end up with a different team. It just seems to work out that way.
Great performance by Notre Dame. The season is really starting to take shape now with different teams dropping by the wayside. It'll be really interesting to see what happens as we go along.
Helmet stickers go to:
• QB Tino Sunseri, Pittsburgh
19-for-28, 283 yards, 3 TDs in win vs. Virginia Tech
• RB Trey Burton, Florida
91 rushing yards, 2 TDs, 38 receiving yards in win at Tennessee
---

MARK MAY

I was really impressed with Florida, particularly with what the Gators did in the second half two weeks in a row. Will Muschamp and the coaching staff made outstanding halftime adjustments, and the players responded to them. They impressed me with the win over Tennessee.
I felt that Stanford just outcoached, outplayed, outhit and outhustled USC and their coaching staff and their players. They were an underdog at home, but Stanford just seems to have USC's number like Florida has Tennessee's.
Notre Dame? The Irish are impressive; I have to give it to them. I didn't think they would be able to contend and beat Michigan State, particularly in Spartan Stadium, but they got the job done.
Helmet stickers go to:
• RB Chris Thompson, Florida State
9 carries, 197 yds, 2 TDs in win vs. Wake Forest
• RB Antonio Andrews, Western Kentucky
34 carries, 125 yards, 3 TDs in win at Kentucky
Highlights: ND-Michigan State
Blog Network: What we learned

Virginia Tech was overrated. The Hokies have been given a little bit too much credit, along with their quarterback. It was a sloppy effort.
ACC

Texas showed something close to its offensive ceiling, and it was scary. The last time we saw Texas play offense like that, Vince Young was on the field.
Big 12

Don't count out the Panthers. You know what we learned about this team? It has heart and determination and simply refused to be defined by its first two games.
Big East

What now for Wisconsin? No Badgers assistants are likely to lose their jobs this week, but no one in the coaches' offices can feel too comfortable right now.
Big Ten

There is no certainty in college football. Particularly when you're questionable on the line of scrimmage. That's what USC's Matt Barkley found out.
Pac-12

That's two SEC road victories in as many weeks for Florida at two tough places to play. There's no question that this is a tougher and more complete team than a year ago.
SEC

The front seven is as good as advertised: If Notre Dame can slow MSU's rushing game to a halt, you have to like what this team can do against the run the rest of the season.
Notre Dame
Highlights: Va. Tech-Pittsburgh
Recruiting Nation: Week 3
Blog Network: Helmet stickers