Don't forget your sunscreen on game day
If only you could adequately describe it. Just the right adjectives or adverbs don't always do it justice. The "it" is the atmosphere in a college football stadium for a big game.
Vengeful, validating, defiant, redemptive, toxic, survival and blistering are all likely to be used this weekend but in very different contexts. The vibe in the house sets a tone from the start, but the play on the field either feeds that energy or thwarts it. Think of it as Sir Isaac Newton's law of motion, or in this case emotion.
Pretty much since Texas A&M cornerback Deshazor Everett picked off Alabama quarterback AJ McCarron in the end zone last year in Tuscaloosa, the entire sport has awaited Alabama's trip to Aggieland.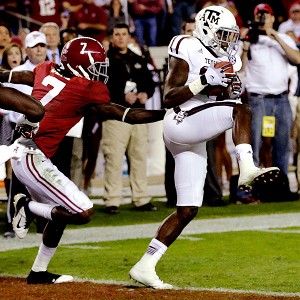 AP Photo/Dave MartinTexas A&M CB Deshazor Everett's interception at the goal line sealed last season's victory over Alabama.
Think about what that pick did. It saved the game for the Aggies. It transformed Johnny Manziel's almost-fumble-turned-touchdown-pass from a cute highlight into a Heisman moment. Together, those plays created one layer of the atmosphere that will be evident at Kyle Field on Saturday: Alabama's trip on redemption road.
All of that sounds exciting, unless you're Amari Cooper. The Tide receiver absolutely nailed it when he said, "If we wanted to get revenge, we'd have to play that same team last year with the same team we had last year. It's really not a revenge thing. If you lose a fight with someone, you don't get revenge from fighting someone else."
That is probably Cooper reciting chapter and verse from the Saban Book of Process.
"The Process" has been wildly successful at poking holes in the atmosphere. It is the ideal way to approach a big game. Actually executing in the cauldron is a different matter.
This is hardly the biggest game Alabama has played over the past few years. It won't be louder than LSU or any other big SEC stadium, but at Kyle Field the noise is constant and orchestrated. The fans sway in unison and it looks as if the whole place is going to tip over.
Even if Alabama does secretly pine to avenge last season's loss, the chip on A&M's shoulder will be just as big. The Johnny Football drama has left many Aggies fans feeling persecuted. Validating last season's win pales in comparison to confirming their cause of standing up for a fellow Aggie. What better way to do that than to have Manziel lead a second gigging of the Tide?
But as Cooper noted, these are different teams, which indicates it will be a different game.
Alabama had more rushes for negative or lost yards than anyone in the nation after the first game. How much of the Tide's O-line problems were due to first-start jitters for three offensive linemen? How much was due to Virginia Tech defensive coordinator Bud Foster's scheme? How much of that can A&M replicate?
The Aggies have had a patchwork defensive lineup because of suspensions and injuries. How much of their sieve-like performances are due to vanilla schemes to keep young players from busting assignments? If the Tide does keep Manziel in the pocket, is he now so polished a pocket passer that he can beat them anyway?
Then there are the stakes. Save for dates with LSU, the winner would appear to have a favorable path to the SEC championship game and, possibly, the BCS title game. So throw a little desperation into the mix and the 97 degree temperature at kickoff will seem downright chilly compared to the atmosphere in Kyle Field.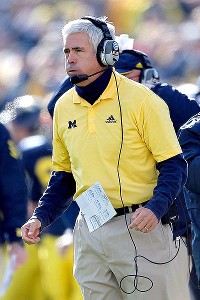 Leon Halip/Getty ImagesMack Brown's decision to hire former Michigan defensive coordinator Greg Robinson, pictured, has some scratching their heads.
Desperation of a different sort will be the prevailing feeling a couple of hours west in Austin, where Ole Miss comes in to take on the Longhorns. Shrapnel from BYU's evisceration of Texas' defense cost coordinator Manny Diaz his job.
Mack Brown brought in former defensive coordinator Greg Robinson to do the job. This is where Michigan fans say, "They hired who to do what?" Then they suggest this is akin to trying to douse a house fire with gasoline.
It has been a week in which Longhorns fans have gathered figurative torches and pitchforks and are homing in on Mack Brown.
Texas humiliated the Rebels in Oxford last year 66-31. Let Hugh Freeze's young team flip the script and actually win this year and the atmosphere on the 40 Acres might have a distinct scorched-earth feel.
Scorched earth will be the scene in Eugene, Ore., when Tennessee takes on the Ducks. Oregon will wipe out every shred of orange in its path.
Someday I'm going to write glowingly about the resurgence of Volunteer football under Butch Jones. There will be a day when the Vols return to glory. Alas, today is not that day.
Last week, Jones said my buddy Mark May inspired his team by putting them on upset alert against Western Kentucky. This week, I "volunteer" for the bulletin board. I'm putting the Vols on Autzen annihilation alert.
The Ducks will use the opportunity to make a statement for themselves and the Pac-12.
Never mind the fact that Tennessee has won two conference games in two years and hasn't had a winning conference record since Miley Cyrus was that innocent little Hannah Montana; the Vols have the SEC logo. The mere sight of those three letters seems to stoke the pride fire and will doubtless do so in Autzen on Saturday. The Vols just aren't equipped to survive in the Ducks' O-zone layer.
Whatever the billing -- validating, desperation, scorching -- the atmosphere figures to be a hot on college football Saturday.
College Basketball and Football studio host; SportsCenter anchor/reporter
Rece Davis joined ESPN in March 1995 and currently serves as studio host for college football and college basketball, including his duties as host of the NCAA Women's Basketball Championship and the college basketball version of College GameDay.
Five things to watch in Week 3
Five things we'll be watching in college football this weekend:
1. Will No. 1 Alabama's offense look in better in Saturday's SEC West showdown at No. 6 Texas A&M?
The Crimson Tide, the defending BCS national champions, left a lot to be desired on offense in their 35-10 victory over Virginia Tech in the Chick-fil-A Kickoff Game two weeks ago. Quarterback AJ McCarron, who was playing with a painful ingrown toenail, completed only 10 of 23 passes for 110 yards, a touchdown and an interception. Worse, the Crimson Tide averaged only 2.5 yards per rushing attempt behind an offensive line with three new starters.
Texas A&M's defense was pretty porous in its first two games against Rice and FCS foe Sam Houston State, allowing an average of 449.5 yards per game, which ranks 92nd out of 123 FBS teams. The Aggies will get back three defensive starters who were suspended for the first two games.
"We struggled last year in the game with them, and I think it's going to be the same kind of things of importance on offense," Alabama coach Nick Saban said. "We are going to have to block, execute, going to have to throw and catch, going to have make good decisions and play our game. Get a hat on a hat, eliminate negative plays and try to not get behind in the down and distance and take advantage of opportunities when we get them."
2. Can the Blackshirts slow down No. 16 UCLA's offense?
No. 23 Nebraska's defense will be looking for redemption when the Cornhuskers host the Bruins at Memorial Stadium in Lincoln on Saturday. Last season, the Cornhuskers allowed 653 yards of offense -- the second-highest total surrendered in school history -- in a 36-30 loss to UCLA at the Rose Bowl.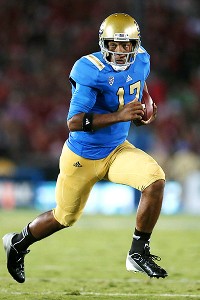 Stephen Dunn/Getty ImagesBrett Hundley tore apart Nebraska's defense in UCLA's 36-30 victory last season.
UCLA quarterback Brett Hundley did a lot of the damage, accounting for 358 yards of offense and four touchdowns.
Nebraska's defense struggled in its opener, allowing 602 yards of offense in a 37-34 victory over Wyoming. Cowboys quarterback Brett Smith, another dual threat, passed for 383 yards with four touchdowns, while running for 92 yards. The Cornhuskers bounced back in last week's 56-13 rout of Southern Miss, allowing only 284 yards of offense, including 62 rushing. Of course, the Golden Eagles have also lost 14 games in a row.
3. Is Tennessee capable of pulling off a stunner at No. 2 Oregon?
Probably not, but the Volunteers have looked much better under first-year coach Butch Jones. The Vols routed FCS foe Austin Peay 45-0 and forced seven turnovers in a 52-20 blowout of Western Kentucky last week. But we'll learn a lot about Tennessee the next two weeks, when it plays at Oregon and then at No. 18 Florida.
The Ducks have been just as explosive under new coach Mark Helfrich, the offensive coordinator under former coach Chip Kelly, who is now with the NFL's Philadelphia Eagles. Oregon is averaging 62.5 points per game and 9.5 yards per play. The Ducks already have five 100-yard rushing performances, including two each from quarterback Marcus Mariota and tailback De'Anthony Thomas, who combined for 487 rushing yards and eight touchdowns in two games.
4. How good is Illinois?
Washington had one of the most impressive performances in Week 1, blowing out Boise State 38-6 at renovated Husky Stadium, which vaulted the Huskies into the national rankings. But Illinois is one of the biggest surprises of the season in coach Tim Beckman's second campaign and will look to improve to 3-0 in Saturday night's game at Chicago's Soldier Field.
After struggling with FCS foe Southern Illinois 42-34 in their opener, the Illini blew out Cincinnati 45-17 last week, rolling up 522 yards of offense in the process. New offensive coordinator Bill Cubit, a former Western Michigan coach, has made a world of difference for quarterback Nathan Scheelhaase, who is completing 74 percent of his passes for 728 yards with six touchdowns in two games. He threw only four touchdowns in 10 games in 2012.
5. Which team is a bigger sleeper -- Arizona State or Wisconsin?
With USC's problems, Arizona, Arizona State or UCLA might be the team to beat in the Pac-12 South. Wisconsin won its first two games over inferior opponents by a combined score of 93-0 and looks like a real sleeper in the Big Ten in coach Gary Andersen's first season.
After routing UMass and FCS foe Tennessee Tech, the Badgers take a big step up in competition when they play at Arizona State on Saturday night. Wisconsin's defense hasn't allowed a touchdown in 11 straight quarters, dating back to the Rose Bowl game, and the offense has a three-headed monster in the backfield with James White, Melvin Gordon and Corey Clement.
The Sun Devils blew out FCS foe Sacramento State 55-0 and are preparing for a difficult four-game stretch. After hosting the Badgers, they'll play at No. 5 Stanford next week, followed by a home game against USC on Sept. 28 and a neutral-site contest against No. 21 Notre Dame in Arlington, Texas, on Oct. 5.
ESPN Senior Writer
Senior college football writer
Author of seven books on college football
Graduate of the University of Georgia
Talking football

Texas A&M reporter Sam Khan, Alabama reporter Alex Scarborough and SEC reporter Chris Low joined host Chantel Jennings to discuss Alabama's trip to Texas A&M. Kickoff Live

TV GUIDE / #HASHTAGS
All times ET
Thursday
7:30: No. 24 TCU at Texas Tech (ESPN)
Tweet about it: #TCUvsTTU
Friday
Noon: Air Force at Boise State (ESPN)
Tweet about it: #AFAvsBOISE
Saturday
Noon: No. 7 Louisville at Kentucky (ESPN)
Tweet about it: #LOUvsUK
Noon: Tulsa at No. 14 Oklahoma (ESPN2)
Tweet about it: #TULSAvsOU
Noon: No. 16 UCLA at No. 23 Neb. (ABC)
Tweet about it: #UCLAvsNEB
Noon: No. 5 Stanford at Army (CBS-SN)
Tweet about it: #STANvsARMY
Noon: Akron at No. 11 Michigan (BTN)
Tweet about it: #AKRONvsMICH
Noon: Virginia Tech at East Carolina (FS1)
Tweet about it: #VTvsECU
12:21: Southern Miss at Arkansas (ESPN3)
Tweet about it: #USMvsARK
3: Boston College at USC (Pac-12 Network)
Tweet about it: #BCvsUSC
3:30: No. 1 Alabama at No. 6 TAMU (CBS)
Tweet about it: #BAMAvsTAMU
3:30: Tennessee at No. 2 Oregon (ABC)
Tweet about it: #TENNvsUO
3:30: Nevada at No. 10 FSU (ESPN)
Tweet about it: #NEVvsFSU
3:30: Georgia Tech at Duke (ESPNU)
Tweet about it: #GTvsDUKE
6: No. 19 Washington vs. Illinois (BTN)
Tweet about it: #UWvsILL
6: UCF at Penn State (BTN)
Tweet about it: #UCFvsPSU
6: Iowa at Iowa State (FS1)
Tweet about it: #IOWAvsISU
7: No. 4 Ohio State at California (Fox)
Tweet about it: #OSUvsCAL
7: Vandy at No. 13 South Carolina (ESPN)
Tweet about it: #VANDYvsSC
7: Mississippi State at Auburn (ESPN2)
Tweet about it: #MSSTvsAUB
7: Kent State at No. 8 LSU (ESPNU)
Tweet about it: #KENTvsLSU
7:30: Lamar at No. 12 Oklahoma St. (FSN)
Tweet about it: #LAMvsOKST
8: No. 21 Notre Dame at Purdue (ABC)
Tweet about it: #NDvsPUR
8: No. 25 Ole Miss at Texas (LHN)
Tweet about it: #MISSvsTEX
9: W. Mich. at No. 17 Northwestern (BTN)
Tweet about it: #WMUvsNU
10:30: No. 20 Wisconsin at ASU (ESPN)
Tweet about it: #WISvsASU
What to watch in Week 2
Click below to see what our reporters think you should be watching for in each conference this weekend.
---

It's been two weeks since the college football world was exposed to Famous Jameis Winston. He'll be on display again when FSU takes on Nevada. ACC
---

The Big 12 and its brilliant young quarterbacks, Texas Tech's Baker Mayfield and TCU's Trevone Boykin, kick off the Week 3 action in Lubbock on Thursday night. Big 12
---

Illinois has been surprisingly good in the season's first two weeks. It will show its real worth on the big stage against No. 19 Washington at Chicago's Solider Field. Big Ten
---

If you haven't heard, the Pac-12 takes on the Big Ten four times this week. Two of those games are rematches of games last season. Pac-12
---

The biggest game in the SEC -- and the country -- this week is obviously Alabama at Texas A&M, but there are also interesting nonconference tilts across the league. SEC
Upset Watch: UCLA at Nebraska
Recruiting Updates
By
RecruitingNation
| ESPN.com

Social media has connected recruits from all over the country like never before. And coaches are taking advantage, using their committed prospects to help recruit uncommitted targets, writes Jeremy Crabtree. Story » | Video

More from RecruitingNation:
• Top recruit Fournette to make A&M trip


• Rankings: ESPN 300 | Class rankings
• Hot Board

| On The Trail

| Home
Fantasy college football
Make GameDay your game day with three ways to play fantasy football.