Siri, isn't this a cool week in college football?
>
"What a cool week for the Huskies, man."
That's how Washington coach Steve Sarkisian opened his Monday meeting with reporters. His team is gearing up for a trip to Stanford, a game that might be the coolest one on the Week 6 agenda, but it's not alone.
The first Saturday in October follows a September highlighted by scintillating SEC shootouts, emphatic ACC statements, Oregon and Baylor lighting up scoreboards at record rates, targeting calls, overturned ejections, coaches getting ejected from their chairs and others barely keeping a cheek on their thermonuclear seats.
What we haven't had yet is a true breakthrough team that shakes up the top of the polls, and in turn the quickly approaching BCS standings. In September, no top-10 team lost to an unranked opponent. In fact, the only top-10 team to lose to a team ranked outside the top 10 was then-sixth-ranked South Carolina's loss to then-No. 11 Georgia.
Opportunities are abundant for landscape-shifting wins this week, though. The question is whether the challengers are good enough to shake things up.
Sarkisian's "cool week" is actually the first of two cool weeks for Washington. The Huskies get No. 2 Oregon next week in what qualifies as the nastiest back-to-back slate anyone has faced. And yes, I know about Georgia's first two games.
Washington has had great wins under Sarkisian. It beat USC back-to-back in Pete Carroll's last season and Lane Kiffin's first. It avenged a regular-season loss to Nebraska by besting the Huskers in the 2010 Holiday Bowl. And it derailed a top 10-ranked Stanford team last season.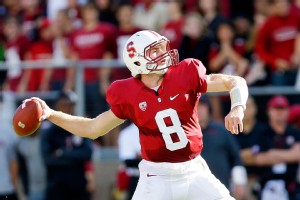 AP Photo/Marcio Jose SanchezStanford's Kevin Hogan ranks fifth in the nation with a QBR rating of 89.3.
That win came in the college football version of "Here Comes the Boom." The Cardinal defense pummeled the Huskies all night, but an anemic Stanford offense left a jaw sticking out. Running back Bishop Sankey and wide receiver Kasen Williams landed a pair of improbable, nearly impossible late haymakers, and Washington pulled out the win.
Payback is on Stanford's side when the teams meet at Stanford Stadium on Saturday. But that's not as important as having Kevin Hogan on its side. Hogan wasn't the starting quarterback for last season's game in Seattle, but now he is and the junior is blossoming. He is ranked sixth in total QBR. Without the fleet of Humvee-sized tight ends Stanford has employed in recent years, Hogan showed quick-strike capability with his wide receivers last week against Washington State. He fired three touchdown passes longer than 30 yards.
But Washington has allowed only three pass plays of 30 yards or longer all season. Defensive coordinator Justin Wilcox has put together the Pac-12's stingiest defense, allowing just 3.8 yards per play.
The Huskies have two excellent pass-rushers in Josh Shirley and Hau'oli Kikaha. Linebacker Shaq Thompson is their most athletic and versatile defender.
The Huskies were close to scouring intramural fields for healthy offensive linemen before the Stanford last year. This year's healthy front five is paving the way for Sankey, who leads the nation in rushing, and quarterback Keith Price, who is running the offense with precision.
The Cardinal front seven have treated quarterbacks like crash-test dummies this season -- Washington State probably ran out of smelling salts for its quarterbacks last Saturday night. So protecting Price will be a huge indicator as to whether Washington has a chance to pull off the win.
Notice I said win, not upset. While beating Stanford would qualify as an upset, the earlier wins in the Sarkisian era were in the puncher's chance genre. Beating the Cardinal would not only be the best win in Sarkisian's tenure, it would announce Washington's arrival as a championship-contending fighter, not just a puncher who can land a knockout blow every now and then.
While the Pac-12's bastion of academia is the bully in its marquee matchup, the Big Ten's educational beacon is the underdog. Northwestern welcomes "College GameDay" for a homecoming match against Ohio State.
I would never question Northwestern's academic credentials, but I do call into question its street smarts. Who schedules the Buckeyes for homecoming?
The Wildcats are a confident bunch, and that confidence gets a shot of swagger with the return of senior running back Venric Mark this weekend. He got hurt in camp and played only briefly in the season-opening win over Cal. Mark ran for 1,366 yards last year and is also a lethal punt return man.
"I've got my mojo back," he reportedly said this week, and as Pat Fitzgerald said, he's "a heck of a free-agent pickup."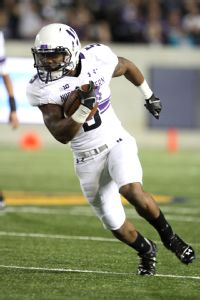 Dave Stephenson/Icon SMINorthwestern's Venric Mark rushed for 97 yards in three games in 2013.
QB Kain Colter said having No. 5 back makes everything easier. But the Cats had better start quickly.
Ohio State has outscored opponents 116-21 in the first quarter this year. That stat looks a lot like the last four meetings with the Wildcats, in which the Buckeyes have blistered Northwestern by a combined score of 205-34. However, the teams haven't played since 2008.
It might be a good time to catch Ohio State. The Buckeyes are coming off an emotional, physical game against Wisconsin and will be without their defensive leader, safety Christian Bryant, who broke his ankle in the waning moments of that game against the Badgers.
Then again, Ohio State might catch the Wildcats napping. That could actually work for Northwestern, which has instituted team naps in the past and undergone sleep assessments designed at optimizing performance. Anything less than an optimal performance and the Buckeyes will likely slap a sleeper hold on the Cats by the end of the night in Evanston.
The team that's furthest off your radar right now but that could be in the spotlight by the end of Saturday is Maryland. The Terps (4-0) take on Florida State and the Seminoles are heavy favorites, but the Terrapins are all the rage on the new iPhone.
"If you ask Siri she'll tell you her favorite team right now is Maryland, because she loves an underdog," Terps offensive lineman De'Onte Arnett said. "And I'm cool with being an underdog, but at the end of the day I like being a winner even more.
Apparently, Siri likes whoever is ranked 25th.
Maryland is embarking on its ACC farewell tour. The Terps have never won in Tallahassee and they'll arrive Saturday with a defense that leads the nation in sacks with 17 and has picked off eight passes. They'll take aim at Seminoles QB Jameis Winston, who adds to his YouTube legend every time he steps onto the field. Last week against Boston College, it was the escape from the rush, 55-yard bomb for a go-ahead touchdown on the final play of the half that was racking up page views.
The Terps have a highlight-maker, too. Stefon Diggs is a dynamic receiver and return man. He's been called a Tavon Austin clone. Austin's old school, West Virginia, limited Diggs to three touches on offense in the last game. He'll have to be far more involved than that if Maryland is to be the team that causes a seismic shift in the top 10.
What a cool week, indeed. One that could turn up the heat on some national title contenders.
College Basketball and Football studio host; SportsCenter anchor/reporter
Rece Davis joined ESPN in March 1995 and currently serves as studio host for college football and college basketball, including his duties as host of the NCAA Women's Basketball Championship and the college basketball version of College GameDay.
Five things to watch in Week 6
Five things we'll be watching in college football on Saturday:
1. Can Northwestern handle the spotlight against Ohio State?
The No. 16 Wildcats haven't defeated a top-five opponent since beating No. 5 Iowa 14-10 on Oct. 3, 1959, but they'll have a chance to do it when No. 4 Ohio State comes to Ryan Field in Evanston, Ill., on Saturday night. Traditionally, Northwestern hasn't fared well in big games, dropping seven of its past 11 games against ranked foes. The Wildcats haven't beaten the Buckeyes since the late Randy Walker was coaching; he guided them to a 33-27 overtime win in 2004.
Ohio State and Penn State are the only Big Ten foes that Northwestern coach Pat Fitzgerald hasn't yet defeated since took over the program in 2006. The Buckeyes beat the Wildcats 54-10 in 2006, 58-7 in '07 and 45-10 in '08.
"We don't need to overhype it," Northwestern quarterback Kain Colter said. "We don't need to play out of this world. We just need to play our game to be able to win."
2. Can No. 5 Stanford get revenge against No. 15 Washington? The Huskies handed Stanford its first loss last season, upsetting the then-No. 8 Cardinal 17-13 in Seattle. Washington's defense stunned the Cardinal, holding them without an offensive touchdown and limiting them to only 65 rushing yards in the upset.
A lot has changed since that loss, with Kevin Hogan replacing Josh Nunes as Stanford's starting quarterback. Hogan, who carried the ball once for 5 yards against Washington last season, is 9-0 as a starter since replacing Nunes 10 games into last season. He's completing 63.2 percent of his passes for 832 yards with 10 touchdowns and three interceptions in four games this year.
"Kevin's mobility changes things," Stanford coach David Shaw told reporters this week. "He allows us to be a much more diverse offense."
Stanford has the country's fourth-longest home winning streak at 11 games and is 9-1 against ranked opponents at home since 2009.
3. Is No. 25 Maryland for real? We'll find out Saturday when the Terrapins play No. 8 Florida State at Doak Campbell Stadium in Tallahassee. It will be FSU redshirt freshman quarterback Jameis Winston's first big test; he's completing 73.6 percent of his passes for 1,048 yards with 12 touchdowns and two interceptions in four games. But after feasting on the likes of Pittsburgh, Nevada, FCS foe Bethune-Cookman and Boston College, Winston will face the country's No. 3 scoring defense on Saturday.
"He's only four games in," FSU coach Jimbo Fisher said. "We'll wait. He's got a good grasp of things. I like the way he's playing, and there's some things he's got to get better at. He'll be the first one to tell you. But he's still making great reads and great plays. He's developing really well."
The Terrapins are allowing only 10.3 points per game and are coming off a 37-0 victory over West Virginia on Sept. 21, their first shutout since 2008. The Terrapins are tied for first nationally among FBS teams with 17 sacks and are tied for eighth with eight interceptions.
4. Will No. 22 Arizona State defeat USC and Notre Dame in consecutive weeks? The Trojans and Fighting Irish aren't what they were in their heydays -- and Notre Dame isn't nearly as good as it was last season -- but no team has ever defeated the two storied programs in consecutive games. The Sun Devils are coming off a 62-41 rout of USC last week and they'll try to beat the Irish at AT&T Stadium in Arlington, Texas, on Saturday night.
Arizona State's Taylor Kelly is one of the country's hottest quarterbacks, throwing for at least 300 yards in each of his first four games. Kelly, a junior from Eagle, Idaho, is completing 61.4 percent of his passes for 1,370 yards with 11 touchdowns and four interceptions. He threw for 351 yards and three touchdowns on 23-for-34 passing against USC.
"I think he is still learning and I think he is still getting better," ASU coach Todd Graham said. "There were some things we did last week that we want to focus on. One of the big things was his ability to hurt people with his legs."
If the Irish are going to avoid falling back to .500, they'll have to do a better job of taking care of the football. Quarterback Tommy Rees threw three interceptions in the first half of last week's 35-21 loss to Oklahoma.
5. Is No. 11 Oklahoma flying under the radar? Outside of Notre Dame, the Sooners haven't really played anybody of consequence yet. They have beaten Louisiana-Monroe, West Virginia and Tulsa, but they'll step up in competition when they host TCU on Saturday night in their final tuneup before the Oct. 12 Red River Rivalry game against Texas in Dallas. Oklahoma's defense looks like one of the country's most-improved units, allowing only 12 points per game, sixth-fewest among FBS teams.
The Horned Frogs have been inconsistent this season, but they're coming off a 48-17 rout of SMU on Saturday. TCU's defense forced five turnovers and it blew open a close game by scoring 31 points in the fourth quarter. Quarterback Trevone Boykin has played better in his last two games after a rough start; he completed 15 of 26 passes for 228 yards with two touchdowns against the Mustangs.
ESPN Senior Writer
Senior college football writer
Author of seven books on college football
Graduate of the University of Georgia
Talking football

Northwestern quarterback Trevor Siemian joins ESPN.com live to talk about his team's prime-time Big Ten showdown with Ohio State. ESPN.com senior writer Mark Schlabach, Big Ten reporter Adam Rittenberg and Big 12 reporter Max Olson also join host Chantel Jennings to preview the biggest games of Week 6. Kickoff Show

TV GUIDE / #HASHTAGS
All times ET
Thursday 7:30: Texas at ISU (ESPN)
Tweet about it: #TEXvsISU
10: UCLA at Utah (FS1)
Tweet about it: #UCLAvsUtah

Saturday 12: Maryland at FSU (ESPN)
Tweet about it: #MDvsFSU
12: Michigan State at Iowa (ESPN2)
Tweet about it: #MSUvsIOWA
12: Illinois at Nebraska (ESPNU)
Tweet about it: #ILLvsNEB
12: Louisville at Temple (ESPN3)
Tweet about it: #LOUvsTEM
12: Texas Tech at Kansas (FS1)
Tweet about it: #TTUvsKU
12:21: Georgia State at Alabama (ESPN3)
Tweet about it: #GSUvsBAMA
3:30: Clemson at Syracuse (ABC/ESPN2)
Tweet about it: #CLEMvsCUSE
3:30: Minnesota at Michigan (ABC/ESPN2)
Tweet about it: #MINNvsMICH
3:30: Kansas St. at Oklahoma St. (ABC)
Tweet about it: #KSUvsOKST
3:30: Georgia Tech at Miami (ESPNU)
Tweet about it: #GTvsMIA
3:30: Georgia at Tennessee (CBS)
Tweet about it: #UGAvsTENN
6: Oregon at Colorado (Pac-12 Network)
Tweet about it: #UOvsCOLO
7: LSU at Mississippi State (ESPN)
Tweet about it: #LSUvsMSST
7: Arkansas at Florida (ESPN2)
Tweet about it: #ARKvsUF
7: Ole Miss at Auburn (ESPNU)
Tweet about it: #MISSvsAUB
7: TCU at Oklahoma (Fox)
Tweet about it: #TCUvsOU
7:30: Kentucky at South Carolina (ESPN3)
Tweet about it: #UKvsSC
7:30: Arizona State vs. Notre Dame (NBC)
Tweet about it: #ASUvsND
7:30: Missouri at Vanderbilt (ESPN3)
Tweet about it: #MIZZvsVANDY
8: Ohio State at Northwestern (ABC)
Tweet about it: #OSUvsNU
8: West Virginia at Baylor (FS1)
Tweet about it: #WVUvsBAY
10:30: Washington at Stanford (ESPN)
Tweet about it: #UWvsSTAN

What to watch in Week 6
Click below to see what our reporters think you should be watching for in each conference this weekend.
---

Questions surround two of the ACC's undefeated teams -- questions that will be answered when Maryland and Florida State meet in Tallahassee on Saturday. ACC
---

Baylor's offense has been impressive thus far. Last week West Virginia pulled maybe the upset of the season against Oklahoma State with a strong defensive showing. West Virginia and Baylor meet this weekend. Should be fun. Big 12
---

Michigan has been inconsistent through nonconference play and will try to bounce back in its first Big Ten game against Minnesota this week. Big Ten
---

UCLA starts a nine consecutive game stretch Thursday night with a trip to Utah. Notre Dame starts a three-game stretch against Pac-12 foes Saturday against Arizona State. Pac-12
---

After an exciting game last week, Georgia and LSU will head to Tennessee and Mississippi State, respectively, and will look to avoid the big-game hangover. SEC
Upset Watch: Ball State-UVa
Recruiting Updates
By
RecruitingNation
| ESPN.com

Northwestern's rise to contention in the Big Ten can be traced in large part to its success recruiting in Texas. Tom VanHaaren » | Video

More from RecruitingNation:
• Class rankings analysis by conference


• Rankings: ESPN 300 | Class rankings
• Hot Board

| On The Trail

| Home
Fantasy college football
Make GameDay your game day with three ways to play fantasy football.