So, we're saying there's a chance
>
The last time Washington beat Oregon, nobody had an iPhone, because it was still on Steve Jobs' drawing board. The last time the Huskies beat the Ducks, Miley Cyrus hadn't even become famous as Hannah Montana, much less infamous for her VMA performance with Robin Thicke.
The last time Washington beat Oregon was in 2003. The Huskies haven't been closer than 17 points since. But after the Huskies' near miss at Stanford last week, Washington has what it hasn't had in nearly a decade: a legitimate shot to beat the Ducks.
Before Husky Nation starts any premature celebratory twerking, "legitimate shot" just means an upgrade from the no shot Washington has had recently against Oregon.
When Ducks coach Mark Helfrich took over for Chip Kelly, I wondered how Helfrich would put his stamp on the program. Perhaps one hint is acknowledging the rivalry with Washington.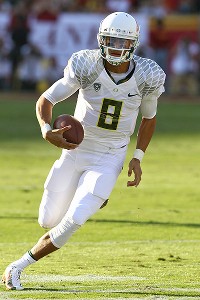 AP Photo/Bruce SchwartzmanMarcus Mariota has never quarterbacked an Oregon team that trailed in the fourth quarter.
Helfrich grew up a Ducks fan. He's acutely aware of the significance of Kenny Wheaton's pick-six in '94. He knows the old-timers are still steamed over Larry Hill being tackled by Washington fans while trying to catch a winning touchdown pass in '62 and remain bitter over the Huskies' orchestrating the tiebreaking vote that kept the Ducks out of the Rose Bowl after the '48 season. Kelly knew all this, too, but juicy rivalry tidbits didn't fit into his nameless, faceless opponent mantra.
Washington is no longer nameless or faceless. Keith Price, Bishop Sankey, Austin Seferian-Jenkins and Kasen Williams provide the requisite playmakers needed to hang with the Ducks.
But the real reason Washington has a chance is the defense. Former Ducks defensive back and current Huskies defensive coordinator Justin Wilcox has put together a stingy bunch of Huskies. UW is allowing less than 4 yards per play, ranking third in the nation. It is allowing 4.3 yards per pass attempt, second-best in the country, after limiting Stanford's Kevin Hogan to 100 yards passing, intercepting him once and sacking him twice.
Let's be clear: Washington isn't going to shut down Oregon. Making the Ducks work for what they get, though, is vitally important, and Washington is capable of doing that.
What we don't know is whether the Huskies have enough left in the emotional and physical tanks after the bitter loss to Stanford last week. On the other hand, we also don't know how Ducks QB Marcus Mariota will play if the game is tight.
Although I view Mariota as a Heisman contender, he's never taken a fourth-quarter snap while his team has trailed. Mariota had the ball while his team was tied with Stanford late in the overtime loss last year, but he's never had to lead a fourth-quarter comeback. In fact, some good research by Jason Quick at the Oregonian shows that Mariota has played in only four fourth quarters in his career. When you outscore your opponents 111-24 in the first quarter, as Oregon has this season, there isn't much need for your starting quarterback in the final 15 minutes.
It's strange to say about a player as lethal as the Ducks' quarterback that the most welcome sight the Huskies could have is Mariota taking fourth-quarter snaps. That would mean they've at least got a shot.
Meanwhile, in the SEC, Florida has found that with its new quarterback, it has a shot against LSU. It took Lou Holtz about four Tyler Murphy snaps before he announced to Mark May and me, "Coach [coaches like to call everybody Coach], there's just something about that Tyler Murphy. Florida's a different team with him in the game."
That they are. Murphy's adjusted QBR is 96.5. He doesn't put the ball in jeopardy, and the Gators are converting 53 percent of the time on third down under Murphy as opposed to 29 percent with the now-injured Jeff Driskel at the helm. Productivity paired with what teammates call a relaxed demeanor bordering on nonchalance sounds like the perfect way to thrive against LSU in Tiger Stadium.
LSU will turn up the heat on the ice water in Murphy's veins, but maybe not the way you'd expect. It's not the Tigers' defense, which has struggled at times, but the offense that could put the pressure on Murphy. Trying to match the Zach Mettenberger-led Bayou Bengals' aerial assault in a newfangled SEC shootout likely would be disastrous for Florida.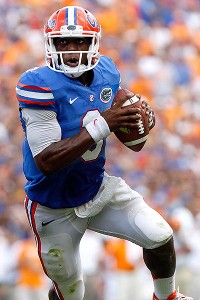 Kim Klement/USA TODAY SportsTyler Murphy will make his second career road start against LSU in Tiger Stadium.
The good news for the Gators is they probably won't have to worry about the scoreboard hitting the 40s. Even without the injured Dominique Easley, Florida owns the SEC's most dominant defense. You name the defensive category, and the Gators lead the league in it. Offense has swiped center stage in the SEC this season, but Florida's best chance is to turn this into a defensive fistfight and give its unlikely hero, Murphy, another chance to shine.
You believe in catching a team at the right time? Missouri faces Georgia at precisely the right time. The Bulldogs, or what's left of them, have endured an insurance-policy-canceling number of injuries. Aaron Murray has been like an action hero, but his ammo has been depleted. His partners have been taken out. He's totally outnumbered. But he fashions a weapon out of a soda can and some duct tape and keeps kicking fanny.
Missouri talked a little smack about the Dawgs playing "old-man football" last year and learned what grown-man football was all about. James Franklin and the Tigers have grown up, but this is easily their biggest test. Missouri is 5-0 and can become bowl-eligible if it can kick the Dawgs while they're down and keep Murray from going all Jason Bourne on them.
For some reason, the experts think Texas A&M at Ole Miss is going to be close. It probably has to do with the Aggies' porous defense. I'm more concerned with the Rebels' sloppy offense. Sloppy O doesn't keep pace with Johnny Football.
Baylor doesn't do sloppy offense. It does Xbox offense. It is the first team since LSU in 1930 to score 70-plus points in three straight games.
Kansas State, which the Bears face this week, is easily the best team it's played. That doesn't mean it's a good matchup for K-State. The Cats can't stop the run. They rank 79th in run defense, allowing 4.28 yards per rush. Lache Seastrunk averages more than 11 yards per carry, and Bryce Petty has the best QBR in the nation. The Bears might not get 70 again, but they'll get a bunch. And a bunch more than Kansas State.
Texas QB Case McCoy said of his start against Oklahoma this week, "This is a game that I could be remembered for the rest of my life. I'm preparing for a game I'll be remembered for forever."
His coach, Mack Brown, might feel exactly the same way.
College Basketball and Football studio host; SportsCenter anchor/reporter
Rece Davis joined ESPN in March 1995 and currently serves as studio host for college football and college basketball, including his duties as host of the NCAA Women's Basketball Championship and the college basketball version of College GameDay.
Five things to watch in Week 7
Five things we'll be watching in college football on Saturday:
1. Can Texas coach Mack Brown make one last stand against Oklahoma in the Red River Rivalry?
Need evidence of Texas' collapse under Brown the past few seasons? Look at its record against Oklahoma in the Red River Rivalry. UT has dropped three consecutive games to the Sooners: 28-20 in 2010, 55-17 in 2011 and 63-21 in 2012.
The Longhorns will go into Saturday's game in Dallas without junior quarterback David Ash, who won't play because of lingering symptoms from a head injury suffered in September. Case McCoy gets his third start this season after throwing for 244 yards and a touchdown on 26-for-45 passing in a 31-30 victory at Iowa State last week.
McCoy relieved Ash in the fourth quarter of last season's blowout loss to Oklahoma, throwing for 102 yards and two touchdowns.
2. Will No. 16 Washington get over its post-Stanford hangover to give No. 2 Oregon a fight?
The Huskies' 31-28 loss at Stanford last week had to be tough to swallow. After fighting back to pull within a field goal late in the game, the Huskies appeared to complete a 16-yard pass to move into Cardinal territory in the final two minutes. But the replay official ruled the pass was incomplete, giving Stanford the ball to run out the rest of the clock.
Now the Huskies (4-1) have to get ready to face Oregon (5-0), which has scored more than 55 points in each of its past five games for the first time in school history. Washington hasn't beaten the Ducks since 2003, losing nine games in a row by an average of 25.8 points. Both defenses will be tested by two of the country's best quarterbacks -- Oregon's Marcus Mariota and Washington's Keith Price.
Oregon's defense is allowing only 11.8 points per game, second-best among FBS teams; Washington is 11th in scoring defense, allowing 14.8 points per game.
3. Can No. 7 Georgia survive another week without many of its star players?
The Bulldogs' 34-31 win at Tennessee last week was costly. Georgia lost tailback Keith Marshall and receiver Justin Scott-Wesley to season-ending knee injuries, and receiver Michael Bennett suffered a knee injury that will sideline him for a while. Also, star tailback Todd Gurley remains doubtful for Saturday's game because of a sprained ankle, and starting safety Tray Matthews is doubtful because of a strained hamstring.
The Bulldogs (4-1) can't afford another loss in Saturday's home game against No. 25 Missouri if they're going to stay in the BCS national championship race. Georgia's depth will certainly be tested by the Tigers, who are off to a 5-0 start in their second season in the SEC. Missouri is averaging 46.6 points per game, eighth-most among FBS teams, and 258.8 rushing yards. Quarterback James Franklin threw for 278 yards with four touchdowns in last week's 51-28 win at Vanderbilt. He's completing 67.9 percent of his attempts for 1,407 yards with 13 touchdowns and three interceptions this season.
4. Can Florida quarterback Tyler Murphy take his show on the road at LSU?
Murphy, a junior from Wethersfield, Conn., has been pretty good since replacing injured starter Jeff Driskel three weeks ago. Murphy, who didn't attempt a pass in his first three seasons with the Gators, is completing 72.2 percent of his passes for 530 yards with five touchdowns and one interception in the past three games.
But Murphy will face a completely different animal when he leads the No. 17 Gators against No. 10 LSU in Baton Rouge, La., on Saturday. The Tigers have won 27 of their last 28 home games and are 53-7 under coach Les Miles at Tiger Stadium.
Florida's defense will also face its stiffest test of the season against the Tigers, who are averaging 45.5 points per game. LSU quarterback Zach Mettenberger threw for more than 300 yards in each of his past two games and is completing 68.2 percent of his passes for 1,738 yards with 15 touchdowns and two interceptions. The Gators are allowing only 12.2 points per game, fourth-best among FBS teams.
5. Will Baylor continue to roll against Kansas State?
The No. 15 Bears are 4-0 for the first time since 1991, and they've put up eye-popping numbers against inferior competition. Baylor leads FBS teams in total offense (779.5 yards per game) and scoring (70.5 points). The Bears became the first FBS team with at least 700 yards of offense in three consecutive games since 1996, and their 282 points are the most in a four-game stretch since 1980.
Kansas State, the defending Big 12 champion, is off to a disappointing 2-3 start but is probably the Bears' toughest opponent to date. Last season, Baylor ended Kansas State's hopes of playing in the BCS National Championship by walloping the Wildcats 55-24 a week after they had climbed to No. 1 in the rankings. In that game, the Bears piled up 580 yards of offense 238 passing and 342 rushing and blew open the contest with 24 points in the third quarter.
College Football and Basketball
College football writer for ESPN.com
Author of seven books on college football
Formerly at the Washington Post and the Atlanta Journal-Constitution
Talking football

Big 12 reporters Jake Trotter and Max Olson as well as Big 12 This Week host Chad McKee join host Chantel Jennings to preview the Red River Rivalry game between Texas and Oklahoma this Saturday in Dallas. Pac-12 reporter Kevin Gemmell and ACC reporter Andrea Adelson also join the panel to talk about the other big games around the country in Week 7. Kickoff Live, 2 ET
TV GUIDE / #HASHTAGS
All times ET
Thursday
7:30: Rutgers at Louisville (ESPN)
Tweet about it: #RUTGvsLOU
10:30: Arizona at USC (FS1)
Tweet about it: #AZvsUSC

Saturday Noon: Oklahoma vs. Texas (ABC)
Tweet about it: #OUvsTEX
Noon: Missouri at Georgia (ESPN)
Tweet about it: #MIZZvsUGA
Noon: Indiana at Michigan State (ESPN2)
Tweet about it: #IUvsMSU
Noon: Pittsburgh at Virginia Tech (ESPNU)
Tweet about it: #PITTvsVT
Noon: Iowa State at Texas Tech (FS1)
Tweet about it: #ISUvsTTU
12:21: S. Carolina at Arkansas (ESPN3)
Tweet about it: #SCvsARK
3:30: BC at Clemson (ABC/ESPN2)
Tweet about it: #BCvsCLEM
3:30: N'western at Wisconsin (ABC/ESPN2)
Tweet about it: #NUvsWISC
3:30: Florida at LSU (CBS)
Tweet about it: #FLAvsLSU
3:30: Baylor at Kansas State (Fox)
Tweet about it: #BAYvsKSU
4: Oregon at Washington (FS1)
Tweet about it: #UOvsUW
5: Michigan at Penn State (ESPN)
Tweet about it: #MICHvsPSU
5: Akron at Northern Illinois (ESPN3)
Tweet about it: #AKRvsNIU
6: Stanford at Utah (Pac-12 Net.)
Tweet about it: #STANvsUTAH
7: Alabama at Kentucky (ESPN2)
Tweet about it: #BAMAvsUK
7: Georgia Tech at BYU (ESPNU)
Tweet about it: #GTvsBYU
8: Boise State at Utah State (CBS-SN)
Tweet about it: #BOISEvsUSU
8:30: Texas A&M at Ole Miss (ESPN)
Tweet about it: #TAMUvsMISS
10:30: California at UCLA (ESPN2)
Tweet about it: #CALvsUCLA
10:30: Oregon St. at Wash. St. (ESPNU)
Tweet about it: #ORSTvsWSU

What to watch in Week 6
Click below to see what our reporters think you should be watching for in each conference this weekend.
---

Clemson has its much-anticipated matchup with Florida State next weekend, but it has to get through Boston College first. ACC
---

It's Red River Rivalry week, and Mack Brown has a lot to lose, as does Oklahoma if it goes down to Brown. Big 12
---

There isn't the hyped-up matchup of the past couple of weeks in the Big Ten this Saturday, but we'll learn a lot when a lot of teams on similar paths collide this weekend. Big Ten
---

Ed Orgeron makes his head-coaching debut with USC, but that may be overlooked by the biggest Pac-12 matchup of the weekend, Oregon-Washington. Pac-12
---

Jadeveon Clowney may or may not grace the field for South Carolina this weekend, but we know several Georgia playmakers will definitely be on the sideline for the SEC East clash with undefeated Missouri. SEC
Recruiting Updates
By
RecruitingNation
| ESPN.com

Highlighted by No. 31 recruit Solomon Thomas, plenty of elite recruits will be paying close attention to Oklahoma-Texas on Saturday. Will Wilkerson

| Tale of the tape

More from RecruitingNation:
• Class rankings analysis by conference


• Rankings: ESPN 300 | Class rankings
• Hot Board

| On The Trail

| Home
Fantasy college football
Make GameDay your game day with three ways to play fantasy football.