Just When You Least Expect It
When people are getting worked into a lather over whether Alabama or Oregon deserves a rematch against LSU or if Oklahoma's colossal failure against Texas Tech should remove it from the one-loss discussion is precisely the time when those so lathered get hit with a corner blitz. You never see it coming. You get drilled in the earhole and the whole perception changes. There will be time for those arguments in a little more than two weeks. Of course, there's also plenty of time for us to see how much energy was wasted if LSU and Oklahoma State just win their games.
The Pac-12 championship game is being played Saturday at Autzen Stadium. I know -- there will be another game they call the Pac-12 championship game in a couple of weeks and Oregon will play UCLA, Arizona State, Utah or some other woefully underwhelming Pac-12 South squad. To be fair, Utah has improved. UCLA is limited but too often lifeless. Arizona State's resolve to fight through a game resembles Kim Kardashian's determination to stay married.
[+] Enlarge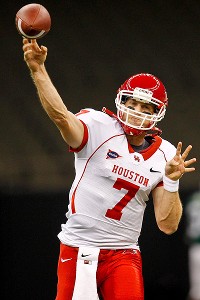 Derick E. Hingle/US PresswireCase Keenum leads the explosive Houston offense against SMU.
Then there is USC. The probation-laden Trojans aren't eligible for the official title game, so Saturday is their chance to prove they are the best team in the Pac-12 South. That might not have been the case when USC played the Sun Devils earlier, but that was before Arizona State divorced itself from being good. (If you didn't notice, I'm calling out Arizona State because I think it's capable of so much more.) Lane Kiffin has done a good job of masking weaknesses in his offensive line. The Trojans don't have tremendous athleticism at linebacker, but they're compensating.
Our Pac-12 blogger, Ted Miller, went on a mini-rant over the Trojans' lack of respect in the various polls, at least the ones in which they are eligible to be ranked. He noted that a really smart person had USC ranked 12th in the ESPN.com power rankings. He meant himself. Ted must think I'm really smart. I have USC ranked 11th, highest among all of my power ranking colleagues.
What does it mean? Not much. I'm not suggesting the Trojans are great. Frankly, once I get past my top nine, there's a lot of mediocrity. There might even be some mediocrity creeping into my top nine. I am suggesting that USC's stud receivers, Robert Woods and Marqise Lee, could give Oregon some problems.
Why could they do it if Stanford couldn't? As our Scouts Inc. preview points out, the Ducks' strength in coverage has been their safeties. The corners haven't been quite as strong. USC has elite wide receivers; Stanford doesn't. All of this assumes the Trojans' suspect but improving offensive line can keep Matt Barkley upright. Oregon has been very good at getting to the quarterback. They put a lot of heat on Andrew Luck and rank fifth in the nation with 32 sacks.
Barkley said Oregon might not be quite as good as the previous Ducks teams he has faced. Oregon would likely say the same about USC. But if the Trojans are locked in offensively and catch a couple or three breaks, they have a chance of landing one of those earhole shots. Sure, the chances are remote. But the Trojans have at least a puncher's chance and the other Pac-12 South teams can't even make a fist right now.
---
This is a big week for Texas, too. Let's stipulate this much: The Longhorns are all about winning championships; mere solid seasons aren't the goal on the 40 acres. Anyone can see that Texas is greatly improved over last year, but the Horns don't have a great win on their résumé. Plus, it's never too early to start thinking bowl positions. The inside track on a Cotton Bowl bid could be at stake when Texas takes aim at Collin Klein and Kansas State.
I'll admit I don't have Klein on my Heisman ballot. I'll also admit there are times I ask why not. There are more aesthetically pleasing quarterbacks when it comes to throwing the ball, but there are few tougher than the Wildcats' leader. He has an astounding 24 rushing touchdowns. He's second in the nation in scoring.
Only Wisconsin touchdown machine Montee Ball has found the end zone more often (27 touchdowns). Ball doesn't have 10 TD passes to go with his running scores as Klein does. Klein ranks fourth in the nation in points responsible for, averaging more than 20 points per game. But coming off an emotional four-overtime win against Texas A&M and facing a top-10 Horns rush defense will be a tough task for the Wildcats.
---
[+] Enlarge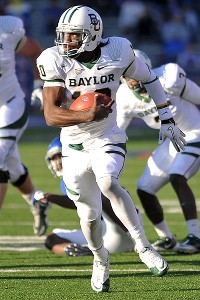 Denny Medley/US PresswireBaylor will need a big game from Robert Griffin III for any chance against Oklahoma.
We'll see how well Houston handles the hype as "College GameDay" arrives for a Case review of Keenum's Cougars and their BCS hopes against SMU. Wisconsin has to avoid a letdown at Illinois, where Ron Zook's job security is a hot topic. Will the Illini come up with a job-saver game for the Zooker?
Georgia can finish off the SEC East race with a win over hapless Kentucky. Sure, the Dawgs had the easiest road possible in the SEC East. But if people are going to say that Oregon is a completely different team from the one at the beginning of the season, the same has to apply to the Dawgs.
LSU (or possibly Alabama or Arkansas) will have a fight on its hands in the SEC title game in a couple of weeks. Georgia will get a big fight from Kentucky, too, on Jan. 24. That's when the Dawgs' hoops team faces John Calipari's Wildcats for the first time.
Mike London has Virginia on the rise. The Cavaliers' last two games will determine just how high they've risen. The Wahoos play at Florida State and need to win to stay alive in the ACC Coastal Division. They close with the rivalry game against Virginia Tech. Virginia is 7-3. Pull upsets in these last two, and London will be a hot commodity and UVa will be a hot program.
I asked Jayron Hosley of Virginia Tech if there was part of him that would like to see Virginia beat the Seminoles just to raise the stakes for the Commonwealth Cup game. The Hokies star defensive back was diplomatic, saying it was always a great game no matter what. I pushed a little more before he finally said, "I'm a Virginia Tech man. I'm not supposed to root for Virginia."
I love rivalry week. We spent some space on ESPN.com this week explaining why Week 12 matters. No explanations necessary next week. Rivalries ALWAYS matter. As a wise coach once said, if you don't think this game is the biggest one, just try losing it and see what happens. You can see everything that happens on "College Football Final." We'll be on an hour after the Big Game, Stanford and Cal, Saturday night. It'll be an early taste of Rivalry Week.
Weekend Watch
By Mark Schlabach
ESPN.com
Here are five things to watch this weekend:
1. Is Baylor a threat to knock off Oklahoma?
The No. 5 Sooners have never lost to the Bears. But Baylor is a very good team at home, winning each of its five games and averaging 49 points at Floyd Casey Stadium. The Bears might have been looking ahead to OU in last week's game at Kansas, where they had to come back from a 21-point deficit in the fourth quarter to beat the Jayhawks 31-30. The Bears lead the Big 12 in scoring with 40.3 points and in total offense with 567.9 yards per game. If this game turns into a shootout, can OU survive without receiver Ryan Broyles and running back Dominique Whaley?
2. Will Clemson suffer a letdown against NC State?
The No. 7 Tigers clinched the ACC's Atlantic Division and a spot in the Dec. 3 ACC championship game in Charlotte by beating Wake Forest 31-28 on a last-second field goal last week. Will the Tigers be ready for Saturday's game at NC State? The Wolfpack have to win their last two games to play in a bowl game because they have two victories over FCS opponents. Clemson might be without star receiver Sammy Watkins, who suffered a sprained AC joint in his shoulder against the Demon Deacons. Coach Dabo Swinney said Watkins will be a game-time decision on Saturday.
3. Should No. 6 Arkansas be on upset alert against Mississippi State?
The Hogs might have their sights set on their Nov. 25 showdown at No. 1 LSU, but they can't look past the Bulldogs, who have played very good defense lately. While Hogs quarterback Tyler Wilson and his deep receiver corps have lit up foes, MSU hasn't allowed an opponent to throw for more than 200 yards in each of its past six games. In fact, the Bulldogs have yielded only two touchdown passes in their past five games.
4. Can Stanford recover from its hangover?
The No. 9 Cardinal's Pac-12 and BCS title hopes were dashed by last week's loss to Oregon. But Stanford still has a shot at playing in a BCS bowl game, possibly the Rose Bowl if Oregon plays its way into the Allstate BCS National Championship Game or the Fiesta or Sugar bowls as an at-large selection. The Cardinal will have to rebound quickly to be mentally ready for the Big Game against rival California on Saturday. Stanford will probably be without tight end Zach Ertz (knee) and receiver Chris Owusu (concussion), two of quarterback Andrew Luck's favorite targets.
5. Can No. 10 Houston handle the bright spotlight?
The Cougars have the inside track to earn a BCS at-large spot, after Boise State's loss to TCU last week. The undefeated Cougars will welcome ESPN's "College GameDay" to Houston for Saturday's game against SMU, and quarterback Case Keenum will have a great opportunity to showcase his talents for Heisman Trophy voters. The Mustangs have lost three of their past four games. Houston will have to beat SMU, Tulsa at home next week and then possibly Southern Miss in the Dec. 3 Conference USA championship game to have a chance at playing in a BCS bowl game.
For more things to watch this weekend, click here.
Viewer's guide
All times ET
Thursday
8 p.m.
: North Carolina at Virginia Tech (ESPN/ESPN3D)
Friday
9 p.m.
: Oklahoma State at Iowa State (ESPN)
Saturday
9 a.m.
: "
College GameDay
" from Houston (ESPNU)
10 a.m.
: "
College GameDay
" from Houston (ESPN)
11 a.m.
: "College Football WhipAround" (ESPNU)
Noon
: Nebraska at Michigan (ESPN)
Wisconsin at Illinois (ESPN2)
Cincinnati at Rutgers (ESPNU)
2 p.m.
: Georgia Southern at Alabama (ESPN3)
3:30 p.m.
: Penn State at Ohio State (
ABC/ESPN
)
Clemson at NC State (
ABC/ESPN
)
Mississippi State at Arkansas (CBS)
SMU at Houston (FSN)
Miami at South Florida (ESPNU)
7 p.m.
: LSU at Ole Miss (ESPN)
7:30 p.m.
: Virginia at Florida State (ESPN2)
8 p.m.
: Oklahoma at Baylor (
ABC/ESPN
)
USC at Oregon (
ABC/ESPN
)
Kansas State at Texas (FX)
Boise State at San Diego State (CBSSN)
10:15 p.m.
: Cal at Stanford (ESPN)
Most deserving 1-loss team
Blog Network: What to watch
Each week, our bloggers will take a closer look at the storylines you should be watching. What's on tap for Week 12?

You know you have to watch the Coastal Division standings. You know you have to watch bowl eligibility.
ACC

Texas will be the best defense K-State has faced this year, so relying solely on the running game won't be enough for K-State to beat the Longhorns.
Big 12

Yes, he has one of the best names in college football. But this is serious business for Munchie Legaux and the Bearcats.
Big East

The Penn State-Ohio State game has been arguably the most significant Big Ten matchup in the past seven years. But this year's clash at Ohio Stadium has a decidedly different feel.
Big Ten

While much was made of USC quarterback Matt Barkley saying that Oregon didn't seem to be as good this season as the previous two years, a minor tweak won't decide this game.
Pac-12

Even when Georgia was 0-2, coach Mark Richt was trying to tell people that the Bulldogs weren't out of it. Obviously, Richt knew what he was talking about.
SEC
Upset watch
Tennessee is a disappointing 4-6, 0-6 in the SEC, the first time it has lost six conference games since 1962. Things are going so bad in Knoxville that the Volunteers are actually an underdog to Vanderbilt in Saturday's game at Neyland Stadium.
To read the rest of this entry, click here.
Fantasy college football
By ESPN Fantasy
Make GameDay your game day with three ways to play.


• Pick 'Em: How confident are you?
• College Challenge: Build the best team
• College Showdown: Choose wisely
Why Oregon needs to win big