From The Frying Pan …
After being smashed in the forehead by a wrecking ball, the last thing you need is to be whacked in the mouth with an anvil. That is what awaits Florida.
One week after Alabama's anacondalike defense squeezed the life out of the Gators and left them to be bulldozed by Trent Richardson, Will Muschamp's battered and bruised crew ventures to the bayou, where LSU's mauling streak of Tigers awaits.
If this were golf, we'd advise Florida to concede the putt and move on to the next hole. But if it were golf, LSU wouldn't allow that. The Bayou Bengals would grab your driver, wrap it around your snout, bludgeon you with a 9-iron, steal your ball and use it to make their own hole-in-one.
[+] Enlarge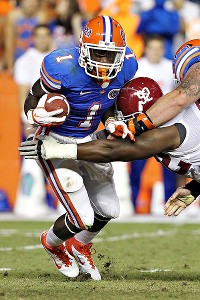 Kim Klement/US PresswireIt won't get any easier for Florida this week after facing hard-hitting Alabama in Week 5.
I wouldn't be this gloom and doom for the Gators if quarterback John Brantley were playing. It's not that one guy, even a veteran quarterback, makes that much difference. It's just that it seems like way too much to put on talented freshman Jeff Driskel at this stage of his career.
Driskel is going to be excellent. Charlie Weis will see to that someday. "Someday" doesn't figure to come Saturday, though.
Florida's offensive line had massive problems with Alabama. LSU will offer no quarter for the young quarterback to avoid pressure.
But perhaps the toughest task is playing Alabama and LSU back-to-back. I don't need to see anybody's strength of schedule rating to know there is no tougher two-week stretch for anyone this season, though Tennessee will do it in reverse starting next week against LSU. More on that in a moment.
When Tommy Tuberville was at Auburn, he used to say the toughest game for him was the week after the Tigers played LSU because the game was so physical that it took both teams a week to get over it. We saw a similar impact on Florida State against Clemson after the Seminoles had played Oklahoma. We saw it affect the Sooners for a while in their next game against Missouri. Now Florida has to play another team that is relentlessly and brutally physical. It takes a toll on your body and on your mind.
LSU appears to be on its way to a two-quarterback system. The whispers have started about the potential impact on team chemistry to have Jordan Jefferson return to take snaps from Jarrett Lee, but it seems as though those whispers weren't coming from any Tigers.
Both quarterbacks have been through massive scrutiny in their careers in Baton Rouge. They understand the deal. Les Miles and his players were in lockstep with the media and even on Twitter denouncing the fans who booed Jefferson's return. Besides, we're talking about The Hat. He has a want for the chemistry to be enjoyed by those donning the purple and gold in Tiger Stadium where the grass tastes best. Say the previous sentence using your best Les voice. It's more fun that way.
So, what keeps the outcome from being a foregone conclusion? Florida rolls game-changing talent onto the field. That includes its new quarterback. Guys such as Chris Rainey, Jeff Demps (if healthy) and Andre Debose are a threat to any defense -- even one with Tyrann Mathieu, Sam Montgomery and Kendrick Adams on it.
Even if Florida can't pull the stunner this week, it will emerge from the game still in the thick of the SEC East race and perhaps eyeing a shot at redemption against the LSU Tigers or the Tide. If that shot comes, the Gators would arrive with more experience under their new staff and, presumably, in better health physically and mentally.
---
Georgia flunked its early-season tests, but another one arrives Saturday against Tennessee.
Mark Richt can win his 100th game as the Dawgs' head coach. His shot at winning, or at least coaching in, 100 more doesn't necessarily hinge on this game, but a victory certainly would help his cause.
[+] Enlarge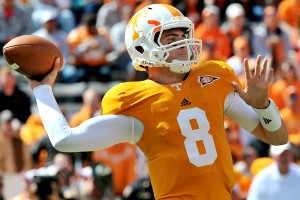 Jim Brown/US PresswireTyler Bray said he wants to go from being lazy at times as Tennessee's QB to becoming a leader.
Neyland Stadium in Knoxville is the scene of one of Richt's great triumphs. The late pass from David Greene to Verron Haynes in the fabled "hobnail boot" game gave the Dawgs a victory. That win is now a decade old, though.
Beating Tennessee doesn't carry the same team-validating clout it once did, but it would put the Dawgs in great position to win the SEC East. Georgia is in a first-place tie with a schedule that is the antithesis to the one Florida is navigating. The Dawgs catch a break by missing SEC West heavyweights LSU, Alabama and Arkansas. They get Auburn at home. But this chance to salvage the season and perhaps a career really needs to include a win over the Vols.
The Vols' young gunslinger, Tyler Bray, has put up some Peyton-esque numbers. He has thrown for more than 1,300 yards, had only two passes intercepted and connected on at least three touchdown passes in every game.
Georgia has given up only five touchdown passes all season. The Dawgs allow a little more than 150 yards per game passing and are 11th in the nation in pass efficiency defense. Without stud receiver Justin Hunter, who was lost with a knee injury in the Florida game, Georgia undoubtedly will focus on Da'Rick Rogers. He's in the top 20 in the nation averaging 110 yards per game receiving.
This is huge for Tennessee's season, too. As mentioned earlier, the Big Orange hit the juicer stretch of their schedule with LSU and Alabama back-to-back starting next week.
So here's Georgia's chance. Sure, it would lose the head-to-head tiebreaker with South Carolina, but the Gamecocks make the Libyan government look like a well-oiled machine. Sure, Cocky has an abundance of talent, but the crew of the Hindenburg was talented, too. South Carolina looks nothing like a team prepared to win any type of championship. The door is wide open in the SEC East.
Thursday night, Craig James, Jesse Palmer, Jenn Brown and I will be at Autzen Stadium for Cal and Oregon. The Bears shut down the Ducks in 2010, holding them to season lows in yards and points. Oregon escaped that one. The Bears are missing some key defenders from last season, namely Cameron Jordan, but have been good against the run. The Ducks have been recuperating under the radar since the LSU loss. The Thursday night stage awaits them in a key Pac-12 North game. Plus, is there any more riveting television than LaMichael James getting loose? Didn't think so.
While Oklahoma and Texas get the lion's share of the attention, and rightfully so, Mark May, Lou Holtz and I will be watching Missouri and Kansas State closely, too. Bill Snyder is magic. The Wildcats have won two straight nail-biters against Miami and Baylor. Missouri arrives after a week off, riding the nation's No. 6 rusher, Henry Josey. Legitimacy test for both. Meanwhile, Michigan leaves home for the first time, and QB Dan Persa should be ready for Northwestern. This is the type of game that has tripped up the maize and blue the past few seasons. Are the Wolverines really different? "College Football Final" will have it all for you Saturday night at midnight ET. See you then.
Weekend Watch
By Mark Schlabach
ESPN.com
Here are five things to watch this weekend:
1. Is Texas' two-headed quarterback ready for an opponent like Oklahoma?
The No. 11 Longhorns are 4-0 heading into Saturday's game against No. 3 Oklahoma at the Cotton Bowl, but they've hardly been tested. Facing OU will be a huge challenge for UT's new quarterbacks, sophomore Case McCoy and freshman David Ash, who took over after junior Garrett Gilbert was benched in the second quarter against BYU. Ash and McCoy have combined to complete nearly 70 percent of their passes with four touchdowns and no interceptions, but they haven't yet faced a secondary nearly as talented as the Sooners'.
2. Should Michigan be on upset alert?
The No. 12 Wolverines are 5-0 in coach Brady Hoke's first season, but Saturday's game at Northwestern will be their first test outside of the Big House. In fact, Michigan plays four of its next five games on the road. Quarterback Dan Persa returned for the Wildcats last week, completing 10 of 14 passes for 123 yards with four touchdowns in a 38-35 loss at Illinois. It was Persa's first action since suffering a season-ending Achilles tendon injury last season. Northwestern will have to do a better job defending the run against Michigan quarterback Denard Robinson after allowing 381 yards on the ground against Army.
3. Can Ohio State produce some offense?
The Buckeyes' passing game has looked abysmal in recent weeks, but Nebraska's defense is also licking its wounds after a 48-17 loss at Wisconsin last week. Neither freshman Braxton Miller nor senior Joe Bauserman was very effective under center for OSU in Saturday's 10-7 loss to Michigan State. The Buckeyes rank 111th nationally in passing yards (154 yards per game) and 91st in scoring (23.8 points). It won't help that tailback Dan "Boom" Herron and receiver DeVier Posey will have to sit out at least one more game for receiving impermissible benefits, nor that starting receiver Verlon Reed is out for the rest of the season with a knee injury.
4. Will Connor Shaw save South Carolina's season?
The Gamecocks seem to be reeling after losing to Auburn. The defending SEC East champions shouldn't have too many problems against Kentucky, but coach Steve Spurrier is hoping Shaw will validate his decision to bench starting quarterback Stephen Garcia. Shaw started the season opener against East Carolina but was pulled after completing only 3 of 9 passes. He has attempted only two passes since. The Gamecocks have to find ways to get the ball in Alshon Jeffery's hands to take some pressure off tailback Marcus Lattimore.
5. Can Arizona State pull away in the Pac-12 South?
With Southern California ineligible to compete for the Pac-12 South title, Utah figured to be the No. 22 Sun Devils' biggest competition in the division. But with a victory at Utah on Saturday, the Sun Devils can open up a three-game lead over the Utes. Utah will play without starting quarterback Jordan Wynn, who is sidelined with an injury to his non-throwing shoulder. Junior Jon Hays, who transferred to Utah from Nebraska-Omaha after the Mavericks dropped football, gets the start at quarterback.
For more things to watch this weekend, click here.
Viewer's guide
All times ET
Thursday
9 p.m.
: Cal at Oregon (ESPN)
Friday
9 p.m.
: Boise State at Fresno State (ESPN)
Saturday
9 a.m.
: "
College GameDay
" from Dallas (ESPNU)
10 a.m.
: "
College GameDay
" from Dallas (ESPN)
11 a.m.
: "College Football WhipAround" (ESPNU)
Noon
: Oklahoma vs. Texas (ABC)
Maryland at Georgia Tech (ESPNU)
12:30 p.m.
: Florida State at Wake Forest (ESPN3)
3:30 p.m.
: Florida at LSU (CBS)
Iowa at Penn State (
ABC/ESPN
)
Miami at Virginia Tech (
ABC/ESPN
)
Air Force at Notre Dame (NBC)
Missouri at Kansas State (
ABC
)
Pitt at Rutgers (ESPNU)
7 p.m.
: Auburn at Arkansas (ESPN)
Iowa State at Baylor
Vanderbilt at Alabama (ESPNU)
Georgia at Tennessee (ESPN2)
Texas A&M at Texas Tech (FX)
8 p.m.
: Ohio State at Nebraska (ABC)
Blog Network: What to watch
Each week, our bloggers will take a closer look at the storylines you should be watching. What's on tap for Week 6?

If Clemson and Georgia Tech both win this weekend, they will become the first teams in the conference and only two of seven in the country to become bowl eligible this week.
ACC

Nobody thinks the Jayhawks, 32-point underdogs at Oklahoma State, have a shot in this one. But KU's offense is vastly underrated.
Big 12

Syracuse, Louisville and UConn are all coming off tough losses. Can they bounce back this week on the road?
Big East

Penn State linebacker Glenn Carson added some spice to the Penn State-Iowa rivalry this week, jokingly calling Iowa "a wrestling school."
Big Ten

California QB Zach Maynard has played at Colorado and Washington, but a night game at Autzen Stadium on ESPN is another level of loud and intense.
Pac-12

The debate rages as to which defense is better and which is more talented -- Alabama or LSU?
SEC
Upset watch
The No. 24 Aggies blew sizable leads against Oklahoma State and Arkansas in each of their last two games.
Texas Tech came from behind in each of its past two contests, rallying from 28-14 down against Nevada, then 20-0 against Kansas this past week. Texas A&M has struggled at Texas Tech, losing seven of its past eight games in Lubbock.
Red Raiders quarterback Seth Doege, who threw for more than 300 yards in three of his first four games, will be a big test for an Aggies defense that ranks dead last among FBS teams in pass defense, allowing 336.7 passing yards per game.
Scouts' Edge: Week 6 previews
Get in-depth scouting reports of key games as Scouts Inc. breaks down what to watch.

Fantasy college football
By ESPN Fantasy
Make GameDay your game day with three ways to play.


• Pick 'Em: How confident are you?
• College Challenge: Build the best team
• College Showdown: Choose wisely