Coming Out Of The Shadows
You have a week to get your affairs in order. The countdown clock motors on toward kickoff of what will be, barring monumental future upsets, a de facto national semifinal between LSU and Alabama. Hey, a lot of you want a playoff. This figures to be pretty close to one.
[+] Enlarge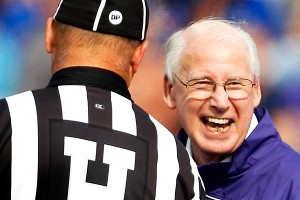 AP Photo/Orlin WagnerIf Bill Snyder manages to keep K-State in contention over the next few weeks, he's hands-down coach of the year.
While the Tigers and Tide are hogging the spotlight even during an off week, there are several teams lurking in the shadows. Teams that might not clear a path to the national title game, but teams that could clear the vision of who they really are.
Aside from LSU and Alabama, prevailing wisdom is that Oklahoma State controls its BCS fate. If the Cowboys do, then why not Kansas State?
The Wildcats are undefeated. The computers love them much more than the pollsters do. The wait-and-see attitude from the pollsters is understandable. Kansas State has Oklahoma on Saturday and Oklahoma State, Texas A&M and Texas in the next three weeks. Plus, the numbers aren't overwhelming. Until the Cats pummeled the catastrophe that is Kansas, K-State was actually being outgained by the opposition.
Coach Bill Snyder's formula relies on special teams, an excellent turnover margin, a pretty salty run defense and timely, gutty plays from quarterback Collin Klein. Five of the Cats' seven wins have been by a touchdown or less. One of those was a three-point season-opening win against Eastern Kentucky. Don't get me wrong. I love Klein's toughness. I'm blown away by the Wildcats' resilience and impressed by their knack of coming up with big plays at precisely the right moment. But Snyder's favorite story is Pinocchio. I can't tell a lie. I think EMAW ("Every Man A Wildcat") has a big problem.
Texas Tech's win over Oklahoma might have been just the bolt of lightning an otherwise as-scripted season needed, but it was probably the last thing the Wildcats needed to aid their upset bid. Landry Jones said of the loss to the Red Raiders, "We thought we were going to roll our hats out there and just kinda win the game."
Everybody knows you don't just stroll into Bill Snyder Family Stadium and waltz out with a victory. But there's a significant talent gap. If the Sooners snoozed against Tech, they'll be wide awake and agitated in Manhattan. Maybe Kansas State is good enough to handle it. Maybe it should control its BCS fate just like LSU, Alabama and Oklahoma State. Maybe it can handle the spotlight and Oklahoma.
Snyder is already a coach of the year candidate. Considering his team's production relative to expectations so far, maybe they should just give him the trophy now. But if he keeps his Cats in contention for the crystal football after this weekend and next, they should retire the trophy in his honor and name a wing in the Hall of Fame after him.
---
[+] Enlarge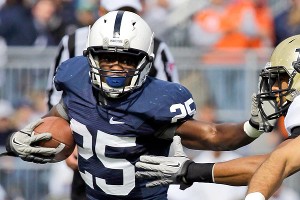 AP Photo/Gene J. PuskarRunning back Silas Redd has been carrying the Penn State offense of late.
Joe Paterno won his 408th game last week to tie Eddie Robinson for the most in Division I history. He has two national championships, probably got ripped off for at least two more, and is one of the most enduring and iconic figures in all of sports. How in the world can his team have just a single loss to Alabama and go completely unnoticed? That's what's happening. It probably speaks to two things.
The Nittany Lions' conference schedule is completely November-loaded and their offense, with the notable exception of Silas Redd, has pretty much fired blanks. Nittany Lions fans believe -- perhaps hope -- that quarterback Matt McGloin has finally been handed exclusive control of the offense. Joe still isn't saying. Well, actually he did. Paterno said he was starting at quarterback so reporters would have a big headline.
Joe hasn't started at quarterback in more than six decades. That's how long it had been since Illinois had started 6-0, and how long it seems it's been since the Illini scored a touchdown. That's exaggerating. They have scored three touchdowns in the last two games, but that 6-0 start feels like it was six centuries ago.
If Penn State is really a contender for a Big Ten title, it'll take care of Illinois at home. If Illinois' start wasn't a fluke, it'll find a way to move the ball against an offensively challenged Nittany Lions squad. Either way, we'll have a better idea of who both teams are after this game.
---
The Big Ten also has an important game in the Legends Division. Sparty has to get its feet back on the ground after Kirk Cousins' heave and Keith Nichol's twist pulled them past Wisconsin. Michigan State visits the Children of the Corn, who were not so fortunate when they played Wisconsin. Winner likely gets another shot at the Badgers in the Big Ten title game, though Penn State and maybe Michigan could have a say in that.
Nebraska can run it, but Taylor Martinez scares no one throwing it. The Spartans did a tremendous job bottling up Michigan's Denard Robinson. That tough defensive front will have to maintain that discipline. Martinez is just as explosive when he gets a crease. Throw in Rex Burkhead, averaging more than 107 yards per game on the ground, and the Spartans' eighth-ranked rush defense had better have forgotten the Badgers and locked in on the Huskers.
Nebraska entered the season as a favorite in the Big Ten. The defense has been mediocre by Blackshirt standards. We find out if they're contenders Saturday.
---
Georgia has been lying in the weeds since face-planting against Boise State and South Carolina. The Dawgs' biggest advantage was their schedule. They've taken advantage of it since that 0-2 start. But now here comes Florida. Not Urban's Gators. Not Spurrier's Gators. The record is more Zooker-esque, but John Brantley is back, and that makes Florida a different offense. Plus, when the Dawgs see that script "Gators" on the other headgear, they get a little, uh, let's say tight. Georgia has lost 18 of 21 to its nemesis.
The door is wide open to take the SEC East considering Marcus Lattimore's injury and South Carolina's date with Arkansas. But Georgia can't stumble. Are the Dawgs better? Or have they just taken advantage of the soft part of their schedule? Georgia's four SEC wins have come against teams that are 1-15 in the conference. Florida has lost three SEC games in a row, but this is a test. We'll know who Georgia is after Saturday.
Check out "College Football Final" on Saturday night. The countdown clock toward LSU-Alabama rolls on. Mark May, Lou Holtz and I will be on Twitter during the day. Hit us up and let us know what's on your mind. It might even make the show.
Weekend Watch
By Mark Schlabach
ESPN.com
Here are five things to watch this weekend:
1. Should Clemson be on upset alert?
Heading into Saturday night's game at Georgia Tech, the Tigers are aiming for their first 9-0 start since 1981, when they finished 12-0 and won a national championship. Georgia Tech has dropped two games in a row, scoring only 28 points and averaging only 253 yards of offense in losses to Virginia and Miami. But Tech's triple-option offense might pose problems for Clemson's defense, which surrendered 83 points in victories over Maryland and North Carolina. The Tigers scored 115 points and had 1,026 yards of offense in their last two games.
2. What does USC have to do to upset Stanford?
The No. 6 Cardinal will be going for their 16th consecutive victory in Saturday night's trip to USC. The Trojans will have to slow down Stanford's running game, which ran for a school-record 446 yards in last week's 65-21 rout of Washington. The Trojans will need another big game from receiver Robert Woods, who had 12 catches for 224 yards with three touchdowns in last season's 37-35 loss to Stanford. USC quarterback Matt Barkley has thrown nine touchdowns with only one interception during a three-game winning streak.
3. Who starts at quarterback for Florida?
Gators coach Will Muschamp said senior John Brantley is ready to go for Saturday's game against No. 22 Georgia in Jacksonville, Fla. But Brantley hasn't played since injuring his ankle early in the Gators' 38-10 loss to Alabama on Oct. 1 and hasn't practiced much at all over the past three weeks. He might get a chance to play against the Bulldogs, but don't be surprised if freshman Jeff Driskel and Jacoby Brissett takes most of the snaps. Georgia has to do a better job of taking care of the football -- it had 12 turnovers in its three consecutive losses to UF.
4. Who's going to run the ball for South Carolina?
The No. 13 Gamecocks begin life without star tailback Marcus Lattimore, who will miss the rest of the season after tearing knee ligaments in a 14-12 victory over Mississippi State on Oct. 15. Freshman Brandon Wilds will get the start in Saturday's game at Tennessee, after running for 75 yards on 13 carries so far this season. Quarterback Connor Shaw will have to carry a bigger load on offense, and former USC basketball player Bruce Ellington might get some snaps out of "Wildcats" plays. Tennessee freshman quarterback Justin Worley makes his first start after senior Matt Simms was benched last week.
5. Should Oklahoma State be worried about Baylor quarterback Robert Griffin III?
The No. 3 Cowboys' defense has held up so far this season, but will be tested by Griffin, who has thrown 22 touchdowns and two interceptions this season. Baylor's defense has been exposed by strong passing attacks, giving up 681 yards of offense in a 55-28 loss to Texas A&M on Oct. 15. The Bears allowed 725 yards in a 55-28 loss to OSU last season. Griffin played very well against the Aggies, throwing for a school-record 430 yards with three touchdowns. Baylor has lost five straight and 14 of 15 games to the Pokes.
For more things to watch this weekend, click here.
Viewer's guide
All times ET
Thursday
8 p.m.
: Virginia at Miami (ESPN/ESPN3D)
Friday
8 p.m.
: BYU at TCU (ESPN)
Saturday
9 a.m.
: "
College GameDay
" from Los Angeles (ESPNU)
10 a.m.
: "
College GameDay
" from Los Angeles (ESPN)
11 a.m.
: "College Football WhipAround" (ESPNU)
Noon
: Michigan State at Nebraska (ESPN)
Purdue at Michigan (ESPN2)
Missouri at Texas A&M (FX)
12:21 p.m.
: Arkansas at Vanderbilt (ESPN3)
3:30 p.m.
: Oklahoma at Kansas State (ESPN)
Illinois at Penn State (
ABC/ESPN2
)
Baylor at Oklahoma State (
ABC/ESPN2
)
Georgia at Florida (CBS)
West Virginia at Rutgers (ABC)
7:15 p.m.
: South Carolina at Tennessee (ESPN2)
8 p.m.
: Stanford at USC (
ABC
)
Clemson at Georgia Tech (
ABC
)
Wisconsin at Ohio State (ESPN)
Blog Network: What to watch
Each week, our bloggers will take a closer look at the storylines you should be watching. What's on tap for Week 9?

North Carolina and Wake Forest are the only two teams in the ACC that can become bowl eligible this weekend and they happen to be playing each other.
ACC

Texas is a winnable game for KU, but the Jayhawks went from showing some fight for a game and a half against OU and Kansas State to getting trounced in the second half.
Big 12

Putting a big win behind you is just as important as putting a tough loss behind you. All four teams playing Saturday are going to have to move on, so to speak.
Big East

Not to downplay Michigan State's dramatic win against Wisconsin, but the Spartans play an even more important game Saturday at No. 14 Nebraska.
Big Ten

Oregon is probably not going to have much trouble with Washington State at home on Saturday, though, of course, you never know.
Pac-12

Arkansas has had a few sluggish starts this season, and last week's slow start against Ole Miss almost cost the Razorbacks.
SEC
Upset watch
There's little reason to pick Georgia Tech, which has looked awful in its last two games. The Yellow Jackets scored just 28 total points in losses to Virginia and Miami. Quarterback Tevin Washington has really struggled throwing the football of late, completing just eight passes and throwing three interceptions.
To read the rest of this entry, click here.
Scouts' Edge: Week 9 previews
Get in-depth scouting reports of key games as Scouts Inc. breaks down what to watch.

• Stanford-USC | Clemson-Georgia Tech
• Georgia-Florida | Oklahoma St.-Kansas St.

Fantasy college football
By ESPN Fantasy
Make GameDay your game day with three ways to play.


• Pick 'Em: How confident are you?
• College Challenge: Build the best team
• College Showdown: Choose wisely