Fortunes change as quarterbacks change
>
UCLA has Brett Hundley under center -- and USC doesn't.
Texas A&M has reigning Heisman Trophy winner Johnny Manziel -- and Texas doesn't.
Florida State has "Famous" Jameis Winston (and Miami has Stephen Morris) -- and Florida doesn't.
After only two weeks of the 2013 college football season, there appears to be a seismic shift in power in the sport's traditional hotbeds. While Florida, Texas and USC are coming off deflating losses on Saturday, the Aggies, Bruins, Hurricanes and Seminoles appear poised to surpass their fiercest rivals.
And, more than anyone else, the upstarts can thank their quarterbacks for their surging positions.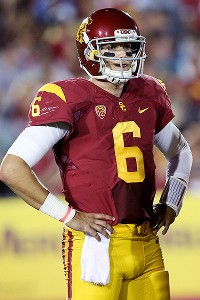 Stephen Dunn/Getty ImagesUSC is still looking for answers at quarterback.
In today's college football, in which offense, passing and scoring seem to matter more than anything else, Florida, Texas and USC are getting left behind, even in their own states. While good quarterbacks can't mask everything -- like Texas' woebegone defense -- they can help teams overcome other deficiencies. But without a good quarterback, most teams won't have a chance.
"If you have a fantastic defense and a great kicking game, you can maybe get by with an average quarterback," said legendary Florida State coach Bobby Bowden, who coached two Heisman Trophy-winning quarterbacks, Charlie Ward in 1993 and Chris Weinke in 2000. "A great quarterback can overcome your weaknesses and deficiencies, but an average quarterback can't."
Ask USC.
The Trojans, who finished 7-6 in 2012 after starting the season ranked No. 1, lost to Washington State 10-7 at the Coliseum on Saturday night. With coach Lane Kiffin calling the offensive plays, the Trojans passed for only 54 yards and finished with 193 yards of offense. Starting quarterback Cody Kessler threw for 41 yards on 8-for-13 passing with one interception, while backup Max Wittek passed for 13 yards with one pick on 3-for-8 passing.
Kiffin seemed to have such little faith in his quarterbacks that he refused to throw the ball down the field. The Trojans averaged only 2.6 yards per pass attempt and didn't complete a pass longer than eight yards -- even with All-America receiver Marqise Lee lining up against Washington State's suspect defense.
"We obviously weren't prepared well enough on offense," Kiffin said. "It just didn't seem in our best interest to put the quarterback back there and let him get hit and let balls get tipped and turn the ball over."
Florida can certainly relate to USC's problems on offense. After finishing 114th out of 120 FBS teams in passing (146.3 yards per game) last season, the then-No. 12 Gators were upset 21-16 at Miami on Saturday. Quarterback Jeff Driskel completed 22 of 33 passes for a career-high 291 yards with one touchdown, but he also turned the ball over three times, throwing two interceptions in the red zone and losing a fumble at the Florida 4.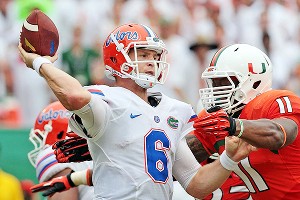 Al Diaz/Miami Herald/Getty ImagesJeff Driskel had trouble in the red zone, committing multiple turnovers against Miami.
"I thought he hit some balls down the field," Florida coach Will Muschamp said. "Thought he did some nice things in the running game. But you can't have those turnovers in the red zone. Can't do that. You have to make better decisions."
Obviously, Texas' biggest problems are on the other side of the ball. The Longhorns reassigned defensive coordinator Manny Diaz on Sunday, one day after UT allowed 550 rushing yards in a 40-21 loss at BYU. Coach Mack Brown replaced Diaz with ex-Syracuse coach Greg Robinson, a former defensive coordinator at Texas and Michigan.
While junior David Ash has played relatively well in the first two games, completing 62.9 percent of his passes with six touchdowns and two interceptions, poor quarterback play has been perhaps the Longhorns' biggest wart since All-American quarterback Colt McCoy left after the 2009 season. UT didn't finish higher than 41st nationally in passing in each of the past three seasons. Brown and his staff installed a fast-paced spread attack during the offseason to try to jump-start the offense.
But against BYU, the only thing the hurry-up offense seemed to accomplish was getting UT's struggling defense back on the field quickly. The Longhorns opened the game with three consecutive three-and-outs.
And it seems pretty clear Texas doesn't have the defense to compensate for its quarterback, either.
On the Mark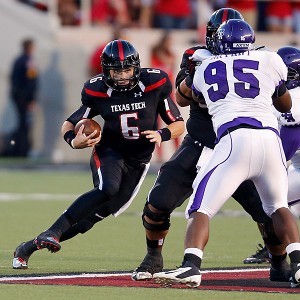 Jerod Foster/Icon SMIBaker Mayfield has enjoyed a near perfect start to his Texas Tech career.
It can't help Brown's cause that first-year Texas Tech coach Kliff Kingsbury has turned a freshman walk-on from Austin into one of the country's top passers through two weeks. Although the Red Raiders have played inferior competition to start the season, Baker Mayfield's production has been astounding, especially for a guy whose only other scholarship offer was from Florida Atlantic. He didn't even arrive in Lubbock until July.
Mayfield, who had a 25-2 record as a starter in high school and led Lake Travis (Texas) High to a state championship, has completed 71.1 percent of his passes for 780 yards with seven touchdowns and no interceptions in 90 pass attempts. He threw for 413 yards on 43-for-60 passing with four touchdowns in a 41-23 win at SMU to start the season, and then threw for 367 yards with three touchdowns on 21-for-30 passing in the first half of a 61-13 rout of FCS foe Stephen F. Austin on Saturday.
"I think he's played well," Kingsbury said. "Anytime you have a true freshman in a new system who didn't get her too long ago come in and move the ball like he's moved it, that's exciting. Hopefully, he'll just keep getting better."
The competition starts to get more difficult on Thursday night, when the Red Raiders host No. 24 TCU in their Big 12 opener.
Off the Mark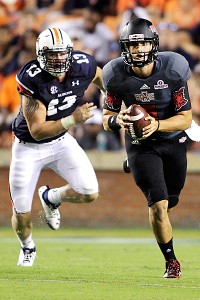 John Reed/USA TODAY SportsArkansas State was dinged two penalties on Saturday because of its uniforms.
Arkansas State already had its hands full playing at Auburn on Saturday, but then the Red Wolves were penalized at the start of both halves for a fashion faux pas. Officials ruled that the Red Wolves violated a new NCAA rule by wearing jerseys that were too similar to Auburn's blue home jerseys. Arkansas State wore dark gray jerseys with red numbers.
The Red Wolves were penalized 15 yards at the start of the first half and 13 yards at the start of the second in their 38-9 loss, which ended their nine-game winning streak.
"I knew about it," Arkansas State coach Bryan Harsin said. "That was my decision. I think it was something for our team and that decision I made and I would not change it."
On the Mark
Vitek's BBQ in Waco, Texas, serves something called the "Gut Pak," which is a Styrofoam container filled with Frito's, cheese, chopped beef, beans, sausage, bread, pickles, onions and jalapenos. It might be the only thing that can slow down Baylor's offense.
There's fast, and then there's Art Briles fast. Baylor opened the season by breaking the school's modern-day record (since 1929) for points scored in a game with 69 against FCS foe Wofford last week and then 70 against Buffalo on Saturday. The Bears scored 16 of their 17 offensive touchdowns in two minutes or less, including seven in less than one minute.
"You don't want to pat yourself on the back or anything, but I think our guys are confident, they know what they're doing, and we're playing at a high speed with a lot of highly-effective plays," Briles said.
In the 70-13 rout of Buffalo, Baylor set a school record with 781 yards of offense and scored 56 points in the first half. Bears tailback Lache Seastrunk ran for 150 yards with three touchdowns, and quarterback Bryce Petty completed 13 of 16 passes for 338 yards with two touchdowns.
Ultimately, Baylor's defense will decide whether it's a legitimate contender to win the Big 12 this season. But when its offense is scoring that fast and often, it doesn't have to be great. The Bears don't play a ranked opponent until they host No. 14 Oklahoma on Nov. 7.
Off the Mark
Georgia was able to expose South Carolina's defensive issues in a big way in Saturday's 41-30 win at Sanford Stadium. All-America defensive end Jadeveon Clowney is frustrated by his lack of production, and USC's coaches aren't too happy, either. Linebacker coach Kirk Botkin and defensive line coach Deke Adams got into a skirmish on the sideline and had to be separated by defensive coordinator Lorenzo Ward.
The Gamecocks surrendered 538 yards of offense and allowed UGA to eat up the final 8:28 of the game with a 13-play, 80-yard drive.
"Obviously, that need not happen anymore," South Carolina coach Steve Spurrier said of the spat between his assistants. "The guys are very competitive and when we can't get a stop, sometimes it's, 'Your guy should have done this.' They're OK now. Hopefully, that won't happen again."
ESPN Senior Writer
Senior college football writer
Author of seven books on college football
Graduate of the University of Georgia
Game Changer

Wearing a No. 98 jersey to honor 1940 Heisman Trophy winner Tom Harmon, Michigan quarterback Devin Gardner completed 21 of 33 passes for 294 yards with four touchdowns in the Wolverines' 41-30 victory over Notre Dame in the Big House on Saturday night. Gardner also ran 13 times for 82 yards with one score. Michigan went 4-for-4 in the red zone against the Fighting Irish, with Gardner accounting for a touchdown each time.
On The Mark: Precision Passers

1. Travis Wilson, Utah
Wilson posted the highest Total QBR of the past two seasons with a 99.7 in Utah's 70-7 rout of Weber State. It was the highest since Andrew Luck had a 99.9 against California on Nov. 20, 2010.
2. Zach Mettenberger, LSU
Mettenberger had a Total QBR of 98.6 in LSU's 56-17 win against UAB. It was the highest Total QBR for an LSU quarterback with at least 25 actions plays since JaMarcus Russell had a 99.7 against Mississippi State on Sept. 30, 2006. Mettenberger is also the first Tigers player to throw five touchdowns in a game in the last 10 seasons.
3. Devin Gardner, Michigan
Gardner set career highs for total yards (376) and touchdowns responsible for (five) in Michigan's 41-30 win over Notre Dame. His four touchdown passes were the most by a Wolverines quarterback since Denard Robinson threw four against the Irish on Sept. 10, 2011.
4. Marcus Mariota, Oregon
Mariota had a Total QBR of 97.0 in Oregon's 59-10 blowout of Virginia. It was the fifth game of his career with a Total QBR of more than 95, tied with Arizona State's Taylor Kelly for the most such games in FBS during the last two seasons.
5. J.W. Walsh, Oklahoma State
Walsh completed 24 of 27 passes for 326 yards and four touchdowns in Oklahoma State's 56-35 win over Texas-San Antonio. His Total QBR of 98.1 is the highest by a Cowboys quarterback in the 10-year history of Total QBR.
On The Mark: Ground-Gaining RBs
1. Kasey Carrier, New Mexico
Carrier had an FBS season-high 291 rushing yards in New Mexico's 42-35 win over UTEP. It was the senior's second career game with at least 200 rushing yards and his eighth with at least 100 rushing yards.
2 Andre Williams, Boston College
Williams had a career-high 204 rush yards on 35 carries in Boston College's 24-10 win against Wake Forest. It was his second straight game with at least 100 yards and the seventh such game of this career.
3. Jamaal Williams, BYU
Williams had a career-high 182 yards on 30 carries in BYU's 40-21 upset of Texas. Williams was not the only Cougars player with a big game on the ground; quarterback Taysom Hill finished with 259 rush yards. BYU finished with 550 rush yards, the most ever allowed by the Longhorns.
4. Ka'Deem Carey, Arizona
Carey had 171 rush yards on 16 carries in Arizona's 58-13 win over UNLV. It was his FBS-high 11th game in the past two seasons with at least 100 rush yards and a touchdown.
5. Brennan Clay, Oklahoma
Clay had a career-high 170 rush yards in Oklahoma's 16-7 win against West Virginia. It was Clay's second career game with at least 20 carries. He has had at least 100 rushing yards in both games (24 rushes, 157 yards vs Iowa State on Nov. 3, 2012.).
On The Mark: Big-Play WRs
By
ESPN Stats & Information

1. Paul Richardson, Colorado
Richardson had 11 receptions for 209 yards in Colorado's 38-24 win over Central Arkansas. Richardson has had 200 receiving yards in each of two games this season, two more such games that the rest of FBS combined.
2. Jeremy Gallon, Michigan
Gallon had career highs in receiving yards (184) and receiving touchdowns (three) in Michigan's 41-30 win against Notre Dame. He was the first Wolverines player to have three touchdown receptions since Mario Manningham did it against the Irish on Sept. 16, 2006.
3. Odell Beckham Jr., LSU
Beckham Jr. scored four touchdowns in LSU's 56-17 rout of UAB. He had career highs in receiving yards (136) and receiving touchdowns (3). His fourth touchdown was a 100-yard return of a missed field goal. With that return, he had 331 all-purpose yards, third-best in school history behind Kevin Faulk's 376 against Houston in 1996 and Josh Reed's 338 at Alabama in 2001.
4 Tony Jones, Northwestern
Jones set career highs in receptions (9) and receiving yards (185) in Northwestern's 48-27 win over Syracuse. It was the most receiving yards in a game by a Wildcats player since Jeremy Ebert had 208 yards against Rice in 2011.
5. Stefon Diggs, Maryland
Diggs had a career-high 179 receiving yards in Maryland's 47-10 win against Old Dominion. It was Diggs' fourth career 100-yard receiving game.
On The Mark: Corey Robinson
And we thought Jameis Winston's fast start against Pitt on Labor Day night was impressive. Troy quarterback Corey Robinson, a senior from Paducah, Ky., has completed 47 of 51 passes (92.2 percent) for 499 yards with five touchdowns in his first two games. After completing 30 of 32 passes in a 34-31 overtime win over UAB to open the season, Robinson then completed 17 of 19 passes for 180 yards with three touchdowns in a 66-3 rout of FCS foe Savannah State on Saturday. Yeah, I know, it's only UAB and Savannah State, but that's difficult to do against air.
Off The Mark: Western Kentucky
So much for Western Kentucky upsetting Tennessee on Saturday. The Hilltoppers turned the ball over five times in a six-play span during the first quarter of their 52-20 loss, turning an early 3-0 lead into a 31-3 deficit. The FBS record for consecutive turnovers forced by a defense is seven straight series, which Florida did to FSU in 1972, when the Seminoles had four fumbles and three interceptions in their first seven possessions of a 42-13 loss.