Better Get Defensive
>
No. 1 Alabama beat a top-10 opponent on the road thanks to a powerful offense and a will to win that, even after three BCS championships in four seasons, is stronger than week-old garbage. America tips its collective hat to you, Crimson Tide, for an exciting Saturday afternoon, and hopes it will keep you warm as you descend down the rankings.
Descend may be too strong a word. I looked at my power rankings and couldn't justify putting anyone other than Oregon ahead of Alabama. But let's face it: No one wins a crystal football with that kind of defensive performance. Not even Nick Saban.
The Crimson Tide pulled its ripcord at Kyle Field Saturday afternoon, and you know what happens then. The parachutist actually goes upward before descending. That must explain how Alabama actually received two more first-place votes in the AP poll this week than it did last. In fact, the Tide received 59 of 60 first-place votes.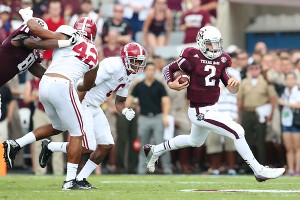 Matthew Emmons/USA TODAY SportsAlabama struggled to contain Texas A&M quarterback Johnny Manziel on Saturday.
This would be the Alabama that escaped No. 6 Texas A&M with a 49-42 victory. If anyone can find another top-ranked team that has allowed 600 yards of total offense -- not to mention 628 -- and remained atop the rankings, please don't keep it to yourself.
It's quite possible that only quarterback Johnny Manziel could pull off what the Aggies pulled off Saturday. In terms of individual performance, Manziel leaped over the bar he set at Bryant-Denny Stadium last November. For the record, in two games against the sport's premier defensive program, Manziel has completed 52 of 70 passes for 717 yards, 7 touchdowns and 2 interceptions. He also has 32 rushes for 190 yards.
And yet Alabama must take its share of responsibility for the show the Aggies staged. Think of the top-ranked teams that suffered defensive meltdowns in recent seasons: Notre Dame last January? Alabama gained a mere 529 yards. USC in the BCS championship game loss to Texas eight seasons ago? Vince Young and the Longhorns gained 556 yards. Kansas State beating No. 1 Oklahoma 35-7 in the 2003 Big 12 championship game? The Wildcats petered out at 519 yards.
Saban told Aggies head coach Kevin Sumlin that the game took 10 years off of his life, which brings to mind the 1969 Alabama-Ole Miss game, in which Rebels quarterback Archie Manning passed and ran for 540 yards in a game that Alabama managed to win 33-32. At the postgame handshake, Tide head coach Bear Bryant said to his friend and opponent, the Rebels' Johnny Vaught, "That was the worst God damn game I've ever seen."
Pardon the nostalgia, but some of us are old enough to remember when the SEC played defense. It is way too easy to say that the conference's seven-year streak of BCS championships will end this season. But three weeks in, Alabama's defense is in tatters, No. 9 Georgia has allowed 68 points in two games. No. 6 LSU, a league turns its lonely eyes to you.
And the SEC had better watch it. The Pac-12 looks as strong as it has been in years. Oregon, nestled safely at No. 2, did at home to Tennessee (59-14) what it did on the road to Virginia (59-10) the week before. The Volunteers and Cavaliers share more than the color orange and mascots that wear funny hats. Both are rebuilding, so swallow the Ducks' 3-0 record with a sprinkle of Morton's. But routs are routs.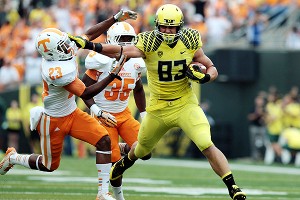 Scott Olmos/USA TODAY SportsOregon has had little problem putting away middling programs like Tennessee and Virginia.
No. 5 Stanford methodically put away Army, and the teams that defeated Big Ten teams moved up in the AP poll as well. No. 19 Washington and No. 16 UCLA won impressively on the road, and No. 25 Arizona State won inventively at home. The Sun Devils' 32-30 victory over No. 20 Wisconsin left Badger fans sputtering in anger and raised the question of how good the winners are. This Saturday, at Stanford Stadium, Arizona State will provide a more definitive answer.
The Pac-12 isn't the only league looking better. Eight ACC teams began 2-0 for the first time since the league expanded in 2004. The league had never had more than six teams begin 2-0, and even that happened only twice (2005, 2012).
While it's true that one reason the ACC has started so well is fewer conference games to begin the season -- they're not beating each other -- it's also true that a number of programs are better. No. 3 Clemson and No. 8 Florida State have earned their way into any BCS discussion. No. 16 Miami upset Florida earlier this month, and Maryland is 3-0 for the first time since the Terps won the conference championship in 2001.
To recap, the ACC looks healthier, the Pac-12 looks strong and No. 1 Alabama isn't playing like a No. 1. The Tide yet might prove that this argument is about style more than substance, that a W is a W. Perhaps so. But 628 yards and six touchdowns looked pretty substantive in College Station, Texas.
ESPN.com senior college football writer
Four-time FWAA award winner
27 seasons covering college football
On The Mark: Quarterback play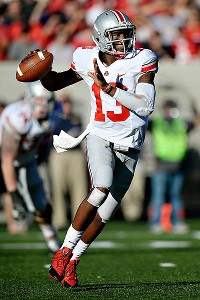 Thearon W. Henderson/Getty ImagesThere's been little to no dropoff with Kenny Guiton filling in for Braxton Miller.
When the season began, No. 4 Ohio State junior
Braxton Miller
looked like one of the best quarterbacks in the nation. Now, he might not even be the best in his locker room. Senior
Kenny Guiton
threw for 276 yards and four touchdowns (85.5 QBR) in the Buckeyes' 52-34 victory at Cal. Miller, who missed the game with a knee injury, suddenly feels a lot better.
• Let us stipulate that we didn't see any No. 15 Oklahoma practices in April or August. But is anyone really surprised that junior Blake Bell has done a better job running the Sooners offense than freshman Trevor Knight?
• Jameis Winston threw three incompletions in his second college game, Florida State's 62-7 rout of Nevada. That's one more than he threw in his debut. Man, I knew he was too good to be true. Seriously, Winston went 15-of-18 for 214 yards, two touchdowns and one interception in little more than a half. The fun continues.
• Not only did UCLA score the last 38 points in its 41-21 defeat of No. 23 Nebraska, but the Bruins, in a hostile environment, committed only three penalties for 21 yards. Last season, UCLA averaged 9.3 penalties per game for 93 yards. In his second season, head coach Jim Mora has the Bruins looking like the best team in the Pac-12 South.
• It might not have hurt Penn State head coach Bill O'Brien more than it did for the Nittany Lions to lose at home 34-31 to UCF and one of O'Brien's mentors, UCF head coach George O'Leary. All losses hurt, but if the crusty O'Leary allowed himself to smile, I bet it was a little bigger than usual.
ESPN.com senior college football writer
Four-time FWAA award winner
27 seasons covering college football
Off The Mark: Refs complaints
Wisconsin fans, spare me the complaints about the Pac-12 officiating crew that didn't call delay of game on the Arizona State defenders in the final seconds. One of the first rules of football: Don't leave it up to the officials. You can't predict when they will fail to do their jobs. Badger quarterback Joel Stave placed the ball on the ground to speed things up. He was too efficient. In an SI piece recently, Arizona Cardinals head coach Brice Arians told his offense that in a two-minute drill, they should hop up from a tackle and hand the ball to the umpire. No confusion there.
• If you're an optimist, you noted what an improvement new Texas defensive coordinator Greg Robinson made in the Longhorns' defense. Texas allowed Ole Miss 272 rushing yards, less than half what BYU got (550) last week. To paraphrase President Reagan, there must be a Longhorn in here somewhere.
• No. 12 Oklahoma State didn't make players or assistant coaches available to the media after its 59-3 victory over Lamar. I just don't think that's going to make the Sports Illustrated expose go away.
• The Big Ten lost three of four games to the Pac-12 and No. 11 Michigan needed a goal-line stand to beat Akron 28-24. The Zips have lost 24 consecutive games against FBS opponents. There is good news in Iowa's 27-21 victory at Iowa State, a program that Kirk Ferentz has struggled to beat in his 15 seasons in Iowa City. There's good news at Indiana and No. 17 Northwestern, too. But that's not enough to offset the league's struggles.
• UConn went 5-7 in its first two seasons under Paul Pasqualoni, but the Huskies hung near .500 because of their defense. But UConn has started off 0-2, allowing 33 and 32 points. The Huskies allowed more than 30 points only twice in 2012. Who wins a game first in The American? UConn? Memphis? South Florida? Temple? Of the four, only Memphis hasn't lost to an FCS opponent. The Tigers don't play one until Nov. 9.
ESPN.com senior college football writer
Four-time FWAA award winner
27 seasons covering college football