Reviewing the first half of 2013
>The first seven weeks of the 2013 college football season are in the books.
The first six weeks of the season were largely predictable, but then seven ranked teams fell on Saturday, including four against unranked opponents.
No. 1 Alabama and No. 2 Oregon still seem to be on a collision course for the Jan. 6 Vizio BCS National Championship at the Rose Bowl, although both teams might have to remain perfect to get there.
The SEC still remains on top, with an unprecedented eight teams in this week's Associated Press Top 25 poll. But the Pac-12, with four ranked teams, seems to be closing ground, and the ACC has two teams -- No. 3 Clemson and No. 5 Florida State -- in the top five.
Here's a look back at the first half of the 2013 season:
Offensive MVP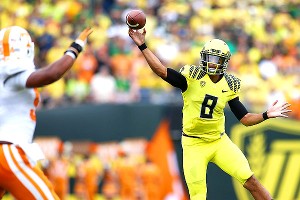 Jonathan Ferrey/Getty ImagesOregon QB Marcus Mariota has been flawless in guiding the Ducks this season.
1. Marcus Mariota, QB, Oregon
It seems like Mariota gets better every week and he hasn't missed a beat without former coach Chip Kelly. Mariota is completing 60.6 percent of his passes for 1,724 yards with 17 touchdowns and no interceptions. He looks like the guy to beat in the Heisman Trophy race -- and the Ducks look like the most complete team in the country.
2. Johnny Manziel, QB, Texas A&M
The reigning Heisman Trophy winner might be college football's most controversial player in quite some time, but it's hard to argue he's not the most exciting every time he steps on the field. Manziel has passed for 1,835 yards with 14 touchdowns, and leads the No. 7 Aggies with 438 rushing yards with five scores.
3. Tajh Boyd, QB, Clemson
Boyd is putting together his best season in offensive coordinator Chad Morris' spread offense, completing 66.5 percent of his passes for 1,783 yards with 15 touchdowns and two interceptions. If the Tigers can beat FSU in Death Valley on Saturday night, they might be headed to the BCS National Championship.
4. Aaron Murray, QB, Georgia
Murray was criticized for his inability to win big games before this season, but led UGA to late comebacks against both LSU and Tennessee this season. Murray has passed for 1,824 yards with 17 touchdowns and five interceptions, while playing much of the season without his top tailbacks and wide receivers.
5. Sean Mannion, QB, Oregon State
Mannion's record-setting pace has largely gone unnoticed because the Beavers were upset by an FCS foe (see below) in their opener. But Mannion has already passed for 2,511 yards with 25 touchdowns and three interceptions. He has thrown for more than 400 yards in four of six games.
Defensive MVP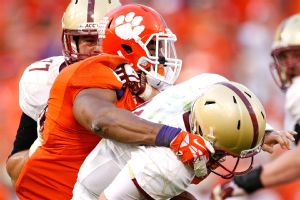 Tyler Smith/Getty ImagesClemson DE Vic Beasley has caused havoc for opposing offenses this season.
1. Vic Beasley, DE, Clemson
The Tigers' much-improved defense might be the biggest reason their days of "Clemsoning" might be long over. Clemson ranks 10th in scoring defense, allowing only 16.2 points per game. Beasley leads FBS players with nine sacks and is tied for first with 12 unassisted tackles for loss.
2. Aaron Donald, DT, Pittsburgh
Donald might be the country's most unheralded player. He leads FBS players in both sacks per game (1.6) and tackles for loss per game (2.4), totaling eight sacks and 12 tackles for loss. He has at least one sack in every game this season and is the FBS active career sack leader with 26½.
3. C.J. Mosley, LB, Alabama
Somebody needs to tell the Crimson Tide the SEC quit playing defense. Alabama ranks No. 2 in scoring defense (11.3 points) and No. 8 in total defense (278.2 yards). Mosley leads the Tide with 48 tackles and has 3½ tackles for loss and two quarterback hurries.
4. Chris Borland, LB, Wisconsin
Borland kind of personifies the Wisconsin team. There isn't anything particularly flashy about him; he's just a hard-nosed, black-and-blue linebacker. Borland leads the No. 25 Badgers with 56 total tackles and ranks third in the Big Ten with 9.3 stops per game. He had a career-high 16 tackles against Ohio State and 10 against Northwestern and Arizona State.
5. Ryan Shazier, LB, Ohio State
Shazier has been the steadying force in No. 4 Ohio State's rebuilt defense. He leads the Buckeyes with 47 tackles and eight tackles for loss, along with one sack and two forced fumbles. He ranks seventh in the Big Ten with 7.8 tackles per game and second with 1.3 tackles for loss.
Freshman of the Year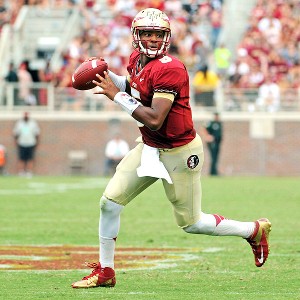 Melina Vastola/USA TODAY SportsFSU redshirt freshman QB Jameis Winston has propelled the Seminoles to an unbeaten record.
1. Jameis Winston, QB, FSU
There's a reason FSU fans called him "Famous Jameis" before ever took a snap for the Seminoles. Winston, from Hueytown, Ala., ranks No. 4 among FBS quarterbacks with a 91.3 QBR, completing 73.2 percent of his passes for 1,441 yards with 17 touchdowns and two interceptions.
2. Christian Hackenberg, QB, Penn State
Hackenberg, the No. 1-rated pocket passer in the 2013 recruiting class, gives the Nittany Lions plenty of reason to be excited about their future. He leads the Big Ten with 278.7 passing yards per game and is completing 58.4 percent of his attempts with 11 touchdowns and six interceptions.
3. Vernon Hargreaves, CB, Florida
The No. 1 cornerback prospect in the 2013 recruiting class, Hargreaves has outshined NFL prospects Marcus Roberson and Loucheiz Purifoy in No. 22 Florida's secondary. Hargreaves is tied for the SEC lead with eight passes defended and is tied for second with three interceptions.
4. Baker Mayfield, QB, Texas Tech
Mayfield, a walk-on from Austin, Texas, became the first Texas Tech freshman to start an opener and the first freshman walk-on to start an opener for a BCS team. He threw for 1,488 yards with eight touchdowns and five interceptions and won his first five starts before missing the Iowa State game with a knee injury.
5. Laquon Treadwell, WR, Ole Miss
Now we know why so many schools were upset when Treadwell signed with the Rebels. The 6-foot-3 freshman from Crete, Ill., has 32 catches for 327 yards with two touchdowns and has been a matchup nightmare because of his size.
Best games

1. Penn State 43, No. 18 Michigan 40 (4 OT), Oct. 12
The Nittany Lions tied the score at 34 on Hackenberg's one-yard sneak with 27 seconds to go in regulation. Then it really got interesting in four overtimes. The Wolverines missed two field goals in the extra periods, and PSU won the game on Bill Belton's 2-yard run in the fourth overtime.
2. No. 9 Georgia 44, No. 6 LSU 41, Sept. 28
In a showdown of top-10 teams at Georgia's Sanford Stadium, Murray and LSU counterpart Zach Mettenberger, his former UGA teammate, traded punches for 60 minutes. After falling behind late, the Bulldogs won the game on Murray's 25-yard touchdown pass to Justin Scott-Wesley with 1:19 left.
3. No. 1 Alabama 49, No. 6 Texas A&M 42, Sept. 14
The biggest game in the SEC this year lived up to its billing, as two-time defending BCS national champion Alabama avenged its only loss from last season, despite failing to slow down Manziel. He threw for 464 yards with five touchdowns and ran for 98, while nearly leading the Aggies back from a late 21-point deficit.
4. No. 9 Texas A&M 41, Ole Miss 38, Oct. 12
The Aggies seemed primed for the taking on "Upset Saturday," and the Rebels took a 38-31 lead late in the fourth quarter. But then Manziel scored on a 6-yard run to tie the score with 3:07 to go and had two more long runs to set up the Aggies' winning field goal at the buzzer.
5. Rutgers 55, SMU 52 (3 OT), Oct. 5
The Mustangs rallied from two 21-point deficits, forcing overtime with a touchdown pass and improbable two-point conversion with 1:19 remaining. Rutgers won the game on Justin Goodwin's 17-yard run in the third overtime.
Biggest upsets
1. Utah 27, No. 5 Stanford 21, Oct. 12
The Utes turned away the Cardinal on two plays from their 6-yard line in the final minute to pull off their biggest victory as Pac-12 members. Stanford quarterback Kevin Hogan threw two straight incompletions, ending the Cardinal's 13-game winning streak.
2. Eastern Washington 49, No. 25 Oregon State 46, Aug. 31
The Eagles became the third FCS team to defeat a ranked FBS foe by piling up 625 yards of offense in a stunning victory on the road. Eagles quarterback Vernon Adams passed for 411 yards with four touchdowns and ran for 107 with two scores, including the winning 2-yard run with 18 seconds left.
3. West Virginia 30, No. 11 Oklahoma State 21, Sept. 28
A week after the Mountaineers were blasted by Maryland 37-0, they stunned the preseason Big 12 favorites. West Virginia took advantage of OSU's mistakes -- the Pokes were penalized 10 times and committed three turnovers -- but coach Dana Holgerson's offense finally showed signs of life again.
4. Texas 36, No. 12 Oklahoma 20, Oct. 12
The Longhorns were left for dead after earlier losses to BYU and Ole Miss, but they ended a three-game losing streak to the Sooners with a dominating performance in the Red River Rivalry game in Dallas. The victory quieted UT coach Mack Brown's critics -- for at least a week.
5. North Dakota State 24, Kansas State 21, Aug. 30
On the day Kansas State celebrated renovations of Bill Snyder Family Stadium, the two-time defending FCS national champions spoiled the Wildcats' opener. The Wildcats, the defending Big 12 champs, blew a 21-7 lead in the fourth quarter and lost on Brock Jensen's 1-yard run with 28 seconds to go.
Strangest endings
1. Arizona State 32, No. 20 Wisconsin 30, Sept. 14
With the Badgers seemingly driving for a game-winning field goal, quarterback Joel Stave awkwardly downed the ball at the center of the field at the ASU 15-yard line with about 15 seconds left. But then mass confusion ensued, and the Badgers were never able to spike the ball to stop the clock.
2. No. 6 Georgia 34, Tennessee 31, Oct. 5
After the Bulldogs rallied to tie the score at 31 on Murray's 2-yard touchdown pass to Rantavious Wooten with five seconds to go in regulation, the Volunteers took the ball first in overtime. Pig Howard took a handoff and raced toward the end zone for an apparent touchdown. But replay officials ruled he fumbled before reaching the end zone and since the ball rolled out of the end zone, the play was ruled a touchback. UGA won on a field goal.
3. Texas 31, Iowa State 30, Oct. 3
With Texas driving for a game-winning touchdown, tailback Johnathan Gray was stopped at the Iowa State 1. The Cyclones appeared to strip the ball from Gray, but officials ruled him down by contact and replay let the play stand. Quarterback Case McCoy scored the winning touchdown two plays later.
4. No. 11 Michigan 28, Akron 24, Sept. 14
In what was a sure sign of trouble for the Wolverines, they had to rally late in the fourth quarter to pull ahead of the Zips, 35-point underdogs, who hadn't won a road game in nearly five years. But in the final minute, Akron had two plays inside the UM 5, but its fourth-down pass fell incomplete.
5. No. 5 Stanford 31, No. 15 Washington 28, Oct. 5
With the Huskies driving late, quarterback Keith Price hurled a pass down the sideline to Kevin Smith, who dove to make a 16-yard catch with 1:16 remaining. But after reviewing TV replays, the replay official ruled the ball hit the ground, and the Cardinal were given the ball and won the game.
Biggest stories
1. Manziel investigation
College football's biggest star was under the NCAA's microscope for much of preseason camp after allegations surfaced that he was paid to sign autographs for memorabilia dealers. He was suspended for the first half of the Aggies' 52-31 victory over Rice in their Aug. 31 opener.
2. Lane Kiffin fired
After the Trojans fell to 3-2 with a 62-41 loss at Arizona State on Sept. 28, USC athletics director Pat Haden fired Kiffin shortly after he returned to Los Angeles International Airport. Kiffin had a 28-15 record in three-plus seasons at USC and was replaced by interim coach Ed Orgeron.
3. Texas fires defensive coordinator Manny Diaz
One day after the Longhorns surrendered 550 rushing yards in a 40-21 loss at BYU, Brown relieved his defensive coordinator of his duties only two games into the season. Brown replaced Diaz with former Syracuse coach Greg Robinson, who has directed the UT defense in the past four games.
4. Jadeveon Clowney's vanishing act
Coming into the season, South Carolina's ferocious defensive end was considered a Heisman Trophy candidate and potential No. 1 pick in next spring's NFL draft. But because of myriad injuries and opponents running away from him, Clowney has been relatively quiet, with three tackles for loss and two sacks in five games.
5. College Football Playoff's selection committee set One of the sport's worst-kept secrets will be formally announced in Dallas on Wednesday. But most of the people who will make up the selection committee to choose the four teams for a future playoff have already been leaked. Former U.S. Secretary of State Condoleezza Rice and former Nebraska coach Tom Osborne headline the group.
ESPN Senior Writer
Senior college football writer
Author of seven books on college football
Graduate of the University of Georgia
On The Mark: Precision Passers

1. Marcus Mariota, Oregon
Mariota posted a 92.2 Total QBR in Oregon's 45-24 win at Washington. It was Mariota's FBS-high fifth game with a Total QBR of at least 90 this season. He finished the game with 454 total yards and was responsible for four touchdowns, including two in the fourth quarter. He has 852 total yards, 11 touchdowns and no turnovers in his last two games.
2. AJ McCarron, Alabama
McCarron posted an 85.2 Total QBR in Alabama's 48-7 win at Kentucky. McCarron finished with career highs in pass yards (359) and completions of 20 yards or more (8). McCarron has a 91.0 Total QBR in his last two games, after starting the season with a 67.4.
3. Sean Mannion, Oregon State
Mannion completed 34 of 51 passes for a career-high 493 yards and four touchdowns in Oregon State's 52-24 win at Washington State. It was his sixth straight game with at least 350 pass yards, the longest such streak in school history and the longest active streak in the FBS.
4. Johnny Manziel, Texas A&M
Manziel had an 88.7 Total QBR in Texas A&M's 41-38 win at Ole Miss. In the fourth quarter, he completed 8 of 10 passes for 126 yards and had six carries for 51 yards and a touchdown. Manziel is the only FBS player to have more than 175 total yards during the fourth quarter in multiple games this season. He also did it against Alabama.
5 Cody Green, Tulsa
Green had a Week 7-high 97.2 Total QBR in Tulsa's 34-20 win at UTEP. It was his highest QBR in a qualified game and the first time that he was responsible for more than two touchdowns without committing a turnover since Nov. 26, 2010, when he quarterbacked Nebraska against Colorado.
On The Mark: Ground-Gaining RBs

1. Terry Baggett, Army
Baggett had 18 carries for a school-record 304 yards and four touchdowns in Army's 50-25 win against Eastern Michigan. It was the most rushing yards by an FBS player since Nov. 17, 2012, when Temple's Montel Harris had 351 against Army.
2. Melvin Gordon, Wisconsin
Gordon had 22 carries for 172 yards and a touchdown in Wisconsin's 35-6 win against Northwestern. It was his fifth game with at least 100 rushing yards, tied with five other players for the most in the FBS.
3. Jeremy Hill, LSU
Hill had 19 carries for 121 yards in LSU's 17-6 win against Florida. It was the most rushing yards allowed by the Gators since Trent Richardson had 181 on Oct. 11, 2011.
4. Bishop Sankey, Washington
Sankey had 28 carries for 167 yards and two touchdowns in Washington's 45-24 loss to Oregon. It was his 12th career game with at least 100 rushing yards, fourth-most in school history.
5. Lyle McCombs, Connecticut
McCombs had 20 carries for a career-high 164 yards and a touchdown in Connecticut's 13-10 loss to South Florida. It was his first game with at least 100 rushing yards since the Huskies won at Louisville on Nov. 24, 2012.
On The Mark: Big-Play WRs

1. Tevin Reese, Baylor
Reese had five receptions for a career-high 184 yards in Baylor's 35-25 win at Kansas State. He had touchdown receptions of 93 and 54 yards. Since the start of the 2011 season, Reese has 11 touchdown receptions of at least 50 yards, three more than any other FBS player.
2. Justin Hardy, East Carolina
Hardy set school records for receptions (17) and receiving yards (230) in East Carolina's 36-33 triple-overtime loss to Tulane. Hardy already owned the record for receptions (16), first set on Nov. 23, 2012, against Marshall. The previous record for receiving yards was 218 set by Terry Gallaher against Appalachian State in 1975.
3. Nelson Agholor, USC
Agholor had a career-high seven receptions for 161 yards and a touchdown in USC's 38-31 win against Arizona. He already has 13 more receiving yards this season than he had in 13 games last season as a freshman.
4. Bralon Addison, Oregon
Addison had a career-high eight receptions for 157 yards and two touchdowns in Oregon's 45-24 win at Washington. It was his second straight game with at least 150 receiving yards. Before that, Addison, who is a sophomore, never had more than 85 receiving yards in a game.
5. Willie Snead, Ball State
Snead had a season-high 10 receptions for 152 yards and two touchdowns in Ball State's 27-24 win against Kent State. He caught the game-winning touchdown with 1:29 left in the fourth quarter. It was his fifth game with at least 100 yards receiving this season, tied with three other players for the most in the FBS.
Best & worst
Biggest surprises
1. Missouri
2. Miami
3. Texas Tech
4. Auburn
5. Utah
Biggest disappointments
1. USC
2. Michigan
3. Texas
4. North Carolina
5. Notre Dame
Best coaching jobs
1. Jimbo Fisher, FSU
2. Dabo Swinney, Clemson
3. Jim Mora, UCLA
4. Al Golden, Miami
5. Art Briles, Baylor
Coaches on the hot seat
1. Charlie Weis, Kansas
2. Norm Chow, Hawaii
3. Terry Bowden, Akron
4. Dana Holgorsen, West Virginia
5. Mack Brown, Texas
Best first-year coaches
1. Mark Helfrich, Oregon
2. Kliff Kingsbury, Texas Tech
3. Gus Malzahn, Auburn
4. Gary Andersen, Wisconsin
5. Rod Carey, Northern Illinois
Five forgettable debuts
1. Todd Monken, Southern Miss
2. Ron Turner, Florida International
3. Darrell Hazell, Purdue
4. Matt Rhule, Temple
5. Skip Holtz, Louisiana Tech
Five non-AQ coaches earning their paychecks
1. Pete Lembo, Ball State
2. Curtis Johnson, Tulane
3. Bobby Hauck, UNLV
4. Dave Christensen, Wyoming
5. Dave Clawson, Bowling Green
Coordinators on the rise
1. Kirby Smart, defensive coordinator, Alabama
2. Chad Morris, offensive coordinator, Clemson
3. Derek Mason, defensive coordinator, Stanford
4. Phillip Montgomery, offensive coordinator, Baylor
5. Mike Bobo, offensive coordinator, Georgia