Oregon, Baylor have a point to prove Thursday
It's no secret that Alabama head coach Nick Saban isn't a fan of spread offenses.
So we're guessing Saban won't like what he sees when he settles in for the biggest Thursday night in college football history in recent years, when two of the country's remaining seven unbeaten teams face their most difficult tests to date. No. 6 Baylor hosts No. 10 Oklahoma and No. 3 Oregon plays at No. 5 Stanford.
Both games figure to go a long way in determining the Big 12 and Pac-12 titles, as well as the BCS national championship race.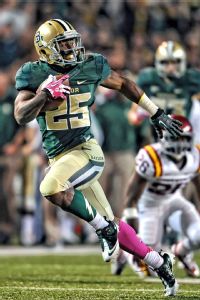 Manny Flores/Icon SMIBaylor running back Lache Seastrunk averages 9 yards per carry, second only to Oregon quarterback Marcus Mariota.
From coast to coast, inquiring minds want to know if the Sooners and Cardinal can slow down the country's most prolific offenses, which nobody has done yet this season. The Bears lead the country in scoring offense with 63.9 points per game; the Ducks are No. 2 with 55.6 points.
Until now, the two teams have put up mind-boggling numbers against mostly less-than-stellar defenses. The six FBS foes that Baylor has faced this season have an average rank of 73 in scoring defense; Oregon's seven FBS foes have an average rank of 84.
Both the Sooners and Cardinal rank among the top 20 nationally in scoring defense, allowing 18.8 points and 19.4, respectively.
Finally, we're about to find out if Baylor and Oregon are on record-setting paces on offense because of inferior competition or really good systems and execution.
"Everybody's going to love you or hate you," Baylor running back Lache Seastrunk said. "Everybody that hates you is going to hate you because we're putting up ridiculous numbers and we don't play in the SEC. We didn't say anything when Alabama was playing teams we've never heard of."
There are myriad similarities between the Bears and Ducks, from their offenses to their homegrown coaches to their vast wardrobes. Both offenses like to play really fast and are equally adept at running and passing. Baylor quarterback Bryce Petty, a first-time starter, leads FBS quarterbacks with a 95.3 adjusted-for-competition QBR rating; Oregon's Marcus Mariota is No. 2 at 94.9. Seastrunk, an Oregon transfer, ranks No. 11 nationally in rushing with 124.1 yards per game; Ducks sophomore Byron Marshall is 22nd with 109.9 yards per game.
Baylor has two receivers -- Antwan Goodley and Tevin Reese -- who rank in the top 50 nationally in receiving yards; Oregon has two receivers -- Bralon Addison and Josh Huff -- who rank in the top 50 in receiving touchdowns.
Both offenses prefer to work at a frenetic pace. Baylor averages 79.3 offensive plays per game; Oregon averages 78.1.
Which offense is faster?
"That's Oregon," Seastrunk said. "This is Baylor. I believe our pace is a little bit faster."
And through the first seven games of the season, Baylor's offense has been a little more potent, too. The Bears scored 70 points or more in four games and 59 or more in all but one. Baylor is on pace to break nearly a dozen NCAA single-season records, including: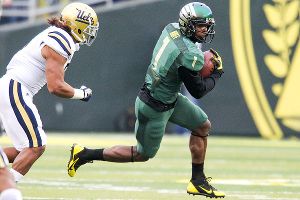 Steve Conner/Icon SMIOregon receiver Josh Huff is tied with Bralon Addison for the team lead with 38 receptions each.
• Most offensive yards per game, which was set by Houston in 1989 with 624.9 yards. Baylor is averaging 718.4 yards of offense per game and surpassed 700 yards in all but two contests. The Bears set a Big 12 record with 864 yards in a 73-42 win over West Virginia on Oct. 5. Oregon also is on pace to break the NCAA record with 632.1 yards of offense per game.
• The Bears are on pace to finish the season with 9,339 yards of offense in 13 games, almost 1,000 yards more than the NCAA single-season record of 8,387 set by Houston in 14 games in 2011. The Ducks are on pace to finish with 8,949 yards of offense in 14 games.
• Baylor is averaging 9.1 yards per offensive play, which is higher than the NCAA record of 8.6 yards per play set by Hawaii in 2006. The Ducks are averaging 8.1 yards per play.
• The Bears are on pace to break the NCAA record of 56 points per game, set by the 1944 Army team, which won a national championship and featured future Heisman Trophy winners Felix "Doc" Blanchard and Glenn Davis. Baylor is on pace to score 830 points, which would shatter the NCAA 13-game record of 652 points set by Texas in 2005 and even the 14-game record of 716 points set by Oklahoma in 2008.
• The Bears set an NCAA record with a team pass efficiency rating of 191.2 in 2011; their rating is a whopping 207.1 this year. Baylor also is averaging 13.3 yards per pass attempt and 19.6 yards per completion, which also would set new NCAA records.
Don't leave your seat Thursday night. You don't know what you might miss.
On the Mark

How improbable was Nebraska's 49-yard touchdown on a Hail Mary pass on the final play of its stunning 27-24 win over Northwestern on Saturday? The quarterback who threw it is a former walk-on, who started the season as a third-stringer. The receiver who caught the tipped ball in the end zone is mostly known as a sure-handed punt returner, who'd caught 13 passes before hauling in the one that will be remembered by Cornhuskers fans forever.
Together, Ron Kellogg III and Jordan Westerkamp might have saved Nebraska's season -- and coach Bo Pelini's job -- with the best finish of the season on a play called "Geronimo."
"I didn't know I could throw it that far, honestly," Kellogg said.
Kellogg, a senior from Omaha, is the son of Ron Kellogg Jr., a high-scoring, left-handed shooting guard on Kansas' basketball teams in the mid-1980s. Westerkamp, from Lombard, Ill., was heavily recruited by Northwestern and is the son of a former Illinois football player.
"I hope it keeps them believing and keeps their energy up," Pelini said. "I shouldn't say keeps them believing because I know they'll believe."
Off the Mark

Two weeks ago, Michigan piled up 751 yards of offense in a 63-47 victory over Indiana. Wolverines quarterback Devin Gardner set a school record with 584 yards of offense and scored five touchdowns.
On Saturday, Michigan had 168 yards of offense in a 29-6 loss at Michigan State. Gardner was sacked seven times for minus-49 yards, and the Wolverines finished with 1 rushing yard on 29 attempts. Michigan's minus-48 rushing total was the worst in its storied history. The Wolverines had only three drives longer than 15 yards in the entire game.
As if the Spartans needed any more motivation for the rivalry game, Michigan running back Fitz Toussaint brought up the "little brother" label again last week.
"Yeah, I guess they'd remember that," MSU coach Mark Dantonio said on his postgame radio show. "You know, sometimes the talk always gets to you as you go through the week, and disrespect only goes so far. I have a great deal of respect for Michigan. I have a great deal of respect for [UM coach] Brady Hoke, but you know I still don't like the family."
The Spartans are allowing only 3.47 yards per play on defense, which leads FBS (no other team is under 4.0). MSU is allowing an FBS-best 210.2 yards per game; Louisville is second at 244.5 yards.
On the Mark
Gallaudet University in Washington, D.C., has programs specifically designed to accommodate deaf and hard of hearing students. An 1864 act of Congress established the school and President Abraham Lincoln signed its charter. Abe would be proud of how the Bison are playing football this season, too.
The Bison were tied with Becker College at 34-34 in Leicester, Mass., Saturday, as the Hawks lined up for a winning 31-yard field goal with two seconds to go. But Gallaudet's Chris Papacek blocked the attempt, and Ryan Bonheyo scooped up the ball and returned it 79 yards for a touchdown and 40-34 victory as time expired.
The Bison are 8-0, the best start in school history, and are on the verge of clinching a berth in the Division III playoffs for the first time.
"Whether we fall behind, pull ahead or stay even, the players don't quit," Gallaudet coach Chuck Goldstein said. "We never quit. People got hurt and other players stepped up and helped us pull out the win."
Off the Mark

After losing to Georgia 23-20 in Jacksonville, Fla., Saturday, its first three-game losing streak in the series since 1987-89, Florida has to win two of its last four games to become bowl eligible and avoid its first losing season since 1979.
The Gators are 4-4 after losing three games in a row, and they might have to win Saturday's home game against Vanderbilt and a Nov. 23 home game against FCS foe Georgia Southern to make the postseason. UF figures to be a big underdog in its other two games: at No. 12 South Carolina on Nov. 16 and at home against No. 2 Florida State on Nov. 30.
Florida hasn't missed a bowl game since the 1990 season; its 22-year streak of playing in the postseason is the second longest among FBS teams, trailing only FSU's 31 in a row.
"They're upset," UF coach Will Muschamp said of his players. "They're hurt. We'll rebound and we'll be fine."
On the Mark

Ed Orgeron wasn't a very good head coach at Ole Miss. His Rebels teams went 10-25, 3-21 in the SEC from 2005 to 2007, a performance that was so bad it seemed the robust Cajun would never get another chance to run his own program.
But since replacing Lane Kiffin as USC's interim coach Sept. 29, Orgeron has guided the Trojans to a 3-1 record. They won at Oregon State 31-14 Friday night -- their first victory in Corvallis since 2004 -- to become bowl eligible in a season that could have easily gone into the toilet. Suddenly, quarterback Cody Kessler is playing pretty well, and USC has a nice two-headed monster in the backfield with Silas Redd and Javorius Allen, who combined for 273 rushing yards and three touchdowns against the Beavers.
After the Oregon State victory, USC's players carried Orgeron off the field on their shoulders. Orgeron won't get the job of replacing Kiffin next season, but he might have given himself a chance to get a head-coaching job somewhere again.
Off the Mark

Southern Miss has a proud football tradition. Brett Favre played for the Golden Eagles and so did Ray Guy. Under former coach Jeff Bower, Southern Miss had 14 consecutive winning seasons from 1994 to 2007 and played in bowl games in 10 of his final 11 seasons.
But now the Golden Eagles haven't won in nearly two years. It was only two seasons ago that coach Larry Fedora guided Southern Miss to a 12-2 record before he bolted for North Carolina. The Golden Eagles went 0-12 under Ellis Johnson last season and they're 0-8 under first-year coach Todd Monken this year. On Saturday, Southern Miss became only the 18th FBS program to lose 20 games in a row after a 61-13 loss at Marshall.
The Golden Eagles are assured of back-to-back losing seasons for the first time since 1933-34.
ESPN Senior Writer
Senior college football writer
Author of seven books on college football
Graduate of the University of Georgia
Game-changer

Tailback Devonta Freeman doesn't get much attention in FSU's backfield, but he's on pace to become the Seminoles' first 1,000-yard rusher since Warrick Dunn in 1996. In Saturday night's 41-14 win over No. 7 Miami, Freeman ran 23 times for 78 yards with two touchdowns and caught a season-high six passes for 98 yards with one score. A Miami native, Freeman saved his best game of the season for the Hurricanes, who didn't recruit him out of high school.
On The Mark: Precision Passers

1. Derek Carr, Fresno State
Carr passed for a season-high 487 yards and three touchdowns in Fresno State's 41-23 win against Nevada. It was his fifth game with at least 400 passing yards this season, tied with Oregon State's Sean Mannion for the most such games in the FBS. In the second quarter, Carr moved past Kevin Sweeney (1982–86) to become the school's all-time leader in passing yards.
2. Tajh Boyd, Clemson
Boyd completed 24 of 29 passes for 377 yards and three touchdowns in Clemson's 59-10 win at Virginia. He also had a 1-yard touchdown run in the second quarter. With his four touchdowns Saturday, Boyd set the ACC record for most career touchdowns responsible for (116), moving past Philip Rivers, who had 112 for NC State from 2000-03.
3. Johnny Manziel, Texas A&M
Manziel passed for 273 yards and was responsible for six touchdowns in Texas A&M's 57-7 win against UTEP. It was his eighth career game with at least two touchdowns passing and rushing, four more than any other player since the start of last season. Manziel has accounted for an FBS-high 81 touchdowns during the past two seasons.
4. Brett Hundley, UCLA
Hundley completed 19 of 24 passes for 273 yards and two touchdowns in UCLA's 45-23 win against Colorado. He also had 11 rushes for 72 yards and two touchdowns. His opponent-adjusted QBR (97.0) was a career high and the highest for any qualified player in Week 10.
5 Taylor Kelly, Arizona State
Kelly passed for 275 yards and five touchdowns in Arizona State's 55-21 win at Washington State. He also ran for 66 yards and two touchdowns. His seven touchdowns responsible for are tied for the most in a FBS game this season with Oregon's Marcus Mariota and SMU's Garrett Gilbert.
On The Mark: Ground-Gaining RBs

1. Anthony LaCoste, Air Force
LaCoste had career highs in rushes (23), rushing yards (263) and rushing touchdowns (three) in Air Force's 42-28 win against Army. It was the second-most rushing yards in a game in school history behind Chad Hall, who had 275 yards against Army in 2007. LaCoste had touchdown runs of 73 and 78 yards. He is the only FBS player with at least two rushing touchdowns of 70 yards or longer in a game this season.
2. Tre Mason, Auburn
Mason had 32 carries for 168 yards and a career-high four touchdowns in Auburn's 35-17 win at Arkansas. His four rushing touchdowns are the most for an SEC player since Alabama's Trent Richardson had four at Ole Miss on Oct. 15, 2011.
3. Adam Muema, San Diego State
Muema had 27 rushes for a season-high 233 yards and three touchdowns in San Diego State's 35-30 win against New Mexico. It was his third game with at least 200 rushing yards in the past two seasons, tied for the second-most such games in the FBS.
3. Bill Belton, Penn State
Belton had career highs in rushes (36) and rushing yards (201) in Penn State's 24-17 win against Illinois. It was the first 200-yard rushing game by a Nittany Lions player since Larry Johnson ran for 279 yards against Michigan State in 2002.
5. Devonta Freeman, Florida State
Freeman had 23 rushes for 78 yards and two touchdowns in Florida State's 41-14 win against Miami. He also had career highs in receptions (six) and receiving yards (98), including a 48-yard touchdown on a screen pass in the second quarter. His 176 yards from scrimmage were a career high and the most by a Florida State player this season.
On The Mark: Big-Play WRs

1. Josh Harper, Fresno State
Harper had a school-record 17 receptions for 253 yards and two touchdowns in Fresno State's 41-23 win against Nevada. His 253 receiving yards were the third most in school history behind Rodney Wright, who had 299 against Michigan State in 2001, and Larry Willis, who had 282 against Montana State in 1984.
2. Sammy Watkins, Clemson
Watkins had eight receptions for a season-high 169 yards and two touchdowns in Clemson's 59-10 win at Virginia. He had a career-long 96-yard touchdown reception in the third quarter. In the first quarter, Watkins became the third Clemson player with 200 career receptions on a 33-yard touchdown.
3 Jace Amaro, Texas Tech
Amaro had career highs in receptions (15) and receiving yards (174) in Texas Tech's 52-34 loss against Oklahoma State. It was his fourth straight game with at least 100 receiving yards, the longest active streak in the FBS and the longest for a Texas Tech player since Michael Crabtree had seven in the 2007.
4. Allen Robinson, Penn State
Robinson had 11 receptions for 165 yards in Penn State's 24-17 win against Illinois. It was his sixth game with at least 100 receiving yards this season, tied with three other players for the most in the FBS. Robinson has 1,043 receiving yards for the season. It is his second career season with at least 1,000 receiving yards and the fourth such season in school history.
5. Leonte Carroo, Rutgers
Carroo had seven receptions for a career-high 147 yards and two touchdowns in Rutgers' 23-20 win against Temple. He caught the game-winning touchdown on a 33-yard pass from Gary Nova with 35 seconds remaining in the fourth quarter on a fourth-and-10. Before that play, Rutgers had an 11 percent chance of winning, according to ESPN Stats & Information's win probability model.