Widespread Panic
By Mark Schlabach
ESPN.com
Only three weeks into the 2010 college football season, a few of the sport's traditional powers are already pushing the panic button.
Georgia, Notre Dame and Virginia Tech have losing records.
Those teams aren't alone in their early-season struggles. A handful of teams with high hopes heading into the season also are picking up the pieces after only three games.
Defending Big East champion Cincinnati is 1-2 in coach Butch Jones' first season. North Carolina is 0-2 and has even bigger issues off the field, and potential Pac-10 dark horse Washington is reeling after a 1-2 start.
From Athens, Ga., to Chapel Hill, N.C., college football fans are standing on the ledge. Here's a look at which teams will fall:
Cincinnati (1-2)
[+] Enlarge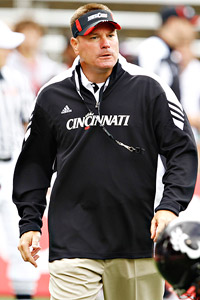 Frank Victores/US PresswireCincinnati is off to 1-2 start under Butch Jones.
The dilemma
: After the Bearcats won consecutive Big East championships under former coach Brian Kelly, they lost two of their first three games under new coach Butch Jones.
The good news: There's always a transition after a coaching change, and the Bearcats have too much talent and pride to keep losing. The Big East doesn't look much better than it was last season, and Cincinnati is still 0-0 in conference play.
The bad news: With No. 8 Oklahoma coming to Cincinnati on Saturday, it will take a monumental upset for the Bearcats to avoid a 1-3 start. They also play No. 22 West Virginia on the road on Nov. 13.
The verdict: The Bearcats are going to get more comfortable in Jones' system as the season goes on, and they're still talented enough to compete for a third consecutive Big East title. But Jones' biggest task might be keeping his team together if the Bearcats lose to the Sooners.
Georgia (1-2)
The dilemma
: The Bulldogs lost to Arkansas 31-24 on Saturday, dropping their record to 0-2 in SEC play for the first time in coach Mark Richt's 10 seasons.
The good news: Two of Georgia's most difficult games -- at South Carolina and home against Arkansas -- are in the rearview mirror. Also, star receiver A.J. Green will return from a four-game suspension on Oct. 2 at Colorado, and running back Caleb King and cornerback/receiver Branden Smith should return from injuries before this week's SEC game at Mississippi State.
The bad news: Georgia's offensive line, which was supposed to be one of its strengths, continues to struggle to protect quarterback Aaron Murray and to open holes for its running backs. Georgia's new 3-4 defense has been plagued by blown assignments in pass coverage and hasn't produced many turnovers.
The verdict: Georgia still has a lot of talent, and Richt has to be encouraged by the way his team fought back in the fourth quarter against Arkansas. Georgia is capable of winning its next five games, and if it can find a way to upset No. 9 Florida in Jacksonville, Fla., on Oct. 30, it can sneak its way back into the SEC East race.
North Carolina (0-2)
The dilemma: Off-field problems have derailed North Carolina, which was supposed to make its move under coach Butch Davis this season. The Tar Heels lost each of their first two games, against LSU and Georgia Tech, by a 30-24 score.

The good news: Despite not having at least a dozen suspended players, including six defensive starters, Davis motivated his team to play hard against two good opponents. Senior T.J. Yates has been one of the country's most-improved quarterbacks, completing 65.7 percent of his passes with four touchdowns and no interceptions in two games.

The bad news: There are ongoing investigations into alleged academic fraud and improper contact with agents, and the Tar Heels don't know when they'll learn the results of either inquiry. A dozen UNC players are still being withheld from competition.

The verdict: The Tar Heels still face many of their most difficult games, including road games at Miami and Florida State and home games against Clemson and Virginia Tech. But UNC's off-field problems are a bigger issue than on-field results at this point.
Notre Dame (1-2)
The dilemma: Kelly's first season at Notre Dame hit potholes the past two weeks as the Fighting Irish lost to Michigan 28-24 on Denard Robinson's last-second touchdown run and 34-31 to Michigan State when the Spartans executed a fake field goal for a touchdown in overtime.

The good news: The Fighting Irish had a chance to win both of those games before failing to finish. Quarterback Dayne Crist has a good grasp of Kelly's offense and has completed 60.4 percent of his passes with seven touchdowns and two interceptions.

The bad news: The Irish are about to face the meat of their schedule, starting with Saturday's home game against No. 16 Stanford. After hosting the Cardinal, Notre Dame plays at Boston College and hosts Pittsburgh.

The verdict: Notre Dame is too good on offense -- and Kelly is too good a coach -- for its season to collapse. As long as the Irish win one of their next three games and win the games they're supposed to win down the stretch, Kelly's first season will end with his team playing in a bowl game.
Virginia Tech (1-2)
The dilemma: The Hokies were ranked in the top 10 in most preseason polls before losing twice in six days, 33-30 to Boise State on Labor Day night and 21-16 to FCS foe James Madison on Sept. 11.

The good news: Virginia Tech responded to its 0-2 start by blasting East Carolina 49-27 at home Saturday. The Hokies are still 0-0 in ACC play and still might be the best team in a mediocre conference.

The bad news: Star running back Ryan Williams injured his right hamstring in the first half of the ECU game, and running back Darren Evans hasn't looked the same after tearing an ACL last year.

The verdict: The Hokies' next two games -- at Boston College on Saturday and at NC State on Oct. 2 -- will go a long way toward determining whether they'll recover from their awful start. Those road games are followed by four consecutive home games before the Hokies face a hat trick of difficult contests at season's end. Virginia Tech hosts Georgia Tech on Nov. 4, then plays at North Carolina on Nov. 13 and at Miami on Nov. 20.
Washington (1-2)
The dilemma: With quarterback Jake Locker returning for his senior season, the Huskies hoped to challenge Oregon in the Pac-10 race, but they've lost two of their first three games.

The good news: The Huskies haven't lost a Pac-10 game, and they'll have an extra week to correct their mistakes before opening conference play at No. 20 Southern California on Oct. 2.

The bad news: Locker is pressing and trying to do too much. He was 4-for-20 for 71 yards with one touchdown and two interceptions Saturday in an ugly 56-21 loss to Nebraska at home.

The verdict: The Huskies' next six games are absolutely brutal. Five of those six games are against teams currently ranked in the AP Top 25 poll, including road contests at No. 14 Arizona on Oct. 23 and at No. 5 Oregon on Nov. 6. Unless Locker gets more help, his college career might end without the Huskies playing in a bowl game during his tenure.
Conference Rankings
By Mark Schlabach
ESPN.com
Ranking the BCS conferences after three weeks of the 2010 college football season:
1. SEC The SEC has six teams ranked in the top 17 of the AP Top 25 poll, and No. 1 Alabama looks as if it's balanced enough and good enough to repeat as BCS national champion. The SEC race should begin to sort itself out Saturday, when the Crimson Tide play at No. 10 Arkansas and No. 12 South Carolina travels to No. 17 Auburn.
ESPN Stats & Info: Conference Rankings
Conference
AP Rank
Computers Rank
Rating
SEC
1
1
98.3
Big 12
4
2
89.2
Pac-10
2
4
89.1
Big Ten
3
3
88.9
MWC
5
7
68.1
WAC
6
8
50.6
ACC
7
5
39.6
Big East
8
6
31.0
C-USA
9
9
16.3
MAC
10
10
12.7
Sun Belt
11
11
9.9
• ESPN Stats & Info blog
2. Big Ten The Big Ten probably lost a BCS Championship Game contender when Iowa lost at No. 14 Arizona 34-27 on Saturday night, which dropped the Hawkeyes from No. 9 to No. 18 in the AP poll. No. 2 Ohio State continues to play very well, but No. 11 Wisconsin barely survived in a 20-19 victory over Arizona State. The league's other three ranked teams -- No. 21 Michigan, No. 23 Penn State and No. 25 Michigan State -- have to get better to challenge the Buckeyes and Badgers.
3. Big 12 The Big 12 is more top-heavy than in recent seasons, with three teams -- No. 6 Nebraska, No. 7 Texas and No. 8 Oklahoma -- ranked in the top 10. There isn't another Big 12 team ranked in the AP poll, but Kansas State, Missouri, Oklahoma State and Texas A&M are each unbeaten after three games. The Big 12 race doesn't get interesting for another week.
4. Pac-10 The Pac-10 has five ranked teams and picked up a couple of impressive nonconference victories, with Arizona upsetting Iowa and UCLA upsetting then-No. 23 Houston 31-13. No. 16 Stanford looks like No. 5 Oregon's biggest threat after blasting Wake Forest 68-24 at home Saturday night. No. 24 Oregon State has a chance to improve the Pac-10's stock with Saturday's road game at No. 3 Boise State.
5. ACC The first three weeks of the season have been a disaster for the ACC, which has a 1-9 record in games against opponents from other BCS conferences. No. 19 Miami is the only ACC team ranked in the AP poll. Preseason favorites Virginia Tech and Florida State got back on track with impressive victories over East Carolina and BYU, respectively.
6. Big East The Big East's reputation continued to take some hits, with defending league champion Cincinnati falling to 1-2 with its 30-19 loss at NC State on Thursday night. Connecticut, which lost 30-16 at Temple on Saturday, also fell to 1-2. After blasting rival Maryland 31-17, No. 22 West Virginia is the only Big East team ranked in the AP Top 25 poll.
On The Mark: Precision Passers

1. Brandon Weeden, Oklahoma State
The Pokes' new quarterback is loving new offensive coordinator Dana Holgerson's system; Weeden threw for 409 yards with six touchdowns in a 65-28 rout of Tulsa.
2. Ryan Mallett, Arkansas
The tall Texarkanan produced a Heisman-like moment at Georgia on Saturday, throwing for 380 yards and three touchdowns, including the winner with 15 seconds to go in a 31-24 victory.
3. Colin Kaepernick, Nevada
The senior had an easy time carving up California's defense with his arm and legs, throwing for 181 yards and two touchdowns and rushing for 148 yards and three TDs in a 52-31 rout.
4. Taylor Martinez, Nebraska
The Cornhuskers are a legitimate threat to knock off Oklahoma or Texas in the Big 12 because of Martinez, who passed for 150 yards and one touchdown and ran for 137 yards and three TDs in a 56-21 blowout of Washington.
5. Nick Foles, Arizona
Foles helped the Wildcats stun No. 9 Iowa, throwing for 303 yards with two touchdowns on 28-for-39 passing, including the winner with 3:57 to play.
Off The Mark: Hot-Seat Coaches
1. Mike Locksley, New Mexico
The Lobos lost to Utah 56-14 on Saturday, bringing their scoring deficit to 180-31 in three losses this season.
2. Todd Dodge, North Texas
Dodge and the not-so-Mean Green can't catch a break, losing their second quarterback in a 24-0 loss at Army.

3. Paul Wulff, Washington State
The Cougars returned to their losing ways, falling at SMU 35-21 on Saturday.
4. Tim Brewster, Minnesota
At least the Gophers put up a fight against Southern California, losing to the Trojans 32-21 at home.
5. Ron Zook, Illinois
The Illini had to come from behind to beat Northern Illinois 28-22, which would have been a loss Zook didn't need.
On The Mark: Ground-Gaining RBs

1. LaMichael James, Oregon
He's the really fast player in the Ducks' EA Sports-like offense; he ran 14 times for 227 yards with two touchdowns in a 69-0 shutout of FCS foe Portland State.
2. Paris Cotton, Central Michigan
No Dan LeFevour? No problem. Cotton ran 21 times for 209 yards with three touchdowns in a 52-14 rout of Eastern Michigan.
3. Daniel Thomas, Kansas State
Thomas has become a workhorse for the Wildcats, running 34 times for 181 yards with two touchdowns in a 27-20 victory over Iowa State.
4. Bernard Pierce, Temple
Pierce has been the most important piece in Temple's miraculous turnaround, running 26 times for 169 yards with two touchdowns in a 30-16 upset of Connecticut.
5. Le'Veon Bell, Michigan State
The Spartans freshman ran 17 times for 114 yards with one touchdown in a 34-31 overtime victory over Notre Dame on Saturday night.
Off The Mark: Not So Special

1. Clemson
After an illegal snap wiped a tying field goal off the board, the Tigers missed a 32-yard attempt in a 27-24 loss in overtime at Auburn.
2. Notre Dame
The Fighting Irish were flat-footed when Michigan State scored the winning touchdown on a 29-yard pass on a fake field goal in overtime.
3. Arizona State
The Sun Devils nearly upset Wisconsin, but their point-after kick was blocked by the Badgers with 4:09 left in a 20-19 ASU loss.
4. Michigan
Special-teams woes nearly cost the Wolverines in a big way Saturday as they missed a 38-yard field goal and had a punt blocked in a closer-than-expected 42-37 victory over FCS foe Massachusetts.
5. Troy
Troy's missed extra-point kick after a touchdown in the first quarter was the difference in its 34-33 loss to UAB, which rallied from a 23-0 deficit to win.
On The Mark: Big-Play WRs
1. Justin Blackmon, Oklahoma State
The OSU sophomore has caught eight of Weeden's 11 touchdown passes in three games, including three in the victory over Tulsa.
2. Damarlo Belcher, Indiana
The 6-foot-5 junior is a major cog in one of the country's most underrated passing attacks, catching 10 passes for 135 yards with one touchdown in a 38-21 win over Western Kentucky.

3. Lance Kendricks, Wisconsin
The senior tight end had seven catches for 131 yards with one touchdown in the Badgers' narrow victory over the Sun Devils.
4. Michael Egnew, Missouri
The junior tight end caught 13 passes for 145 yards in a 27-24 win over San Diego State, giving him 29 receptions in three games (after he had seven in his first two seasons combined).
5. James Kirkendoll, Texas
Kirkendoll was the Longhorns' most reliable receiver in a 24-14 victory at Texas Tech, hauling in six passes for 122 yards.
Off The Mark: Short Honeymoon

1. Turner Gill, Kansas
The Jayhawks have lost to an FCS opponent (North Dakota State), beaten a ranked team (Georgia Tech) and lost to Southern Miss, 31-16.
2. Charlie Strong, Louisville
At least the Cardinals have been much more competitive during Strong's 1-2 start, losing to Kentucky 23-16 and Oregon State 35-28.
3. Derek Dooley, Tennessee
Dooley has to be encouraged that his Volunteers showed more fight in a 31-17 loss to Florida at home Saturday.
4. Willie Taggart, Western Kentucky
The Hilltoppers have been outscored 150-59 in losses to Nebraska, Kentucky and Indiana to start Taggart's tenure.
5. Sonny Dykes, Louisiana Tech
The Bulldogs have yet to defeat an FBS foe, losing to Texas A&M 48-16 and Navy 37-23.